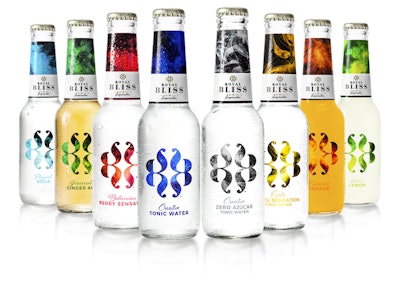 Coca-Cola Spain surprised top restauranteurs and bar owners with a presentation of Royal Bliss, a new product line exclusively for the foodservice industry. The eight-flavor line of premium mixers launched Feb 1, 2017. This is Coca-Cola's first new local brand in Spain in 10 years and has been backed by a 22 million Euro investment. Royal Bliss will release in Spain's foodservice sector this year.
Jorge Garduño, CEO of Coca-Cola for Spain and Portugal, called Royal Bliss one of their "big bets for 2017." To bring this product line to market, Coca-Cola partnered with Constantia Flexibles for the front labels. Constantia Flexibles created a wash-off p-s label. This label consists of a 45-micron clear shrinkable film that was gravure-printed with seven colors using its Thermowash technology. This technology ensures that the inks and adhesive are completely extracted in the bottle washing process. They also created a p-s label using screen/flexo print for non-returnable bottles.
"We are committed to HORECA [foodservice] and we want to give those thousands of customers a range of products with which they can continue to amaze their customers," says Paloma Cruz Caridad, Sparkling SD Brand Director Iberia at The Coca-Cola Company.
Companies in this article