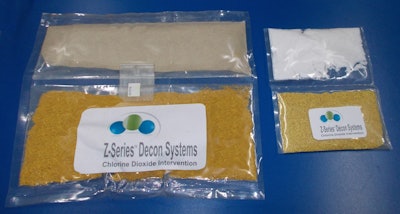 "It's a dirty job, but somebody's got to do it."
That familiar phrase is apropos for personnel tasked to clean, treat and/or deodorize industrial workspaces.
To make the job easier and more effective, ICA TriNova, LLC produces solid-phase chemical/gas release systems. These systems typically contain two separate granular media, or "impregnates," housed within two separate chambers of a flexible pouch co-developed by Newnan, Ga.-based ICA TriNova and pouch supplier Marsupial Innnovative Packaging, LLC.
The media mix within the pouch once the seals are manually broken, utilizing exterior pulltabs, stimulating chemical gas-producing reactions. The resulting gas/vapor is then released through the pouch's perforated/breathable film.
The two companies envision developing different product designs, e.g., sizes, to accommodate different chemical reactions and rates of release to address different market applications. Bag sizes could be made to handle media in ranges from smaller than 50g to larger than 500g up to about 12 in. x 12 in. in size, or larger, depending on contents or application.
Various printing options could deliver branding benefits as well as provide usage instructions. Marsupial sends preformed pouches to IC TriNova in an "H"-shaped style to allow the Georgia firm to fill and seal it.
"Until now we've been filling different bags manually and hand-applying a little sticker to the bags," says ICA TriNova's CFO, Steve Beers. "The medias then need to be mixed together into another bag by our customers. This pouch addresses that. The user can place the pack directly in the area where treatment is desired."
Medical application possibilities
The first commercial uses for the product in the dual-chamber pouch have been in produce distribution facilities and HVAC (heating, ventilation and air conditioning) coil cleaning applications, although ICA TriNova indicates the product and pouch combination can be used for the following medical/life sciences applications:
• Room and vehicle (ambulance) decontamination
• Medical device sterilization for mobile and forward military operations, including operating instruments and protective gear such as respiratory masks and gowns
• Special unit operations (ventilators)
• Cadaver interventions for odor and bioagents
• Waterline treatments in medical facilities to remove or prevent biofilm (a group of microorganisms where cells stick to each other and to surfaces)
• HVAC applications to clean coils and prevent airborne infectious agents
• Biothreat cleanup for operating rooms, homes and faculties (the Ebola scare, for example)
Beers says CIO2 (chlorine dioxide) "is widely recognized for its ability to kill bio threats—both man-made and those found in many medical environments."
In such environments, Beers says the new dual-chamber pouch, "improves product delivery and predictability. This is critical in medical or healthcare applications where precise chemical release is important for user confidence, regulatory approvals and market adoption.The product and pouch would provide users with easy, predictable gas interventions that improve on efficacy in the healthcare industry, both from a rapid response and preventative approach."
David DiLiberto, Marsupial's Managing Director, notes the media systems and packaging in use at ICA TriNova are proprietary. To accommodate these materials he says the film lamination was designed to offer chemical resistance to oxidizing and acidic conditions. The pouch design could also maintain a liquid and a solid, although ICA Tri Nova's medias are typically granular, similar in consistency to course sand. DiLiberto also highlights the pouch is not only a vehicle for containment and mixing but also active with respect to designed film perforation, allowing controlled gas release.