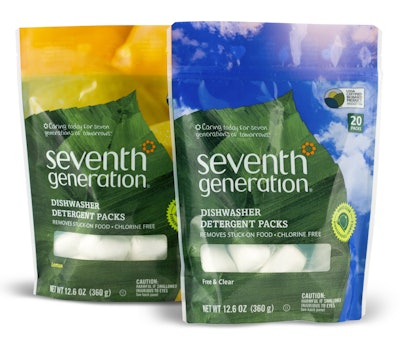 Plant-based household cleaning products company Seventh Generation of Burlington, VT, has a notable track record for innovation around eco-friendly packaging. In 2010, the company launched a high-density polyethylene bottle for its dish liquid and fabric softener products that featured 96% post-consumer recycled content—a quantum leap over the 25% recycled content typically found in plastic packaging at the time. In 2011, it became the first commercial user of a fully recyclable paper-based bottle for its concentrated liquid laundry detergent. And in late 2015, it began using a 100-oz HDPE laundry detergent bottle that replaces the 20% virgin petroleum-based plastic needed for strength with a plastic resin made from sugarcane.
Today, almost 100% of its HDPE bottles are made entirely from recycled content; all of its PET bottles are 100% rPET; and work is being done to increase the PCR content of its polypropylene caps as well.
These developments have all served to help Seventh Generation move closer to its 2020 sustainability goals around packaging, which include replacing all virgin petroleum-based plastics with recycled or bio-based materials, and making all of its packaging recyclable.
Until recently one packaging format that proved especially challenging from a recycling standpoint was the stand-up pouch used for the company's Dishwasher Detergent Packs. Made from a mixed-material film laminate, the pouch could not be recycled, meaning 100% of the packages ended up in landfill. But through a partnership with The Dow Chemical Co., Accredo Packaging, Inc., and the Sustainable Packaging Coalition, Seventh Generation launched into retail a multilayer all-polyethylene SUP in Q4-2015 that is 100% recyclable.
"Our goal was to produce a recyclable package for our dishwasher pods, without sacrificing performance or aesthetics," says Derrick Lawrence, Director of Packaging Development for Seventh Generation. "Our customers were asking for a more recyclable option, and our collaboration with the Sustainable Packaging Coalition, Dow, and Accredo Packaging turned that demand into a reality."
Three companies, one common goal
According to Lawrence, Seventh Generation began its pursuit of a recyclable package for its dishwasher pods in earnest in 2012. While he says that the company "kicked the tires" on options such as recyclable polypropylene tubs, it found the format involved a lot of unnecessary plastic.
"It would have been hard for us to justify going from a stand-up pouch, even though it was not recyclable, to something that used a lot more plastic," he says. "We like the advantages of the stand-up pouch. It offers a number of environmental and consumer benefits: It ships flat, it is very light, it is resealable, and it is a category-accepted format."
The existing detergent pouch was constructed of (from the outside) PET/ink/adhesive/linear low-density PE. The reverse-printed PET allowed for a high-gloss finish and protected the print from scuffing—an important factor in ensuring a high-quality look for the premium product. The pouch also provided the moisture barrier needed to guarantee that the dissolvable film covering the pods would not degrade and lead to clumping of the detergent.
In 2013, Seventh Generation met with Dow's Packaging & Specialty Plastics Group at an SPC conference where it learned about the resin supplier's RecycleReady™ technology. Explains Dow's North American Director of Packaging Solutions, Stacy Fields, the RecycleReady concept involves using either all-PE structures or PE plus specialty compatibilizers with non-PE materials that allow the pouches to be incorporated into recycling streams designed for PE recovery.
Dow's development partner at the time was Accredo, a film converter that had been researching potential recyclable materials that could replace PET as the outer web of a two-ply film structure. "It was a natural fit," says Accredo Director of Sustainability Malcolm Cohn.
Significant technical challenges
For Dow and Accredo, many technical hurdles had to be overcome to successfully develop a recyclable multilayer PE film that could replace one made from mixed materials. Among them, according to Cohn, were creating a pouch structure that could be manufactured without compromising machine speeds or increasing waste; would have the necessary gloss, rigidity, scuff-resistance, tensile strength, and barrier properties; and would provide end-user filling and packaging machinability.
One of Seventh Generation's main concerns was the appearance of the pouch. "From a brand owner perspective, the biggest challenge was achieving a gloss level that was comparable to the existing pouch and having a robust printed surface," explains Lawrence. "Previous solutions we had tried were surface-printed on the outer layer and would scuff significantly during distribution testing. When we would laminate an outer layer, traditional PE films would not provide the clarity were looking for."
While specific details of the technology are proprietary, the combination of Dow's resin expertise and Accredo's manufacturing technology resulted in a structure made from PE/ink/solventless adhesive/PE that provides all the required functional and aesthetic properties while being recyclable. Though the structure sounds simple, Cohn says it is not as basic as it sounds. "A huge amount of technology has gone into the coextrusions of the various layers of the respective webs," he explains.
The AccredoFlex® RP™ (Recyclable Pouch) for Seventh Generation's Dishwash Detergent Packs comes in two sizes—a 20-ct and a 45-ct—for two fragrance varieties, Free & Clear and Lemon. The pouch features a press-to-close PE flange zipper and is reverse-printed using expanded-gamut process printing. A clear window on the front panel of the package gives the consumer a clear view of the chlorine-free, biodegradable detergent pods inside. The graphics for the pouch were not changed.
According to Lawrence, the pouch provided a "like-to-like transition." It passed all distribution testing and stability requirements, and its cost is at parity with that of the previous pack. "There are only two things we've had to deal with," he says. "The film is a little hazier than PET, so the pouch is slightly less translucent on the outside. But unless we put the two pouches side by side in front of consumers, I don't think they would even know we made the change, which is what we were going for.
"The other thing is the opening of the pouch. With the PET package, consumers could tear the pouch open. With the new structure, we have a scissors icon to instruct consumers to cut the pouch open, which isn't ideal, but we're working to improve that over time."
Significant recycling potential
While consumers may not recognize a change in the structure of the package, Seventh Generation hopes they will notice the change in the SPC How2Recycle Label on the back of the pouch. The How2Recycle Label is a standardized labeling system that clearly communicates recycling instructions to the public. Seventh Generation was an early adopter of the label in 2012, and now uses it on almost 100% of its packaging.
The company's previous detergent pod packaging used a "Not Recycled" icon. The new all-PE SUP uses the "Store Drop-Off" icon, which encourages consumers to take flexible PE bags, films, and wraps to local grocery or retail stores for recycling. The pouches can be recycled at more than 18,000 store drop-off locations throughout North America.
According to Lawrence, in a perfect world, if 100% of Seventh Generation's new pouches were recycled, it would result in 20 tons of material per year being diverted from landfill. But it's not a perfect world where recycling rates are concerned. "So the question then becomes, what would we expect from our consumers?" Lawrence posits.
"We have some data not specifically around flexibles, but around other packaging types, that indicate our consumers tend to be more attuned to recycling, usually anywhere from 10-percent to 20-percent higher," he says. "The nice part about recycling of PE flexibles is it's one of the most widely available programs. One national study found that 91 percent of the U.S. population has access to plastic bag recycling within 10 miles, and 72 percent has access to plastic film recycling within 10 miles."
Further progress on 2020 goal
Seventh Generation launched the 20-ct pack in August 2015; at presstime the 45-ct was scheduled to roll out in early 2016. Lawrence says the consumer response to the change has been minimal. "This is good from our standpoint—we haven't received any negative feedback on the new pouch, which is what we were going for," he says. "In the next couple of weeks, I'll get a read on consumer complaints, but I expect they will have gone down." (The non-recyclability of the previous detergent pouch generated 8% of consumer complaints around the product.)
In its 2014 Corporate Consciousness Report, Seventh Generation reported that 69% of its products and packaging were biodegradable or recyclable. With the introduction of the AccredoFlex PR pouch, Seventh Generation will no doubt be able to move that needle closer to its 2020 goal.
Companies in this article