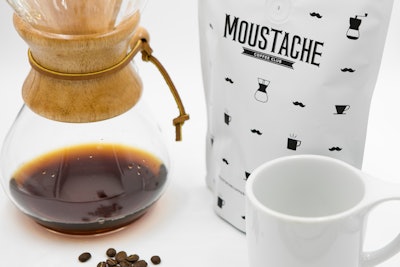 Personal care and beauty products, vitamins and supplements, tea and coffee, pet products, snacks, and kid's crafts: These are just a small sampling of the items now available in the burgeoning subscription box business. With products either curated or from a single supplier, these boxes not only deliver products tailored to the consumer's interests, but also packaging crafted to create a memorable experience.
Moustache Coffee Club's products and packaging are no exception. The Los Angeles-based "curated coffee club" offers single-origin coffees from award-winning roasters, with the beans roasted and shipped the same day. Moustache offers weekly, biweekly, and monthly subscriptions for $19 per shipment.
Recognizing that packaging plays an important role in the consumer's overall experience with its product, Moustache recently redesigned its packaging from a hand-stamped kraft bag to a clean, stylish, and resealable stand-up pouch decorated with coffee-culture icons. The monolayer film structure, from a proprietary supplier, is printed on one side in black and white along with a matte coating.
Package graphics, created by Laura Shim, include the Moustache logo in a custom font, positioned under the degassing valve, and coffee-related icons—coffee cups, hand grinders, pour-over devices, etc.—making a playful pattern across the front of the bag. Says Sean Reilly, founder of Moustache Coffee, "We wanted to appeal to our clientele who are craft coffee connoisseurs by referencing the various devices used to make craft coffee."
Another icon in the pattern is a moustache, complementing the company's curious name. "We became Moustache Coffee Club simply because we noticed a strong correlation between excellent third-wave coffee and the excellent moustaches that the baristas so frequently have in cafes that serve the kind of coffee we're interested in," explains Reilly. "To be honest, the name is a tongue-in-cheek reference to this, we aren't hardcore Moustache aficionados, we are hardcore about coffee though."
Packed along with the pouch in the shipping box is a custom-printed postcard with detailed information about the coffee along with tasting notes, "so that the member can get the most out of their morning cup," says Reilly. Other tidbits sometimes contained on the card are details about the coffee roaster, "or something else that's fun," Reilly adds
In addition to enhancing the aesthetics of its packaging, Reilly says Moustache also made the switch to the new pouch to save time and money. "When volume started increasing on our shipments, it became apparent that ordering large volumes of custom bags would become cheaper in material cost and would require less work to get our orders filled," he explains. "As anyone who has hand-stamped hundreds of bags knows, stamping gets old rather fast." While the bags are now preprinted, Moustache still fills them manually.
The new packaging rolled out in mid-March 2015 to "overwhelmingly positive consumer response," says Reilly. "We see pictures that people post online of our bags after they arrive accompanied with a lot of positivity."