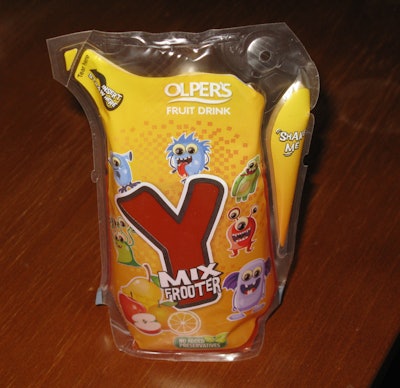 The 200-mL pouch for Engro's Y Frooter brand is the first Air Aseptic Clear pouch from Ecolean. Engro's previous experience with the Air Aseptic pouch was for its Olper's brand milk. That single-serve milk package, however, was opaque, like all the other Ecolean pouches we've seen so far. The Olper's brand Y Frooter pouch is clear because it does away with the carbon black light barrier and the calcium carbonate (chalk) components that are part of the milk package. It retains an EVOH gas barrier layer, however, so that it has a six-month unrefrigerated shelf life.
The absence of calcium carbonate in this clear substrate is notable. Until now, Ecolean's use of this material, which scores sustainable packaging points because it minimizes the amount of petroleum-based plastic required, has been part of every package the innovative Swedish firm has made and has been among the firm's key distinguishing characteristics. But the only way to produce a clear pouch was to eliminate the calcium carbonate.
In an interview with AURORA, Pakistan's leading advertising, marketing, and media magazine, Engro Brand Manager Hammad Kazi had this to say about the launch. "The Ecolean format is an easy-to-use pack that gives children the option to play with the pack while sipping the fruit drink. They can squeeze the pack and see the juice moving. The telescoping straw attached with the packaging makes the entire experience more exciting and entertaining. The packaging has been received very enthusiastically by kids--its intended audience--because it's very different and fun. Also, the packaging design is in vibrant colors."
Ecolean uses the same cast coextrusion system to make the substrate from which it then makes the pouch. It also uses its Crosslinking AB Electron Beam curing device to sterilize the inside of the pouch during pouch making. Rolls of premade pouches are sent to Engro and fed into the same Ecolean filling system that Engro uses for its Olper's brand milk pouches. That machine sterilizes the outside of the pouches with hydrogen peroxide, cuts off the pouch tops, fills the pouches, heat seals the pouches, fills the air-chamber that becomes the signature Ecolean handle on the pouch, heat seals the air chamber, and then discharges pouches for secondary packaging.
Engro's application of the Air Aseptic Clear technology comes on the heels of the recent commercialization of Ecolean's Snap-Quick reclosure technology. During a January 27 press briefing at its headquarters in Helsingborg, Sweden, Ecolean indicated that both these innovations will be on display at its Anuga Food Tec booth. Also making its debut at this March 24-27 show in Cologne, Germany, will be Ecolean's newest pouch-filling machine, the EL4+, which will be capable of speeds 33% higher than previous versions.
Companies in this article