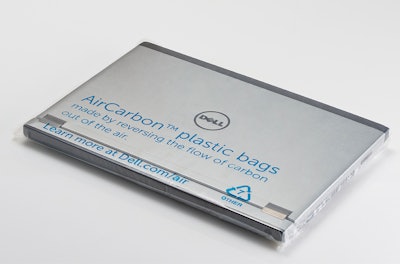 Used to protect the finish on its notebook computers during shipping, new carbon-neutral plastic bags—constructed from start-up company Newlight Technologies, LLC's AirCarbon™ material—are literally made from air.
Explains Newlight co-founder and CEO Mark Harrema in a video on Newlight's partnership with Dell ("Dell AirCarbon Plastic—Made from Air, Not Oil"), "Almost all plastics today come from fossil fuels. So the difference with AirCarbon is that it is made from air and carbon that we would otherwise be breathing.
"Every single thing that you see [in nature] that is green, that's all produced by pulling carbon out of the air. So we do precisely the same thing. It's all around us, we just found a way to pull it out of an airstream and turn it into a plastic molecule."
During the manufacturing process, Newlight captures air and carbon from industrial sources of greenhouse gas emissions and directs them into its conversion reactor. Next, the air-based input stream is put in contact with Newlight's biocatalyst, which separates carbon out of an air stream. Lastly, the isolated carbon is reassembled and linked together into a long chain thermopolymer to make AirCarbon.
According to Oliver Campbell, Dell's Director of Procurement for Packaging and Packaging Engineering, Dell began developing the new packaging with Newlight in October 2013. The bag is designed to be the same size as the one previously used, but may be modified to incorporate a carry handle, "so it can be repurposed if the customer desires," says Campbell.
The material, which is made by incorporating polyhydroxyalkanoate, is said by Campbell to provide similar performance characteristics to traditional polyethylene. "But as with any new material we've developed, the same rigorous validation tests had to be passed," he adds.
In terms of its environmental footprint, AirCarbon is an independently verified, cradle-to-grave (including all energy inputs, transportation, and end-of-life) carbon-negative material that quantifiably reduces the amount of carbon in the air for every ounce of AirCarbon made. In the case of Dell's plastic bag, Campbell says there is a two-for-one benefit: "First is the elimination of the entire carbon footprint of the current bag, since it will no longer be used. Second is the carbon-negative benefit from the AirCarbon bag. Combined, we'll save 10.5 million tons of CO2 equivalent based on the material used in the pilot."
AirCarbon also fits within Dell's policy of sustainability at cost parity, Campbell says, adding, "we're solidly on the less cost side of the equation."
Dell's AirCarbon pilot will launch first in San Jeronimo, Mexico, adjacent to El Paso, TX—a location chosen to optimize the supply chain based on Newlight's current manufacturing capacity and location in Irvine, CA. Future developments may include the use of AirCarbon for other packaging applications at Dell. Says Cambell, "The biochemistry and economics behind AirCarbon are sound.
"If you think about it, we see the same carbon capturing process in nature every day. Plants take carbon and use it to make useful things like leaves, branches, and blades of grass. Sometimes you just have to pay attention to nature."
Learn more about AirCarbon at pwgo.to/1009