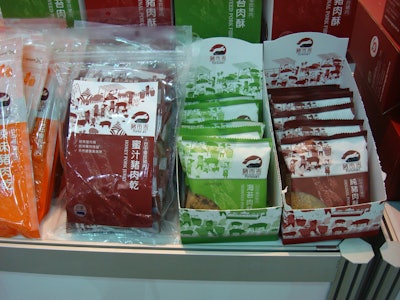 In Taiwan, convenience stores are a key channel in packaged food. Joy Chen, of the Events Marketing Section of the Exhibition Department for TAITRA, one of the organizers of the Taipei International Food Expo, shared with Packaging World that a large portion of Taiwanese shoppers' food and beverage purchases come from c-stores, with fresh foods acquired on a daily basis from the many street markets in Taipei.
According to a 2014 study from Euromonitor, "Packaged Food in Taiwan," in 2013, c-stores led a significant percentage of retail value sales in a large number of packaged food categories. "Their widespread presence and high density provide an ideal sales and marketing platform for many packaged food players," said Euromonitor. "In addition, convenience stores such as 7-Eleven and Family Mart are quickly establishing new roles as retailers."
Lightweight, easy-to-open (and many times to reclose), and extremely portable, flexible packaging especially has grown to serve the on-the-go lifestyle of the Taiwanese. At Food Taipei, hundreds of exhibitors displayed products in flexible packaging that included sachets, pillow-packs, stand-up pouches, vacuum packs, and other formats.
This abundance of flexible falls in line with the "2014 State of the Flexible Packaging Report," from the Flexible Packaging Assn., which indicated that the global flexible packaging market, estimated at $76 billion in 2013, was led by the Asia-Pacific region, accounting for 38% of that total.
And it's not just the candies, snacks, jerky, and other traditional products in flexible packaging, there was a wild array of products in this format at the show: In stand-up pouches, herbal jelly, ginger tea, baked corn, and seaweed biscuits; in vacuum-packs, tapioca, shredded onions, grains, rice, and cooked corn; and in pillow packs, noodles in every shape and size, and dried pineapple, among others.
Also evident on the show floor were drinks in film-lidded cups—a popular format in Japan, and chilled ready meals.
Watch an Off-the-Shelf video related to this article.
Read the full story on the Taipei International Food Expo and Taipei Pack 2014.