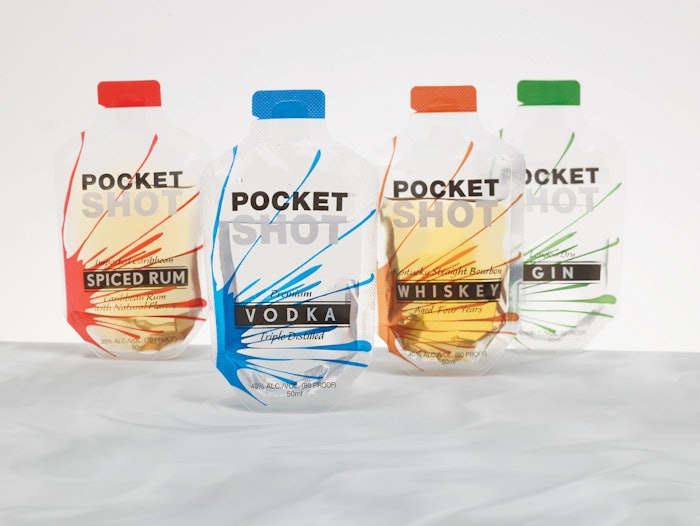 Jarrold Bachmann is not only the founder of Pocket Shot Spirits, but he's also an avid big-game hunter. In fact, he's made at least 40 hunting trips to Africa. On one visit to his farm in South Africa, he observed workers celebrating payday by drinking liquor from small sachets. He sensed an opportunity to fill an unmet need in the spirits market for a small, unbreakable, easy-carry, easy-open, pocket-sized flexible "bottle" that stands up on a bottom gusset.
Not only would a flask-like stand-up pack be unique for spirits, but it would also be suitable for the on-the-go lifestyles that were creating a growing demand for "single-serve" portions like Pocket Shot for many consumables. So, he decided to capitalize on this trend, identifying a target audience of travelers, golfers, and other sports and outdoor enthusiasts.
In 2006, the Evergreen, CO-based company introduced the Pocket Shot, a line of spirits packaged in the unbreakable 50-mL plastic packs that are now available in 11 flavors. Products are sold at retail, through spirits distribution channels, and online by some retailers, in about 27 different U.S. states, and in Europe, Canada, the Caribbean Islands, and Puerto Rico.
"Our tagline is that the Pocket Shot goes anywhere," says Bachmann. The Pocket Shot single pack sells for $1.49 to $1.99, with price determined by the retailer. It's also sold in what Bachmann calls "a stadium-type display box," that contains 12 pouches, and at the distributor level in a "rainbow pack" that includes 10 boxes of 12 pouches.
Premade Pocket Shot pouches are a layer structure providing strength, sheen, and attractive graphics. Bachmann has sourced the pouches from different vendors over the years, but the primary supplier is Amcor Flexibles Europe & America. Pouches have been printed via both flexo and gravure printing methods over the years. The pack earned a Silver Award for Sustainability in the 2012 Flexible Packaging Assn.'s Annual Achievement Awards.
The pouch is an adhesive lamination of 48-ga (12 microns) oriented polyester/48-ga polyester coated with aluminum oxide/2.8-mil low-density polyethylene sealant layer that's U.S. Food and Drug Administration-approved for contact with alcohol.
Challenging pouch geometry
Each pack has an opening along the top edge that must be sealed once the package has been filled with product. The top contour of the Pocket Shot package simulates a bottle top with a shoulder and cap—presenting a complicated geometry to seal. To avoid potential leaks, the sealing process needs to seal through alcohol caused by splash back on the sealing surfaces that occurs during filling.
Adding complexity is that the seal process is temperature-sensitive, requiring Pocket Shot to avoid temperatures that might trigger the flash point of alcohol. Pocket Shot initially used a heat-seal process that first melted the plastic for joining, followed by a cold seal to prevent excess temperatures and smooth out voids and wrinkles created by the heat seal.
The sealing method was adequate to launch the product. But once production volume reached the necessary high-speed levels of 30+ packs/min, the hot-seal/cold-seal process resulted in frequent leaks, and lost productivity, which caused product recovery costs that threatened the viability of the product. Fortunately, few leakers actually made it to the retail level.
Through a personal relationship, Bachmann learned of Branson's reputation in ultrasonic plastics joining and asked for a recommendation. Ultimately, Branson Ultrasonics, part of Emerson Industrial Automation, conducted a thorough analysis of Pocket Shot's existing materials, package design and production requirements, and determined the proper pressures and ultrasonic specifications to create the necessary seal.
Branson designed a unique horn (through finite element analysis software) and anvil that perfectly matched the contoured sealing surfaces of the package top. When tested, prototype samples showed the ability of the ultrasonic sealing process to seal through the alcohol, producing a 100%-clean, clear, contaminant-free seal.
The ultrasonic action of the horn disperses the alcohol out of the seal area and allows the plastic to melt without the risk of triggering the flashpoint of alcohol. The prototypes also demonstrated the process could maintain the integrity of the seal under the high-volume cycle time of one seal every 2 seconds.
A bit of background
Since introducing the Pocket Shot, Bachmann has had the products filled by Frank-Lin Distillers Products, Ltd. The contract filler initially did not have the equipment for the pouch. Bachmann used personal connections and found equipment from Laudenberg—machinery, he says, that's no longer made. [Entering Laudenberg.com redirects to SN] German Pouch-Pack Technology, whose website mentions the Laudenberg name.]
Pocket Shot Spirits owns the eight-station rotary filler and purchases the premade pouches and paperboard cartons. Frank-Lin handles filling, warehousing, and shipping. "They have been wonderful to work with because they took us on as a new project," says Bachmann of Frank-Lin. "When they first started, we weren't sure how well this was going to work. Since then, they have taken this kind of under their [wing], and have worked out any bumps in the road, including the high reject [rate] that we had from the previous sealing method."
Premade, preprinted pouches arrive at Frank-Lin and are conveyed into the small-footprint Laudenberg machine. A thermal-transfer coder prints filling date, batch, and date-code information on the pouches. Suction cups help pull open the pouch from the shoulder area, assisted by a puff of air. Grippers hold the pouch while a plunger descends into the top of the pouch to open the gusset on the bottom. The next two stations fill the spirit into the pouch before the pouch rotates to the sealing station. After filling and sealing, the pouches are discharged for manual packing.
Turning to ultrasonic sealing
In reviewing the path he took to remedy the previous hot/cold-seal difficulties, Bachmann says he discussed the leakage problem with Branson, as well as another ultrasonic sealing company, with Frank-Lin, a group in Germany, and industry experts he respected.
"We didn't have much leakage," he says, "but that was the problem. We wanted something that was absolutely fool-proof and leak-proof. That's why I talked to the Branson people. I have a very good friend who lives in Evergreen and has worked for Branson for probably 30 years.
"He ran some samples for me, and we would go out to lunch and talk about it. I went to trade shows and talked to his partners about the leakers. We never thought that the Branson sealer would fit on the filling machine because there is such a very small area that we have to work with on the pouch."
Bachmann explains that Branson personnel decided to visit Frank-Lin to take a closer look at the facility and observe the equipment to see if they could get their unit in there on the machine. "They decided they could, so we ordered it. We took the old heat sealer and chill sealer off and installed this new one. Quite frankly, we didn't know what we were getting into," he admits.
The Branson machine began running on the older filling equipment in mid-2012. "Everything was heat seal before that," Bachmann recalls. "If the product wasn't in there just right and if you had any type of splash back or anything was wrong with the pouch, you might seal it with a heat sealer and it might have a little leak that could potentially be a problem."
The good news was Pocket Shot Spirits had no consumer complaints. "One thing we wanted to make sure of was that we would handle the leakers as well as we possibly could," says Bachmann. "I don't think we had a lot of leakage on pouches actually going out on the market."
Bachmann praises Branson Ultrasonics, noting, "I take my hat off to these people, who have gone way out of their way to make this fit and work. They have been very responsive. They have jumped through hoops for us.
"We feel very comfortable with this pouch and we are running probably about 35 pouches a minute now. Branson continues to look at ways to add parts to make sure that the machinery seals the pouches absolutely perfectly."
Has the new sealing process reduced the amount of product waste or packaging waste? "Absolutely!" Bachmann states. "And we are very proud of it."
Bachmann commends Branson for not only its technical ability to solve his problem, but also its responsiveness in meeting a challenging timeline to minimize his loss of production time. He expressed great relief knowing that, while his unique package presents a number of inherent challenges, he no longer has to be concerned about the integrity and strength of the seal. He'll soon be expanding his production and distribution to serve new markets in the U.S. and Europe.
For previous Packaging World articles and a video on Pocket Shot filling and sealing, click here.
Companies in this article