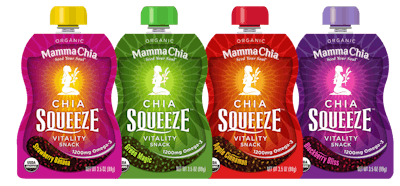 Following the "unprecedented success" of its initial product offering—Mamma Chia Vitality Beverages—organic food and beverage company Mamma Chia of Carlsbad, CA, rolled out a chia-based snack in spring 2013 in a shapely, squeezable pouch whose curvy contours complement the curves of the Vitality Beverage bottle.
Mamma Chia was founded by CEO Janie Hoffman in 2009 and went national in 2011. Hoffman first created the concept of chi-based products in her kitchen after discovering the health benefits of the ancient seed. According to Mamma Chia, chia seeds provide brain-healthy omega-3s, powerful antioxidants, and dietary fibers as well as protein, calcium, and magnesium.
The Mamma Chia Vitality Snack, in four 70-calorie, fruit- and vegetable-based, gluten-free, vegan varieties, was developed as a "portable, healthy snack for runners, yogis, athletes, school children, healthy moms, and other active souls seeking nutritious snacks," says Hoffman. The product is packaged in a 3.5-oz, three-layer polyethylene pouch with an inner foil layer that is topped by a reclosable cap. The packaging, Hoffman says, is sourced from multiple suppliers.
"The flexible Chia Squeeze pouch is lightweight for easily carrying in a backpack, lunchbox, purse, briefcase, or gym bag, and does not need refrigeration," says Hoffman. "We designed it to speak to both adults and kids. Aesthetically, it was important that the design of the Chia Squeeze pouch be both complementary and consistent with the branding of the Vitality Beverages."
Incorporating the Aztec Chia Goddess logo first created by Evenson Design Group for the beverage product, graphic design firm Foerstel decorated the pouch with bright, saturated colors and patterns that evoke vitality and energy. Radiating from the Goddess logo is a flower-petal pattern that, when combined with color gradients, provides motion and energy. Explains Hoffman, "We wanted something that evolved our branding and yet maintained a very vibrant and alive feel that spoke to the souls of all ages."
Introduced in March 2013 in both natural and mainstream grocery stores across the country and online, Chia Squeeze "found an immediate following," says Hoffman. "The response has been incredibly positive," she adds. Mamma Chia Vitality Snacks carry a suggested retail price of 1.69 per pouch.
Companies in this article