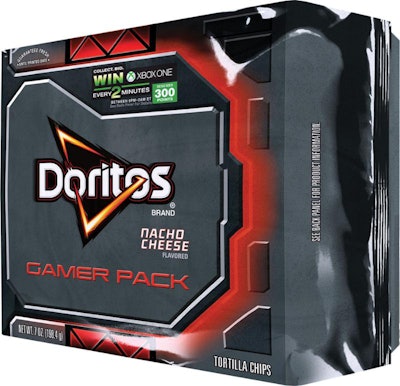 A Frito-Lay/Microsoft cross-promotion timed with the launch of Microsoft's new Xbox gaming system recently led to the development of the seriously innovative Doritos Gamer pack. A 7-oz serving of Doritos in a squared-off package made from rollstock on a modified vertical form/fill/seal system, the package looks like an Xbox. It's also distinguished by a wide open and resealable "door" on its face panel.
From a demographics perspective, the Doritos/Xbox partnership was a match made in heaven, since a key target for both Xbox and Doritos is the 18- to 24-year-old male. But because this promotion was designed to last a mere 35 days, the way in which it was developed and executed is absolutely fascinating.  As David Lestage, Head of Packaging Innovation at Frito-Lay North America, puts it, "Let's just say it's not something we have in our everyday portfolio." This Q&A with Lestage provides a unique behind-the-scenes look at how the Gamer Pack came into being.
How does this package compare to other limited-edition "in-and-out" packages Frito Lay has developed over the years?
We do a lot of these in-and-outs with our brands, but typically neither the time frame nor the budget permits us to develop an entirely new package format like this. We usually make do with existing assets that we already own in plants across the country. What made this project different is that we allocated considerable R&D resources to make it happen. With our strategy of driving a packaging transformation, we saw it as a unique opportunity to hop on board something that paired so well with our brand, could generate a lot of publicity, and would deliver a novel packaging format to the marketplace.
Did Microsoft provide much input?
We tried to learn some of the design language behind the new Xbox, or even some of its features, so that we could fold such things into this completely new package format. Basically we pretty much took what we knew to be the Xbox shape and ran from there. We knew we could make a bag with a flat bottom, but the challenge was in making a bag from flexible film that resembled a box. So we went to a couple of trusted suppliers we work with regularly, equipment fabricators, and after a number of revisions and prototypes we arrived at what we now call the "cuber." It had to fit seamlessly onto one of our existing equipment assets, and it did, specifically, an Ishida Atlas vertical form/fill/seal machine. The cuber itself was supplied by Douglas Machine. It uses smartly positioned heated platens and conveyor systems to induce the folds and the turns on the film.
But Douglas is not known as a player in the flexible packaging space, they're better known for their cartoning and end-of-line machinery.
True, but we do quite a bit of work with them when we have ideas and we want to try them out on our existing machinery assets. They're open to working with us as we go through the development process, and this project was just another example of that. Several packaging experts on our team spent a lot of time with Douglas going through revisions and building the cuber from prototype to what we have today. It's a unique relationship we have with them.
Does the cuber slow the bagging machine down much?
The Atlas machine is rated at 25 to 30 standard pillow packs per minute. With the cuber retrofitted to it, we need some dwell time to induce the thermosetting properties that give the package those sharp angles and clean lines, so bags per minute is more like 20.
Anything special about the flexible film?
It's a multilayer extrusion lamination from Printpack. We gauged up the structure to make it a stiffer, thicker film to give it the rigid characteristics and allow us to thermally induce more angles and facets to it so that the package keeps its squared-off shape. Total thickness is a little more than three mils, including a product-contact layer that is metallized.
What was the thinking behind the front-panel opening? Is this the same technology that we have seen in the Oreos package with the front panel opening that is also resealable?
In addition to mimicking the Xbox shape, the other feature we wanted was based on consumer data. Gamers play avidly, to say the least. So we wanted to give them a package that was easier to get into than a conventional bag or pillow pack, an opening that would disrupt them as little as possible from the game yet would still make it possible to reclose the package. But the solution we came up with is not like the Oreos package, which is Sonoco technology. The Gamer Pack uses Printpack's Re-Seal It technology. Once the extrusion lamination is finished, a kiss cut creates the opening. Then a clear label is placed over the portion that will become the opening. When the consumer pulls back on the tab of the label, the bag material tears along the kiss cuts and comes up with the label, thus opening the bag. The adhesive along the perimeter of the label permits secure reclosure so the chips stay fresh.
In how many plants will the Gamer Pack be produced and where will this package be sold?
It's produced in one plant near Dallas. It will be sold nationwide, but only at Walmart stores and in limited numbers, all in shoppable pallets sitting not in the snack aisle but on the perimeter of the Walmart stores. Each pallet has four shelves. The bottom three shelves have 11-oz pillow packs of Doritos, and the top shelf has 58 Gamer Packs. Needless to say, our usual store-door distribution system had to be modified. We put the Doritos in 200-lb totes and send the totes to a second plant where the modified Atlas bag-maker is. There the individual bags are put in cases and sent to repackers who build the shoppable pallets. From there the Walmart distribution system takes over.
And how does this package fit into the "Every 2 Minutes" promotion?
Printpack ink-jet prints a gaming code on the inside of that front-panel material that pulls open. Consumers collect codes and enter them at www.Every2Minutes.com to bank their points. They can then use banked points to bid to win Xbox entertainment systems in nightly auctions closing every two minutes from 9 p.m. to 2 a.m. Eastern Standard Time. If you don't win an auction, you get your points back so you can try on another auction two minutes later. The codes on the 7-oz Gamer Packs are worth 300 points, while the codes on 11-oz pillow packs are only worth 200 points. It's all about drawing attention to the new package and, by extension, to the new gaming system the package resembles.
So I assume the budget for this kind of limited edition comes from more than one department?
Correct. It was a very cross-functional project. We invested in developing equipment and doing some of the testing we needed to do to make this all work.
Is this as complex a package as I think it is?
Let's just say it's not something we have in our everyday portfolio. It's not something a form/fill/seal machine is ordinarily going to produce. It's more likely that if you wanted to make something cubical like this you'd do it on a horizontal fill/seal system. But there you are talking about premade pouches. We couldn't have gotten this package to market without internal packaging expertise and strong collaboration with our equipment manufacturers to help us build a piece of equipment that would fit seamlessly onto a current asset in one of our plants. We then had to work closely with our film supplier to incorporate features in the finished pack that would resonate with the target consumer: gamers.

To see a spin + zoom 360° photo, click here.
Companies in this article