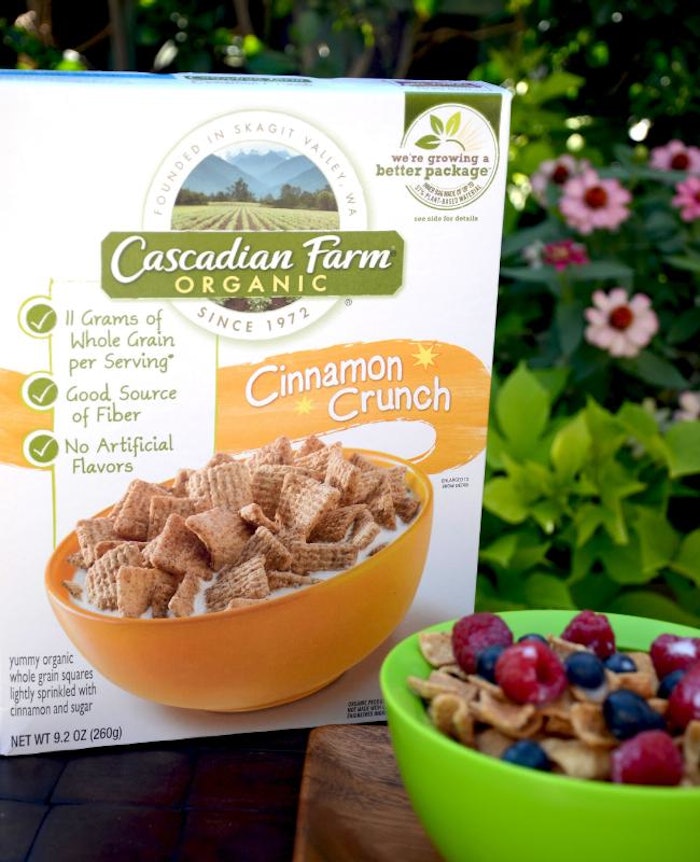 Cascadian Farm, makers of more than 75 organic products, has introduced its first-ever cereal box liner made from renewable plant sources. Cascadian Farm Cinnamon Crunch cereal is now packaged in an inner bag made from up to 57% certified plant-based material. This new liner is the latest among the brand's various sustainability initiatives that support its mission of helping to shape a better world.
"At Cascadian Farm, we know that every choice we make can help shape a better world now and for the future," says Jennifer Jorgenson, Marketing Director Cascadian Farm. "A desire to protect our Earth's resources led us to develop this groundbreaking inner bag."
Packaging and sustainability experts at Cascadian Farm developed the plant-based liner with the help of proprietary sustainable packaging developers. The liner is a key initiative by the brand to utilize renewable resources. According to the company, using plant-based resources that can quickly and naturally be replenished allows the Cascadian Farm brand to take a large step toward being as closely aligned as possible with the land.
Notes Cascadian Farm, 78% of U.S. consumers are now buying green products and services, up from 69% in 2012, according to the 5th Annual Tork Sustainability Survey. To help communicate the environmental benefits of the new plant-based liner to shoppers, Cascadian Farm has introduced a new design for its 100% recycled paperboard Cinnamon Crunch box, which features graphics and messaging about the inner bag. The box features the "We're Growing a Better Package" logo that states the inner bag is made of up to 57% plant-based material, and the side of the box features a USDA certification noting that the package is bio-based.
Cascadian Farm Cinnamon Crunch cereal with the plant-based liner is available now coast-to-coast at mainstream supermarkets and select natural food stores.