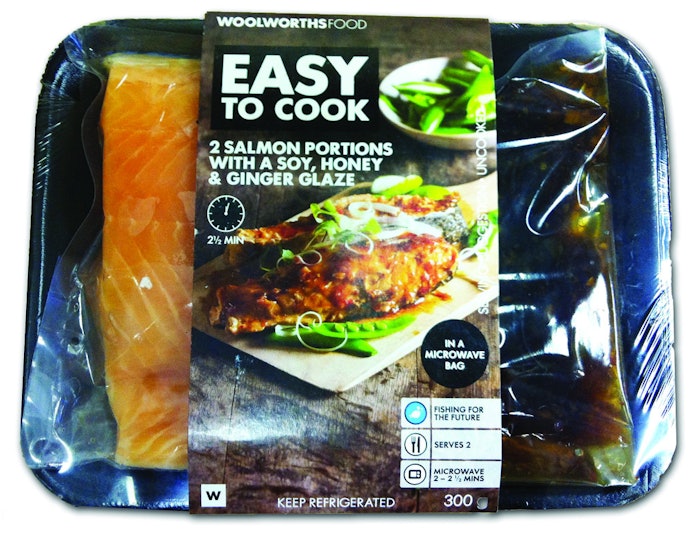 Ovenable bags appear to be picking up some momentum not only in the U.S. (see pwgo.to/070 and pwgo.to/071) but elsewhere in the world, too. In South Africa, for example, the Woolworths chain of stores has launched two refrigerated seafood ready meals in an innovative ovenable bag.
The interesting twist to this launch is that the bag has two compartments. In one is the seafood item, either a salmon filet or calamari rings. In the other is a sauce. During cooking—in either microwave or conventional oven—the seal between the two compartments breaks so that fish and sauce are united.
"The packaging fits the product like a glove," says Gavin Anhaeusser, product developer at Woolworths. "It's perfect for absolute convenience and no-fuss cooking. Not only is it quick to cook, it's a flavorsome end product with no fishy smell in the kitchen. The fact that the product is sealed in the bag means no yield loss and added flavor to the finished product."
The pre-made Smart Release bags are supplied to Woolworths by Sirane. Precise composition is considered proprietary. Sirane managing director Simon Balderson says the multi-layer adhesive lamination is made up of "fairly standard packaging materials like polyethylenes, polyesters, and EVA. But they're used in unusual ways."
Sirane has established itself in the ovenable bag space over the past few years. But typically the protein—fish, chicken, meat—goes into the same compartment as the sauce. The dual-compartment format grew out of a request by a large retailer in the UK.
"They came up with a delicate watercress sauce that got too fishy when fish and sauce were in one compartment," says Balderson. "The fish, too, lost some of its texture by being submerged in the sauce. So we developed this two-compartment pouch, only to discover there are quite a few applications for it, and not just with proteins. There are sponge cakes that do better when separated from their sauce, and some veggies, too, are good for this approach if you want them to be a little al dente."
Good margins
The cook-in bag is an appealing concept these days because margins are very good. "You might price a piece of chicken breast for two dollars, but put a bit of sauce in and deliver the convenience of a cook-in bag and you can sell it for $4," says Balderson. "This is a big opportunity, especially in poultry, because historically they have struggled for margins."
To produce the Woolworths bag, Sirane purchases the necessary substrates in rollstock form. Selective coating is folllowed by adhesive lamination.
"Once we have the multilayer structure that's called for, we send that through one of our four converting lines," says Balderson. "These are essentially bag-making machines, though there are a few 'extras' involved such as coating stations, for example, and various seal bar options so we can do cross seals and running seals. We can also cut handles or vents, and we can apply labels."
As for filling of the bags, it's done manually. In-house engineers at Woolworths came up with a semi-automatic system of heat sealing by means of a foot-pedal-operated device. Sealed bags are placed in a foamed EPS tray and then a paperboard sleeve is applied.
Woolworths launched its two seafood items just a few months ago and is already looking at broadening the range to include chicken. "The concept and convenience of Smart-Release is great, especially for small households and singles," says Anhaeusser. "It's time-saving and energy-efficient if you are only cooking for one or two. But most important, the food quality is excellent."
Companies in this article