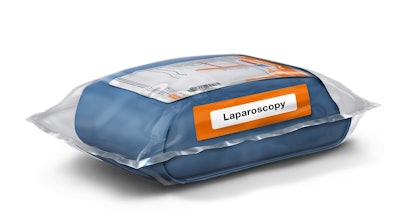 The operating room is no place for uncertainty, yet package labels and printing can cause confusion for OR nurses and technicians.
In fact, nurses have voiced concerns about these very medical device packaging issues at several recent HealthPack events. Among them: color coding that differs from manufacturer to manufacturer, difficult-to-read print, uncertainty about expiration date codes, latex allergy markings, etc.
To help alleviate such concerns, Medline Industries, Inc. this spring introduced its Empower-brand surgical procedure pack identification system that aims to improve patient safety, eliminate waste, and reduce pack confusion, touting the system as "the first major design innovation for surgical procedure packs since they were initially used in the healthcare industry more than 30 years ago."
Medline, a privately held manufacturer and distributor, also offers consulting and management services that include supply chain and logistics. Medline has a growing network of 50 manufacturing and distribution centers worldwide, with a dedicated transportation fleet consisting of more than 200 vehicles equipped with the latest navigation devices for enhanced order tracking and communication.
Outer label, inner insert
The Empower system features easy-to-read, color-coded outer packing labels and matching color-coded insert forms that identify each pack and reduce the chance of selecting the wrong pack. A key differentiator: The system allows the end-user customer, say a hospital, to select the color coding rather than having to use color schemes determined by different kit makers.
Traditionally designed procedure packs look almost identical to each other—regardless of the specific surgical procedure. Most packs, according to Medline, are wrapped in blue surgical draping with no outer identification label and a hard-to-read packaging insert placed on top of it, which makes it virtually impossible to identify individual packs quickly and easily.
"The Empower packaging system is based on an intuitive visual design to eliminate pack confusion," says Kim Haines, RN, certified OR nurse, vice president of clinical resources for Medline. "The new design helps increase efficiency in the OR and eliminates waste because the large, easy-to-read color-coded label and matching insert form makes it easier and faster to choose the right pack and reduce the chance of picking the wrong one and having to discard it."
In a recent survey conducted by Medline of more than 400 OR staff, 67% of the respondents said that the incidence of picking the incorrect pack occurs at least several times a year. At those facilities where the wrong pack was picked, 83% of the respondents said they either have to pull an entirely new pack or pull additional separate sterile items.
Haines says that when the wrong pack is chosen, "productivity slows and costs increase because additional sterile items or an entirely new pack must be pulled from stock." Traditional pack inserts also make it difficult to find important information, such as the expiration date or latex content.
The insert within the Empower pack offers the following benefits for hospital employees:
• Latex product identification—The color-coded product list, which is clearly visible on top of the pack and matches the color of the pack label, easily identifies latex items contained in the pack with a red highlight.
• WHO surgical safety checklist—The checklist helps clinicians minimize the most common and avoidable risks endangering the health of the surgical patients.
• Component utilization tool—This enables the clinician to improve pack efficiency and eliminate waste by documenting unused items that may be eliminated and additional separate sterile items that could be added to the pack.
Preventing errors in the OR
"Our philosophy at Medline is to develop products, programs and systems that make it hard for health care staff to do the wrong thing," says Sue MacInnes, Medline's chief marketing officer. "Our new Empower Packaging System, with easy-to-read color-coded labels and packing information, is designed to make it virtually impossible for OR staff to select the wrong pack. In fact, it will actually help them do their job more efficiently and accurately."
Each kit is customized for a surgical procedure. The same procedure, however, may include different components for different hospitals, depending on customer preference, which can even differ by surgeon. Hence, the vast number of SKUs. Medline's Waukegan, IL, location produces some 17,000 different kit combinations, estimates Rob Wilmoth, vp, sales operations, SPT Div. Each kit may contain up to 300 or more individual components, adds Marc Phillips, vp, SPT Div. These could include an endoscope tray, gauze, gowns, sponges, tubing, bags, a basin, etc.
"The sky is the limit," in terms of kit configurations, explains MacInnes. "Every tray [kit] is designed for how that hospital system operates. Sometimes it has to do with their internal procedures and sometimes with what the physician preference might be. And we have 24 different color options that customers can choose from. That way, they decide their color coding. It empowers them." That's quite different from companies that do their own color coding and rely on customers to learn particular color schemes.
By offering this flexibility to its customers, says MacInnes, "it really engages the [customer's] staff [to partake in] the development [of the product], so they are making decisions and learning, and then they are getting a creation [from us] that they took part [in developing]."
Designed for flexibility
One of the key factors in the design developed with Deborah Adler, who also helped create the Target prescription bottle, had to do with aging health workers with vision challenges.
"When we look at the type size, a lot of times we are talking about people in their late 40s and early 50s, who may not see too well, so we made the label a part of the package function," explains MacInnes. "So even if they are doing a procedure and they find out there are five things in that procedure that weren't used, they can use the label to mark it down to assess where the waste is. That way they can redesign the pack to take those things out to make it more cost-effective."
Packaging process
Medline's 240,000-sq-ft Waukegan, IL Sterile Procedure Tray (SPT) facility is a whir of activity, buzzing with people and machines that make, assemble, and distribute more than 11 million surgical kits/yr to hospitals and surgery centers throughout the country. In all, Medline manufactures and distributes more than 350,000 kinds of medical and surgical products to hospitals, surgery centers, extended-care facilities, research labs, physician offices, home care agencies, home medical equipment providers, and retailers.
The company receives individual components that may be supplied by Medline competitors. About 70% of components are actually manufactured at other Medline facilities, which allow Medline to control the supply chain process and offer cost savings to customers. But some customers do request certain products from specific manufacturers.
Incoming products are placed in specific locations in the five-high warehouse. Workers are assigned specific locations in the warehouse to select only products from orders that need products within that area. That process maximizes efficiency.
Medline employees are equipped with hand-held computers to select and scan products, which are picked and placed into rigid plastic tubs that include sensors that are read by infrared bar-code readers mounted to conveyor lines throughout the warehouse area. The computerized system is used to help direct the tubs to the appropriate stations where experienced workers select individual components for each kit. These steps are critical so that wrong parts are not selected for that specific surgical kit.
Components are manually packed on 17 lines into different-sized outer bags. Bag structures and sizes vary depending on the contents of the specific surgical kit. Bags are made of a linear low-density polyethylene film created through a blown film extrusion process using a DuPont Tyvek® strip at the head of the bag. This strip acts as a breathable layer, allowing EtO gas to enter and exit the bag during the sterilization process. A pressure-sensitive label is hand-applied to each kit that is subsequently case-packed, palletized, and delivered to a nearby building Medline purchased from Steris for ethylene-oxide sterilization prior to shipment to customers.
MacInnes admits that providing customers with the Empower packaging system represented a considerable financial investment in new printing equipment. Vendors are considered proprietary. "It was a huge investment," she says. "It takes a little bit of a leap of faith and risk because there wasn't anything broken. We had manufacturing, sales, and marketing get together and we made a decision that this was a good thing for our future because we have to continue to progress to help our customers."
Companies in this article