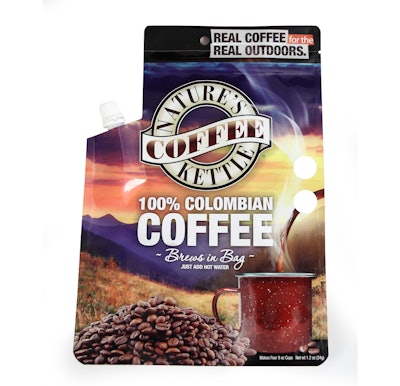 A perfect pack to help hikers, campers, and other outdoor enthusiasts perk up, the flexible pouch for Nature's Coffee Kettle products lets users brew gourmet coffee in five rich varieties out of home. Introduced in 2009 and recently enhanced with structural and graphic improvements, packaging for Nature's Coffee Kettle comprises a self-contained, proprietary filter pack of ground coffee contained within a flexible bag that allows the consumer to make four 8-oz cups of coffee when hot water is poured through the bag's reclosable, zippered top.
The brewed coffee is dispensed through another opening in the faux kettle, a plastic spout with cap, positioned on one side of the bag. On the other side, two holes allow the user to grasp the bag and pour its contents.
"The technology is clearly in the bag," says Matt Hustedt, founder of Omaha, NE-based Nature's Coffee Kettle. "Our customers brew 32 ounces of gourmet coffee when they are on-the-go. We needed a package that attracted not only outdoor enthusiasts, but also people who really care about drinking delicious coffee."
Selected for its insulating properties and durability, the flexible pouch from Flair Flexible Packaging is a three-layer construction of adhesive-laminated PET/vacuum-metallized PET/cast polypropylene. The glossy package is gravure-printed in seven colors using water-based inks, with graphics chosen to convey a feeling of outdoor adventure and the bold flavors of the company's freshly roasted coffee.
"We incorporated new images that speak to the lifestyle of our target audience and put more emphasis on the fact that our coffee is made from 100% real Arabica beans and is not instant," explains Hustedt. The updated, photo-quality, full-coverage graphics in richly colored tones were designed by Bluespace Creative.
Hustedt adds that structural enhancements include rounded corners that give the bag a softer feel and make it appear more like a coffee pot when filled, larger finger holes that provide better functionality, and an improved coffee filter. "Our filter has been redesigned so that very fine, coarse holes extract the coffee to give our consumers a coffee with more robust flavors," he says.
"The portability of the package is unique," Hustedt adds, "but what will keep customers coming back is the taste of our coffee. Now our packaging does double-duty, as a kettle and as a billboard."
Nature's Coffee Kettle products are sold in many recreation-related retailers, such as Academy, Cabela's, and Sportsman's Warehouse, as well as through Amazon.com, for a cost of $5.99 per bag.
Companies in this article