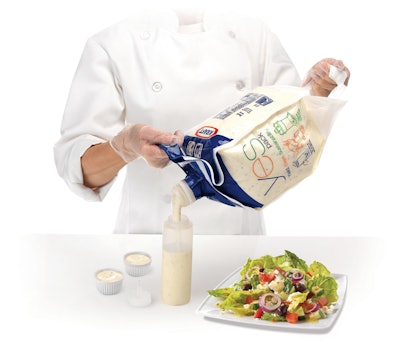 Highest achievement to Kraft YES pack

It won a Food & Beverage Product Innovation Award from the National Restaurant Association and a DuPont Silver for Innovation in the annual DuPont Awards. Now the Kraft YES Pack for 1-gal portions of salad dressing used in foodservice institutions received the Highest Achievement Award in the 2013 Flexible Packaging Achievement Awards.

"Our goal in designing this product was to better meet the daily needs of operators," says Stacey Rychlewski, business manager at Kraft Foods. "The cutting edge design of the YES Pack significantly improves back-of-the-house efficiencies while maximizing product yield, and we are honored to be recognized for that."

This package goes all the way back to 2007, when Kraft challenged its suppliers to come up with an improvement on the rigid plastic container and threaded closure that has been the mainstay in this product category for so many years. Launched commercially in January of 2012, the package's name is an acronym for its key deliverables: Yield, Ease of use, and Sustainability. The use of flexible materials in the package allows the operator to squeeze product out of the package for better yield. The two-handled design allows for easy carrying and precision pouring. And the manufacturing and transportation of the flexible package when compared to the rigid jug brings an improvement in energy use and reduced carbon dioxide emissions.

Key suppliers behind the innovative pouch are Exopack and Smart Bottle Inc.. Smart Bottle is the developer of the technology, while Exopack makes the rollstock that Kraft uses to form pouches and fill them.

Notable is the seal design around the handles, which keeps them stable during the pouring process. The spout fitment is sized to promote a more direct flow of product into dressing cups for use at the restaurant table. When the dressing has been completely dispensed, the flattened pouch takes up 86% less space in the restaurant's waste receptacle.

Precise material configurations on the four-side-sealed pouch are considered proprietary, but it appears that the Exopack material is a lamination of reverse-printed nylon and metallocene sealant. Designing a structure with the ability to seal through multiple layers of materials while maintaining adequate caulking around fitments and corner apexes were critical elements of material design. That the package is able to pass the required drop tests speaks to the high quality of its seals.

Points scored on the sustainability front are also impressive. Kraft claims the package uses 50% less energy to manufacturer when compared to its rigid counterpart, takes up 50% less landfill space, uses 60% less plastic, and generates 70% fewer carbon dioxide emissions during transportation of film to Kraft packaging lines.

Gorgeous printing for gourmet snack

One of three entries to win Gold for Printing Achievement in the FPA Awards Competition was Lima, Peru-based Peruplast S.A. for its Kusi Wayta package. Kusi Wayta is a new gourmet product from P&D Andina, also in Lima, that features native Peruvian fruits dipped in chocolate. Introduced in February of 2012, the 140-g-oz package sells for about $6.00.

This is a pre-made bag that Peruplast supplies to P&D Andina. Prior to bag making, Peruplast adhesive laminates the bag material, which is a three-layer lamination of 12-micron polyester/7-micron foil/sealant layer.

The polyester is first reverse-printed on a gravure press in seven colors. Featuring native motifs and landmarks, the graphics effectively communicate both the native characteristics and the gourmet quality of the product inside. In the same pass, Peruplast also surface prints the polyester with a matte lacquer that covers selected areas of the artwork on the opposite side. As a result, what meets the consumer's eye in the retail setting is not only the beautiful seven-color gravure-printed graphics but also a striking combination of matte and glossy effects.

According to brand manager Alvaro Carbonel, the package is a perfect combination of function and appearance. "You need a strong package for the preservation of the product, yet it must be appealing to the eye of the consumer," says Carbonel.

Pouch packaging program accentuates consumer recycling guidance

The recyclable, recloseable stand-up pouch application developed in cooperation with biodegradable laundry detergent marketer Savvy Green™, St. Petersburg, FL, has won an FPA Gold Award in Environmental & Sustainability Achievement for Ampac Flexibles.

The Ampac No. 2 Savvy Green Pouch is being touted as the first primary flexible package to participate in the HOW2RECYCLE program, providing consumers a path to recycling flexible packaging. The pouches are made from a proprietary coextruded high-density polyethylene blend and a small amount of non-HDPE resin to enhance pouch material processing. The small amount of non-HDPE resin does not interfere with recycling.

These pouches can be recycled along with other HDPE products in municipalities with recycling programs as well as at retail stores with drop-off stations for HDPE shopping bags. In addition, there are several internet sites that can guide consumers to the nearest drop-off points and curbside recycling facilities in their areas.

The Ampac No. 2 Pouch has been approved by Trex® Company, a manufacturer that uses recycled plastic bag packaging to create decking and railing products. Trex currently is the largest plastic bag recycler in the U.S.

The recyclable Savvy Green Pouch is made at Ampac's manufacturing plant in Seattle, WA. Ampac receives the HDPE resin by rail and extrudes it into sheeting. The sheeting then is printed on one of Ampac's 10-color presses and converted into pouches. During the manufacturing process, all trim and rejected films or pouches are reprocessed for the manufacture of can liners. By using a coextruded film, Ampac eliminates a lamination processing step, saving materials and energy.

These pouches are designed for improved stiffness, drop strength, and moisture barrier. They are surface-printed in high-definition 9 to 10-color flexographics with solvent-based inks, then matte varnish over-coated.

Mary Allen, co-owner of Savvy Green reports, "We were looking for distinctive-looking, consumer-convenient packaging that could meet our environmentally friendly standards and also provide moisture barrier to prevent clumping of the powdered soap. The recyclable, zipper-recloseable Ampac No. 2 Pouch meets those criteria. It protects our product, reduces the amount of packaging material required to produce containers, is space-efficient in shipping, warehousing, and store shelf stocking, and is easy for consumers to open, reclose, and recycle. It's also extremely attractive on the store shelf.

"We introduced the packaging for our laundry detergent in October 2012. We are so pleased with the packaging's market performance that we are introducing powdered dish-washer soap and oxygen brightening laundry detergent in the same pouches in March 2013."

In addition to the Savvy Green detergent, other Ampac No. 2 Pouch commercial applications already include such diverse products as sugar, sugar substitutes, and cat litter, with more applications in the works. Ampac provides its user customers advice on strict adherence to FTC guidelines for labeling the No. 2 Pouch in terms of recyclable claims as well as about how to participate in the HOW2RECYCLE labeling program.

Premium pouch provides authentic, homespun look for Indian wheat flour

A modern, elegantly printed stand-up pouch with vintage graphics and design elements that bring to mind a rustic, jute bag moved FPA judges to bestow a Gold Award for Printing Achievement on India-based converter Paharpur 3P for its work on a 5-kg pouch for Aashirvaad Select Atta wheat flour. According to Debarshi Ray, head of quality assurance and process improvement for Paharpur 3P, the package was developed in 2005 as a line extension under the Aashirvaad brand, from ITC Ltd., Bangalore, "bringing wheat flour in a small pack size of 5 kilograms to handle the needs of nuclear families and singles living alone."

Atta is a flour used to make most South Asian flatbreads, including roti, a bread that originated and is consumed in India. Reads Aashirvaad marketing materials, "Aashirvaad promises the Indian housewife the joy of providing her family with the most delightful home-made rotis, made from the finest quality atta." In creating packaging for the Select variety, Ray says Aashirvaad was looking for great aesthetics to impart a premium look to the brand, with the ability to withstand rigorous handling.

The pouch is a four-layer, adhesive-laminated construction of 0.6-mil biaxially oriented nylon/4.3-mil white polyethylene gravure-printed in nine colors on a Rotomac press. The pouch has an OTR of less than 5cc/m2/24 hr. Ray says the structure was selected to achieve High Dart Impact Strength (HIDS), a desired property for use with products with high particle density and for bulk packs. "This pack is a combination of both," he says.

The pouch was printed with polyurethane ink to provide minimum process defects, and uses a registered matte coating, with the product name in a spot gloss. "The combination of gloss and matte effect has given an abstract look to highlight certain areas of the pack," notes Ray.

Graphics include a background made to look like the coarse, fibrous material of a jute bag, stitched with thread. A deep-orange, colored panel in the middle of the pack holds the brand logo, printed in a glossy gold, along with the product name. A thin strip underneath the colored panel, as well as one on the top of the pouch contain vintage, pastoral illustrations of Indian farmers harvesting wheat.

According to Ray, the Aashirvaad Select Atta package, sold at retail across India, "is running very well in the market."

'Twistoff' Stick Package allows single cough drop dispensing for Halls

Winning a Flexible Packaging Assn. Gold award for Technical Innovation is Sonoco for the Halls' "Twistoff" Stick Package, a flexible package designed to allow one cough drop to be dispensed without spilling other drops out of the package. With a simple twist of the package, the consumer can take a single cough drop while the rest of the products remain in place in the outer overwrap.

To maintain this package integrity, Sonoco employs its micro-perforated stick wrap. Pete Gioldasis, Sonoco's marketing manager, says, "With the new precision-scored perforations, consumers can easily open the package and access the product by simply twisting on the perforated area. Since the perforations line up perfectly with the individually wrapped pieces, the remaining pieces stay intact and don't spill or fall out into purses or pockets, improving consumer satisfaction."

The package is a foil/paper extrusion lamination. The material is pre-perforated prior to wrapping the cough drops. No modifications to existing equipment were needed for the Twistoff pack.

Known as Halls' Twistoff Stick Package in U.S. and Canadian markets, and as the Halls Popoff Stick Package in Mexico, the pack represents an improvement over existing packaging in its category by providing easier access to the individual cough drops while maintaining a solid structure to secure remaining drops. Some traditional cough drop packs open and cough drops fall out, which could cause the remaining product to become loose and increase product waste.

The Halls brand is part of Mondele¯z International, Inc., a Deerfield, IL-based chocolatier, biscuit baker, and candy and gum maker, with brands that include Cadbury, Jacobs, LU, Milka, Nabisco, Oreo, Tang, and Trident. Mondele¯z was launched on Oct. 1, 2012, and comprises the global snacking and food brands of the former Kraft Foods Inc.

Environmentally friendly oil packaging

Development of the ECO-ULTRA Motor Oil FlexPak™, in cooperation with Universal Lubricants, LLC, Wichita, KS, has garnered an FPA Gold Award in Environmental and Sustainability Achievement for Star Packaging Corp.. Touted as representing the nation's first domestic, commercial launch of retail motor oil packaged in one-quart flexible pouches, the FlexPak™ enables significant reductions in packaging materials usage, energy consumption, carbon emissions, and landfill waste versus plastic bottles.

Star Packaging manufactures the easy-pour, stand-up pouches using a 6-mil, 3-layer barrier construction of polyester, nylon, and linear low-density polyethylene (LLDPE). The material is engineered to provide superior burst and seal strength required for containing oils and other hard-to-hold liquid products. Specially designed for durability, these pouches reportedly have passed drop tests in excess of 20 feet.

Star uses state-of-the-art stand-up pouch packaging equipment from Totani to produce the ECO ULTRA pouches. The Universal Lubricants pouch material is printed in 7 colors on Star's newest W&H MiraFlex® flexographic press. Photopolymer printing plates are provided by OEC Graphics. Pouch filling equipment is supplied by Innovative Packaging Network-IPN (www.ipnusa.com and www.ipnmanufactur
ing.com). Filling is accomplished through the "glug-free" pour spouts already affixed to the SUPs. The high-density polyethylene (HDPE) Clean Spout 106 XLR pour spouts also are supplied by IPN.

The innovative engine oil packaging offers multiple benefits for Universal Lubricants. Jan Horsfall, Universal Lubricants' Chief Marketing Officer, says, "The amount of package space available for product messaging is greater than on bottle labels. The flexible shape of the pouch can more easily conform to retail shelf display parameters. And the handle on the one-quart pouch facilitates pegboard hanging displays. Also, there are definite advantages in terms of transport, storage space efficiencies, and disposal. One truck load of these unfilled flex packs is equivalent to 26 truck loads of unfilled rigid plastic containers. This translates to a significant reduction in fuel consumption, road emissions, fleet maintenance, and operating costs. And post-consumer, the emptied pouches, completely evacuated of product and flattened, require far less disposal space than empty plastic bottles."

Pouch packaging incorporates 'fun factor'

"PushPop" pouch packaging for portion-controlled products has earned an FPA Gold Award in Packaging Excellence for Amcor Flexibles. Among the first to commercialize the concept is Chiquita Brands in Europe. That firm's Super Crunchy Fruit Chips, a convenient single-serve snack made from 100% naturally dried fruits, debuted first in 2012 in Chiquita Fruit Bars and later appeared in general retail channels. Unique scoring on the top gusset makes for easy opening. Consumers simply grab each side of the top gusset of the package where it says "Place Thumbs Here," push their thumbs against the top gusset, and slightly tug. The pouch, which stands up on its bottom gusset, pops open at the top gusset scored area, providing a large opening for easy product access.

Amcor sends a three-layer lamination of oriented polypropylene/ metallized polyester/polyethylene to the contract packager that produces the packages. There a vertical form/fill/seal machine believed to be from Bosch Packaging Machines produces the packs. The secret is precise laser scoring of the OPP layer in such a way that only the top layer of OPP is scored, not the two layers below it. This facilitates opening without compromising shelf life.

Amcor says that these double-gusseted pouches can be easily produced on existing high-speed form/fill/seal equipment with an estimated $50,000 investment in retrofitting. The retrofit involves incorporation of a plow that will produce the top and bottom gussets.

Products in the individual portion-controlled pouches currently are marketed in multi-pack cartons, so the pouch itself is not what the consumer sees on the store shelf. But when removed from the carton, the pouch surface displays bright billboard graphics, which Amcor reverse prints flexographically in eight colors on the OPP. The unique pouch appearance plus the innovative opening mechanism are targeted to enhancing brand image and making the consumer experience fun.

Cardiac balloon catheter tray delivers performance, sustainability benefits

The performance of Beacon Converters/CardioFocus Heart Light® Cardiac Ablation system packaging system meets multiple objectives. First, it delivers a fragile, large, complex device intact and easily dispensed. Second, it utilizes a small mayo table—taking up less space in the specialized operating room by eliminating the need for a large prep table. Third, by reducing the packaging weight and volume compared with the conventional thermoformed tray with inserts, sustainability objectives are met.

The Flexible Packaging Assn. honored the pack with Gold Awards for Environmental and Sustainability Achievement, as well as for Technical Innovation.

The success of the package is best summarized by Al Stancampiano, director of product development at CardioFocus, "What we accomplished with this package was nothing short of a miracle. There were challenges in securing the fiber optic and tubing for transport while not doing damage and affecting its clinical performance, all combined with the need to have it easily release at the time of use." CardioFocus is dedicated to the advancement of ablation treatments for cardiac disorders.

The die-cut trays are custom for each device and can be configured to work for catheter trays, surgical kits, and products in standard-sized or oversized trays, and long products that can be configured in a flexible tray.
The tray offers the medical community a flexible packaging option for large, complex devices, using less energy to manufacture, ship, and warehouse compared with a rigid PETG tray, reducing packaging volume by 32% and weight by 50%.

Functional components are cut from a single sheet of 0.035-in. flexible, recyclable high-density polyethylene. Key features include carabineer-style hold-downs that protect delicate device elements, and triangular sidewalls formed with a series of custom tabs that provide the tray's physical structure. When assembled and loaded, this flexible packaging tray can be placed on a small mayo stand to allow positioning close to the sterile field, and acts as a catheter prep tabletop in the confined space of an Operating Room Angio-suite. After use, the tray knocks down flat and can be rolled up for recycling.

Beacon sells die-cut tray cards directly to device manufacturers. "Each is unique and completely customized for the device manufacturer's product," says Alison Tyler, technical director for Beacon Converters. The company manufactures them in a diverse range of sizes and configurations. She says, "We have tiny ones that fit in the palm of your hand, and ones like the CardioFocus tray that are over five feet long. Variations in features on the die cards are based on the specific needs of the device and what the packaging system needs to accomplish."

The die-cut tray, although flexible, maintains necessary stiffness characteristics. From top to bottom, each design element has a specific critical function, and custom-developed features secure, stabilize, and protect delicate elements of the medical device through a rigorous distribution environment.

Throughout distribution and warehousing the flatness of the die-cut tray has space-saving advantages: 100 die-cut cards stack down to less than 4-in high. Space efficiencies translate to fewer corrugated boxes, reduced trucking, less fuel consumption to transport, and overall lower warehouse requirements. The triangular geometry of the tray sidewalls is formed during the loading process, using tabs along the tray's length to maintain its shape. These sidewalls transform a flexible sheet of HDPE into a functionally rigid tray. After use the tray can be knocked down into its original flat format and compactly segregated into the recycle waste stream.

Traditionally, a cardio tray would have been packaged in ridged materials, including a heavy, bulky handle, a large fluid reservoir, and bending-sensitive fiber optics and tubing. For this CF tray, die-cutting is used to convert the single sheet of extruded HDPE into a final product with cut schemes that create a system of unitized features in just one step. The die-cut tray is assembled into its three-dimensional shape when the product is loaded. How unique is this package? "At this point, we are only aware of this package in the market that contains a complex device of this nature and size," says Tyler. What differentiates it from other packaging? "While die-cut insert cards have been used to organize and protect devices, they have been repurposed into a flexible tray system." Tyler adds, "Elements designed into the package like the carabineer hold-downs are completely custom and specific for this product, offering 360 degrees of protection with only one component, something that isn't possible in a thermoform tray."

Matte/gloss combination enhances shelf presence for Lindt

A move from a paper/film square-bottom bag to an all-film stand-up pouch with matte and glossy graphics took Lindt & Sprungli's Lindor 198-g Assorted Chocolates package from staid to stunning, and earned converter American Packaging Corp. a Gold Award for Printing Achievement from the FPA. "Lindt wanted to upgrade the look of the current package to incorporate a more upscale appearance, and wanted a combination of a matte/gloss look, so the key product shot could be glossy, surrounded by a matte effect for increased shelf appeal," explains APC business development manager Natalie Jimenez.

Completed in September 2012, the bag is a proprietary three-ply lamination printed in seven colors plus lacquer on a gravure press with in-line tandem adhesive lamination. According to Jimenez, the matte lacquer was applied to the outside of the package in-register to the print. "The design required a special cylinder engraving technique to allow for the process and solid colors to be combined and still give the graphic appeal that Lindt was looking for," she says.

The bag features a miter-style bottom and was sized by APC to fit the product fill weight and to allow the bag to stand up on shelf. Reads APC's FPA Award entry form, "Shelf presence was increased by the use of a stand-up pouch versus the laydown bag typically seen in the confectionary category." The bag is resealable, with a press-to-close double zipper, for added consumer convenience.

Graphics for the initial bag design include an illustration of the gold Lindt bunny nestled in a foreground of green, daisy-dappled grass and surrounded by Lindor truffle eggs in their bright-colored wrappings. Running diagonally across the front of the bag is the Lindt design motif of a swoosh made of white flowers and butterflies, underlined by a glossy gold streak. While most of the background is a matte surface, the left-hand corner of the bag reveals the glossy gold film. Says APC, "The use of the metallic substrate captures the design, and the unique matte/gloss combination adds recognizable style to the Lindt Lindor Assorted Chocolates package."
Lindt is now in the process of rolling out additional stand-up pouches in a variety of graphic designs and fill weights.
Companies in this article