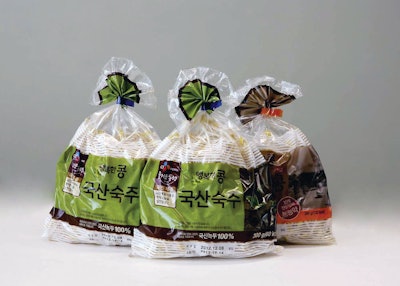 Based in Kangwon Province, South Korea, ADD FARM, Ltd., supplies and packages bean sprout products for CJ Foods, one of the largest food companies in South Korea.
The bean sprouts are packaged in 200g (7-oz), 220g (7.8-oz), 230g (8-oz), 240g (8.5-oz), 280g (10-oz), and 380g (13-oz) bag sizes. The bags are filled and sealed on vertical form/fill/seal equipment (equipment manufacturer not identified). These products are sold at super discount stores and retail stores throughout South Korea.
Until March 2011, ADD FARM had been using a mechanically scratched film imported from Japan as the modified atmosphere packaging film for the bean sprouts. But, due to randomly scratched surfaces, the film could not provide a consistently constant transmission rate. The transmission rate of the film being used had a margin of error of 150% and was not adjustable for package sizes and seasonal conditions. And sometimes scars on the scratched surfaces of the film broke during the on-line packaging process. So this film could not reliably maintain product freshness. In fact, many consumers complained about the disagreeable odor and color of the packaged sprouts.
ADD FARM explored various other barrier films and decided to use the O2 Fresh Film from Dae Ryung Precision Packaging Industry Co., Ltd., distributed by JPNC USA Corp. The O2 Fresh Film is partly processed by a unique laser technology using nanosecond, picosecond, and femtosecond laser. The film has minimal risk of breaking during on-line packaging procedures. And it provides constant OTR (oxygen transmission rate) control so that the on-shelf products can maintain freshness.
ADD FARM launched its first products packaged in the O2 Fresh Film in April 2011. Executive General Manager of ADD FARM, Won H. Choo, notes, "We changed to the O2 Fresh Film to remove the problems we were experiencing with the scratch film. And we were able to use our existing form/fill/seal equipment. No gas injection is involved in the packaging procedure. Composition of the air inside the bag is controlled purely by the transmission rate of the O2 film. Now, we can precisely and accurately control the oxygen transmission rate to adapt for package sizes and seasonal variations with a margin of error of only +/-5 percent. The Dae Ryung O2 Fresh Film has prolonged our product freshness, and, after implementing the new film, our sales volumes increased considerably."
Asian Alliance
Currently, only two plants produce the O2 Fresh Film. One is the Dae Ryung plant in South Korea, and the other is the Yanbian JPNC plant in China. Dai Nippon (DNP Trading) is the exclusive sales agent of Dae Ryung for the Japanese market. JPNC, Inc. is the exclusive sales agent worldwide (except for Japan). Interested companies in North and South America can contact JPNC USA Corp. (Austin@jpnckorea.com) for more information.