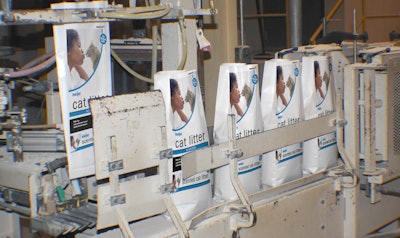 A bag of kitty litter is a bag of kitty litter, right? Not for MFM Industries, Inc. (MFM) an Ocala, FL-based producer of cat litter and absorbent clay products.

For years, the company sold products in kraft or bleached-white clay-coated paper bags. Unfortunately for MFM, those bags were subject to damage throughout manufacturing, warehousing, and distribution.

Bag tearing and product waste (shrink) could occur at virtually any time, explains Elliott Mallard, CEO of MFM, formerly known as Mid Florida Mining. "If something bumped into the bag it could tear, or you could be loading a pallet, moving the pallet from the packaging line to the warehouse, loading it onto a truck, or taking it off of a truck, and bags could tear," he says. And that doesn't even include handling by retailers or consumers.

About two years ago MFM opted to make a move to greatly reduce damage and gain competitive differentiation compared with other litter products by beginning to switch to polywoven biaxially oriented polypropylene (BOPP) bags from Anduro Manufacturing.

Anduro's Durofab™ brand bags were first used by MFM for 20-, 25- and 40-lb packages of cat litter. Mallard notes, "We wanted to use BOPP for our seven- and 10-pound bags, but the answer from bag manufacturers had always been a flat 'no.' And then we talked to Marc [Datelle, Anduro's president and CEO] about it. I think both companies live by innovation and it was a challenge he was happy to take on."

Datelle adds, "MFM challenged us to develop the new smaller bag. Our new small-format bag is a real breakthrough, and we anticipate broad use of it throughout the pet-care industry."

A key challenge to make the bag for any manufacturer was that it would require changes in the bag-making equipment and process. Anduro was able to modify its manufacturing plant equipment to accommodate the narrow width of the bag face—7-in.—in this particular application. "We have engineered our plant operations to be flexible, to be able to respond to different specifications," Datelle notes. "That allows us to innovate new packaging designs."

By late 2012, MFM was in the process of going to market with the smaller bag sizes. It anticipated using bags of 105 to 110 g/sm in total weight and 115- to 120-microns thick. The bag structure is an outer layer of 18-micron BOPP and an inner layer of woven PP fabric. A center PP lamination marries the inner layer to the BOPP outer layer that can be reverse-printed in one to nine colors via either flexography or gravure, depending on the bag type and customer. The smallest bag size measures 7 in. wide x 17 in. long, with a 2-in. gusset. The largest is 17 in. wide x 40 in. long, with a 6-in. gusset.

Smaller-sized BOPP bags a 'game-changer'

Explains Mallard, "The reason for that move [to BOPP for smaller pack sizes] is that we could deliver a package with improved graphics, and with a lot less shrink at our facilities and at our customers' warehouses. And we were able to do that without increasing the price to our customers."
He says packaging appeal played a significant role in the company's decision to switch to the BOPP bags for the smaller size. "The possibility to be the first to hit the market with printed BOPP bags for our smaller-format sizes appealed to us and to several of our customers who are very excited about us bringing that to the market.

"When we got the bag, I showed it to my vice president of sales who has been in the business for 29 years. He immediately recognized it as a 'game changer' for the small-format market. Then I showed it to our two largest customers, and we have their resounding support. They see the smaller-format BOPP bags as a competitive advantage, packaging that no other supplier can offer," Mallard says.

According to Mallard, the upgrade will also provide significant savings for his customers, which include a large Southeastern grocery retailer and one of the nation's largest pet-care retailers, by virtually eliminating waste. "Paper bags tear more readily than BOPP, which leads to losses in our and our customers' warehouses. You're simply not going to jeopardize the integrity of this BOPP bag unless you intend to."

Why did MFM select Anduro to supply the bags? Mallard says, "We had approached other manufacturers and said, 'Guys, you can make the bigger-sized bags, why isn't there anybody making the smaller BOPP bags because we could be the first in the marketplace. It could be a game changer in the small-sized bags. We challenged Anduro to be able to make a modification in their factory and make the smaller BOPP bags. They took the challenge; they made a modification to their packaging line, and came back with a product we feel is an excellent bag to take to the market."

MFM, which will celebrate its 50th anniversary in 2014, fills bags at its 100,000-sq-ft facility, which houses six packaging lines responsible for the following products:
•
Companies in this article