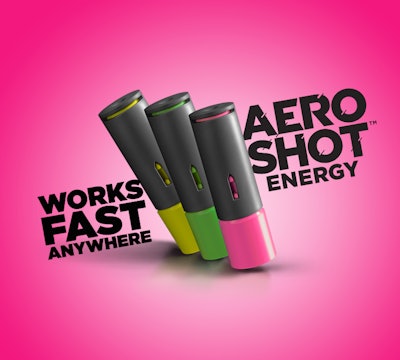 In September, AeroDesigns, Inc., announced its new air-based energy product. In this follow-up interview, Helene Rutledge, SVP technology, AeroDesigns, and
Eric Freedman, senior director of marketing, AeroDesigns, discuss the product and packaging.
Describe the product and packaging?
Invented by Harvard professor Dr. David Edwards, AeroShot Energy is a revolutionary new way to get your energy. It's an air-based shot of energy delivering a unique blend of 100mg of caffeine—equivalent to a large cup of coffee plus B vitamins that starts working right away—anytime, anyplace. AeroShot is easy and fun to use. Pull the cap to open, put the other end in your mouth, gently draw the powder into your mouth and swallow. Push closed. Each AeroShot delivers about four-to-eight draws. Use it all at once or save some for later.
We sell individual units at retail for $2.99, but online energy seekers can buy single-, 12-packs, or our Tera 36 pack. We have a subscription service available online that is called the AeroShot Renewable Energy program where users can receive up to five 16-packs per month sent to their door for a 27% savings. As a special, exclusive gift, we provide them the AeroChute dispenser.
The individual units are foil sealed to protect the product from humidity. These are digitally printed and punched so that they can be peggable at retail.
At retail there is an 18-pack variety pack with six raspberry, six lime, and six green apple, but the lion's share of our convenience-store partners like Circle K are displaying our 12-pack in a three-tier rack. For our drugstore partners, we offer a single tray of six units with a single facing to maximize our presence inline.
We are currently testing several different formats for secondary display options at retail with our partners Circle K, Duane Reade, and CVS such as refrigerator baskets, refrigerator clip strips, and Powerwing freestanding displays.
Describe the competitive nature of these products? Do you employ packaging to provide AeroShot Energy with a point of differentiation? How significant is packaging to your products?
This will be an incredibly important and telling year for the category. While the category is fast-paced and continues to see massive growth, from our vantage point, it's a category that is coming to terms with some harsh realities. Red Bull created, innovated, and leads the drink category. 5 Hour Energy disrupted, reinvented, and owns the shot category. We've seen countless copycats come and go. When you look closely, true Innovation has been relatively incremental in the past few years. Innovation is defined by how many hours you get from a shot (five, six, or seven), a line extension like a new flavor or formulation, adding caffeine to novelties like lollipops, chews, gum, jelly beans, or sunflower seeds, or recycling suboptimal delivery methods like strips and patches.
At AeroDesigns, we feel that the time is now for true category innovation, one that will provide energy-seeking consumers looking for healthier, safer, and a more fun way to get just the energy they want, right when they want it. Drinking your energy is so five hours ago.
Packaging and merchandising is a critical part to highlight and demonstrate our differentiated brand story and unique product experience. This is an impulse-driven consumer and category, so our packaging, countertop display, and secondary displays are all cohesively designed to infiltrate the consumer impulse with massive visual impact, clarity of our differentiating features and benefits, all with minimal footprint to help maximize margins per square inch.
Introducing and creating comprehension for a behavior change in how people consumer nutrients, we need to explain to people the unique features and benefits of our product so we are testing using QR codes on our display/shippers also so consumers can scan and be sent to an engaging video about the product and how to use it.
Who supplies the packaging materials?
Our polyester-faced laminated pouch material is supplied by Fasson Roll, a division of Avery-Dennison. The structure is PET CT/LDPE/foil/EMAA coextrusion/LLDPE layers. Innovative Label Solutions digitally prints our film.
The product is comprised of the AeroShot Energy powder inside the delivery device, so the device is not technically a "package" "It is patented and precision-designed to fluidize the powder when you draw into the mouthpiece, allowing for rapid dissolution in your mouth.
What is unique about the product and the packaging?
Our patented delivery system is designed to work fast, anywhere. AeroShot is quick to use and quick to take effect. It's convenient in a lipstick-sized device that is small, light and portable, so it can be kept in your pocket throughout the day, and you can control and personalize your dosage because with each draw you can take as much or as little as you like. It's efficient, has no calories to fill you up and no liquid to slow you down.
Who fills the product, and is that done by your company or outsourced?
This is proprietary information. The primary package is filled on standard pouching equipment. The filling and assembly of our device required custom equipment design.
Companies in this article