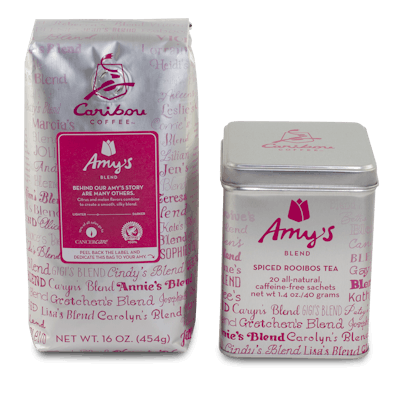 Caribou Coffee Company, Inc.'s special Amy's Blend 1-lb ground and whole bean coffee bags pay tribute to the Minneapolis-based company's original roastmaster, Amy Erickson, who passed away from breast cancer in 1995.
Sarah Townes, director of brand communications at Caribou Coffee, says the coffee bag is supplied by Fres-co System USA. The 4.25-mil structure includes a four-ply polyester/foil printed laminate with a specially designed overall easy-open sealant. The aluminum foil protects oxygen from penetrating into the package and causing the coffee to go stale. The bag, which contains a one-way degassing valve, measures 86 mm (3 25/64 in.) x 65 mm (2 9/16 in.) x 330 mm (13 in.) length and is printed via rotogravure in three colors.
This year marks the 17th consecutive year the company remembers Erickson. Last year, Caribou encouraged fans to honor a loved one who has been touched by breast cancer by dedicating Amy's favorite flower—a pink tulip bulb—to be planted in her National Garden of Hope in Washington, DC. Now the names of those loved ones are printed on this year's bags, such as "Annie's blend," "Gigi's blend," etc.
Not only are names printed on the bag, but the 2012 Amy's Blend collection includes a label with a "peel-back feature" that allows the company's fans to peel back a label that's applied to the bag, then write a personalized dedication to a friend, family member, or loved one impacted by breast cancer. This flexo-printed two-piece label is supplied by Lofton Label. It employs a 3M release adhesive that's used to peel away the top label and reposition it if desired. The top label includes copy that reads, "Behind our Amy's story are many others." The bottom layer is a polypropylene material that allows the consumer to write on it.
As part of this year's initiative, Caribou announced a new partnership with CancerCare, a national nonprofit organization committed to providing free support services for anyone affected by cancer diagnosis. From Sept. 29 through Nov. 7, Caribou offers its special Amy's Blend collection, which includes coffee, tea, and merchandise—both in stores and online. Caribou will continue to offer the collection in honor of Amy, and to donate 10% of all proceeds from collection sales to CancerCare.
"Giving back to the community is at the core of our company, and we were moved by CancerCare's approach to providing support services, including financial assistance, on a very local and individual level," says Mike Tattersfield, president and CEO of Caribou Coffee. "We are very excited to work with an organization that will help those impacted by breast cancer in Caribou's communities to provide support for co-payments, home care, transportation to and from treatment, and other miscellaneous costs and needs, all while paying tribute to our dear friend, Amy Erickson."