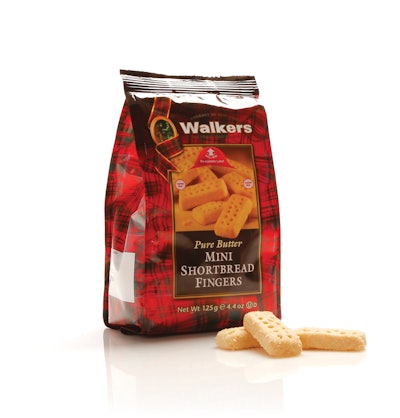 Scottish-based company Walkers Shortbread Ltd., a maker of shortbreads, biscuits, cakes, and oatcakes, recently sought an innovative new packaging format for its shortbread products that could provide consumer convenience, while keeping the product fresh after opening. The new packaging would first be used for its line of mini shortbreads, including chocolate chip shortbread, and shortbread rounds and fingers.

Walkers was founded more than a hundred years ago in 1898, in the village of Aberlour, nestled in the heart of Speyside, in the Scottish highlands. Since then, it has been dedicated to producing only the highest-quality shortbread. Baked using flour, pure butter, sugar, and salt, Walkers shortbread products are guaranteed to contain no artificial flavorings, colorings, or additives. The company currently exports more than 12 varieties of its shortbread products to 80-plus countries around the world.

Looking to introduce an innovative new packaging format in a way that further enhanced its brand equity and highest brand standards, Walkers turned to flexible packaging supplier Printpack, Inc.. A supplier to Walkers for more than 15 years, Printpack worked closely with the company, along with U.K.-based Macfarlane Labels Ltd., to create a new resealable, flexible-pouch format using Re-Seal It® peel-and-reclose technology.

Reclosability preserves product quality

A registered trademark of Macfarlane Labels, Re-Seal It combines patented label technology with high-performance barrier films for flow-wrap packaging applications. The technology is certified by the U.S. Food and Drug Administration, and the U.S. Department of Agriculture.

"Walkers had identified a market requirement and approached us with a description of their needs," says Michael Hoban, Printpack account manager. "We created an easy-to-use reclose solution and applied it to the laminated film we supply to Walkers. They have now adopted this technology on a number of packages, including products exported to the U.S."

The laminated film structure, constructed of oriented polypropylene/adhesive/OPP, plus the clear reseal label, helps protect and preserve the shortbread product, while at the same time meets the growing demand for innovative package design. The exterior of the film showcases the high-end graphics that are mandatory in today's competitive marketplace, while the internal barrier materials prevent foreign substances—gases, odors, or chemicals—from entering the package.

"Flexible packaging helps deliver the convenience needed by today's grab-and-go lifestyles," says Hoban. "It can be used to revitalize a brand's product image by providing longer shelf life, better taste, convenience, and portability."

The Re-Seal It label—a rounded-rectangle in shape that measures approximately 4.3 x 2.6 in.—is applied to the packaging by making a fine perforation in the barrier film and then placing it exactly over the perforation. No part of the film is removed; the opening flap of the film sticks to the back of the label. Simply peel back the label to open the package; simply swipe to reclose.

Studies have shown that consumers prefer the convenience of packaging with a resealable feature versus those without. Not only is the resealable feature convenient for consumers of all ages, including children and seniors, but it also ensures that food stays fresher longer, protects product flavor, and helps prevent food waste.

First in vf/f/s

Walkers is the first company to use Re-Seal It technology on a vertical form/fill/seal application. Re-Seal It labels are pre-applied to the packaging material at Printpack's Bury, U.K., facility. The package is then formed, filled, and sealed on Walkers' equipment without compromising production speeds or having to expand the machinery footprint. Each 125-g bag is packed with 33 bite-size shortbreads.

"The Re-Seal It system offers Walkers a number of benefits over other types of reclosable packaging solutions, such as sliders, zippers, or tubs," remarks Hoban. "It not only provides easy opening and access, along with easier reclose for the end user, but it also retains the excellent original quality of the product, which was critical to Walkers. In addition, Re-Seal It is tamper-evident."

Re-Seal It prevents oxygen permeation through the label, thus maintaining optimum shelf life of the mini shortbread product. Quite often, by opening a package, a consumer can damage the packaging, exposing the food to air. This greatly shortens the time the food can be used before it becomes unfit for consumption or requires additional packaging, such as cling film or storage containers, to retain product freshness.

Creating a powerful brand presence

Packaged in a lightweight, high-gloss, film pouch featuring the unmistakable Scottish red tartan plaid design, the mini shortbread packaging bears an illustration of Bonnie Prince Charlie (Charles Edward Stuart) and Flora MacDonald—an image that captures one of the most romantic moments from Scotland's history.

Prominently illustrated in the center of each pouch is a stylized photo of the mini shortbread product that reflects all the tradition and care that goes into baking every piece of Walkers shortbread. Gravure-printed, the resealable shortbread packs are easy to share with others and ensure that uneaten food stays fresh for later consumption.

"The premium print quality and pack structure contribute significantly to the shelf appeal of the product," says Hoban. "The square-formed bag provides a distinct pack face for positioning of the resealable label, allowing easy identification of the reseal feature for the consumer. This format type also provides excellent point-of-sale display properties for the product, standing well on display counters and allowing the best presentation of the bag face to the consumer."

Notes Walkers technical director Richard Walker, "Printpack's contribution and support in developing the new format was huge. Working closely with their product development team has helped us to find a better packaging solution and enabled us to launch this new innovation. The product has real shelf presence, and we believe it will be a great success."

The newly designed Walkers Mini Shortbread products, featuring Re-Seal It peel-and-reclose technology, were launched to the global marketplace in winter 2011.
Companies in this article