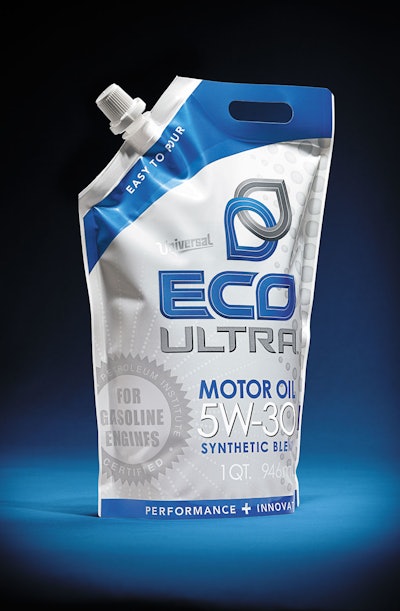 Universal Lubricants, LLC, headquartered in Wichita, KS, produces and distributes high-performance lubricants for a wide range of engine and equipment applications. It's a relatively small company in a sea of well-known motor oil brands. But Universal Lubricants is positioned to make marketing waves by relaunching its re-refined flagship product, ECO ULTRA Synthetic Blend Motor Oil, in heavy-duty, easy-to-pour, flex-pack stand-up pouches—reportedly, the first U.S-produced and marketed motor oil to be packaged in this way. Pouch-packed engine oil products already have earned consumer acceptance is some other countries. Universal Lubricants is pioneering the concept in the U.S.

The ECO ULTRA line of products is made from high-quality re-refined base stocks, blended with premium-performance additives. The company's vice president of marketing and retail sales Peter Fox states, "Our company is one of America's few manufacturers and distributors of automotive and industrial lubricants that collects, re-refines, blends, packages, and re-distributes its own oil. It's a unique and infinitely repeatable process that we are aiming to highlight with equally unique packaging."

Fox notes, "Engine oil is a specification-driven business. ECO ULTRA meets all Original Equipment Manufacturers (OEM) specifications and Society of Automotive Engineers (SAE) requirements. But just having a strong point of difference isn't always enough. Even though ECO ULTRA is a high-performance motor oil that is environmentally friendly, sustainable, and renewable, it is an unknown entity to consumers. The challenge, therefore, is getting a new brand identity that can be noticed versus well-established brands."

Leaping for packaging distinction
For its other products, Universal Lubricants had been using traditional, blow molded, rigid high-density polyethylene (HDPE) bottles. The company initially intended to use the same type of packaging for the new ECO ULTRA line. But after some discussions with representatives from pouch packaging specialist Star Packaging, Universal Lubricants decided to make a marketing leap and offer the first American motor oil products packaged in flexible, spouted, stand-up pouches in one-quart and 5.1-quart volumes.

Star Packaging Corp. manufactures the ECO ULTRA oil pouches using a 6-mil, 3-layer barrier construction of polyester, nylon, and linear low-density polyethylene (LLDPE). The material is formulated to provide superior burst and seal strengths required for the rigors of oil and other hard-to-hold liquid products. Designed for durability, the packs reportedly have passed drop tests in excess of 20 ft.

Star uses state-of-the-art stand-up pouch packaging equipment from Totani to produce the ECO ULTRA containers at Star's Tampa, FL plant. In addition to pouch forming in a variety of shapes, sizes, closure types, and handle options, Star also specializes in the printing and laminating of pouches. The Universal Lubricants SUPs are printed in 7 colors, produced on Star's newest W&H MiraFlex® 10-color flexographic press. Photopolymer printing plates are provided by OEC Graphics.

Universal Lubricants installed pouch filing equipment from Innovative Packaging Network-IPN (www.ipnusa.com and www.ipnmanufacturing.com) at its Wichita facility so that they could handle their own filling operations for the ECO ULTRA spouted pouches. Filling is done through the pour spouts, already affixed to the SUPs. The Clean Spout 106 XLR from IPN is engineered to enable an easier, smoother pour without "glugs"—air bubbles that form and cause oil to spill when the product is poured from the bottle. The IPN pour spout and tamper-evident cap are made of HDPE.

Fox reports, "Both Star Packaging and IPN have been very helpful in introducing us to the flex-pack concept and guiding us through the design and development process as well as through equipment selection and set-up of the filling operations. Based on our positive experience, we highly recommend both companies."

Buoyant approach in sea of sameness
Universal Lubricants floated this new packaging approach, seeing the flexible SUP as a perfect fit to complement the ECO ULTRA products and shake up the category. Fox points out, "Overall, the motor oil market is mature and, when it comes to packaging approaches, rather stale. New products can get lost and indistinguishable in the sea of rigid plastic bottle formats. The stand-up pouch format offers some novel design opportunities in terms of closures, spouts, handles, and graphics."

In addition, pouches are lighter weight, enabling freight cost reductions. He estimates, "One truck load of unfilled flex-packs is equivalent to 26 truck loads of unfilled rigid plastic containers. This translates to a significant reduction in fuel consumption, road emissions, fleet maintenance, and operation costs."

Flex-packs also can provide a more compact shelf-stacking footprint versus plastic bottles, while presenting attention-getting container shapes with vivid billboard graphics.

ECO ULTRA motor oils and transmission fluids officially rolled out to engine and equipment service and installation centers in 2009. Products in the new packaging began hitting the retail marketplace at selected venues in July 2012. The pouches are shipped in 6- and 12-count fluted corrugated cases, supplied by Pratt Industries (www.prattindustries.com) with corrugated inserts to prevent shifting and damage of the pouches during transport. Fox says, "Consumer acceptance of ECO ULTRA in the flex-packs has been overwhelmingly positive."

In terms of container cost and fill speed comparisons, Peter Fox says, "This packaging is still relatively new for us. We anticipate being able to reap significant packaging material cost savings and filling speed advantages over time.

"We believe the benefits of the new pouch packaging are many. The amount of space available for messaging is greater on the pouch than on bottle labels. The flexible shape of the pouch can more easily conform to retail shelf display parameters. And the handle on the one-quart pouch facilitates pegboard hanging displays. Also, the versatility of pouch structures enables us to add attractive packaging design elements such as a reflective layer to help our products stand out on the shelf. Then, importantly, there are the environmental advantages. Pouches take up less space in transport and storage. And post-consumer-use, pouches, which can be completely evacuated of product and flattened, require far less disposal space than empty HDPE bottles."
Companies in this article