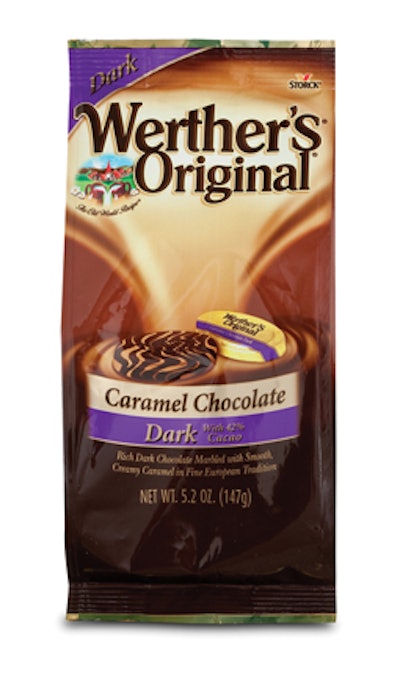 Quad-seal bag provides Werther's chocolates with premium appearance Replacing a traditional flat-bottom bag with a quad-seal, flat-bottom version for Werther's Original Carmel Chocolates in Milk and Dark Chocolate varieties brings a Gold award in Printing Achievement for converter Sonoco Flexible Packaging.
The bag redesign, for brand owner August Storck KG, provides a clean appearance, similar to a premium premade bag, notes Sonoco sales manager Kevin Sands. "The bag stands up beautifully, with a nice billboard effect on the front panel and four full panels for graphics, providing excellent real estate to promote product quality."
The Stabilo-style bag is a multilayer structure of oriented polypropylene/ink/adhesive/metallized OPP/adhesive/OPP and meets requirements for lap-sealability. Printed gravure at Sonoco's Franklin, OH, facility, the glossy candy bag uses eight colors. The package redesign was launched in March 2009 in a 5.2-oz size.