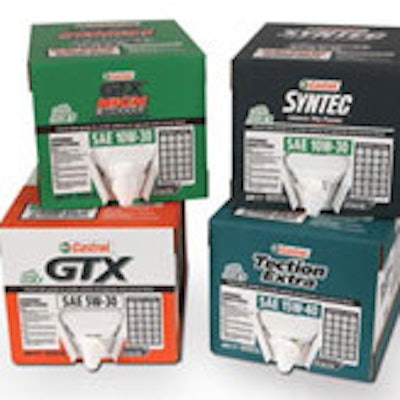 Castrol, a leading provider of motor oils and lubricants, has partnered with Walmart Tire and Lube Express to revolutionize how oil change facilities are built and operated with its Castrol Enviro-Pack (e-Pack) and e-Dispense system. Instead of putting in costly bulk tanks that turn inventory slowly, the new prototype shop for Walmart Tire and Lube Express has a smaller footprint and runs solely on Castrol's e-Dispense and e-Pack.
For smaller-volume premium fluids, oil changes are performed by manually dispensing out of the e-Packs instead of using plastic bottles, reducing the amount of plastic being placed into landfills. Castrol says that the collaboration between the two companies is tangible evidence of the strategic focus that both are placing on efforts to introduce and utilize more cost-efficient and sustainable oil and lubricant solutions.
"Our partnership with Castrol and investment in the e-Pack product for our Tire and Lube Express business address a dual business objective—greater operational efficiency and a focus on more environmentally friendly packaging," says Scott McCarter, senior director of Walmart Tire and Lube Express operations. "Our work with Castrol is unique in our space and has revolutionized how we purchase and utilize oil. Replacing more costly bulk tanks with e-Packs and e-Dispense units will have a substantive benefit for our business by reducing construction costs and improving inventory management."
The new oil change facilities build on the work that Castrol and Walmart have done on e-packs since 2008. The e-Pack packaging, a film bag inside corrugated carton, is said to be more environmentally friendly than quart bottles, allowing for more than an 85% reduction in discarded plastic. As a result of businesses such as Walmart switching to Castrol's e-Pack and phasing out more traditional plastic quart bottles, Castrol says it reached a milestone of more than 2 million pounds of plastic saved from entering the waste stream. The volume of bottles that were eliminated from the waste stream could fill approximately eight Olympic-sized pools.
In recognition of the environmental benefits and strengthening partnership between both companies, Castrol recently became a co-recipient of Walmart's Vendor of the Year Award for Sustainability. Walmart operates 2,500 Tire and Lube Express facilities in the U.S., and through its partnership with Castrol, it has eliminated approximately 1 million quarts of oil waste. Castrol's e-Pack reduces 86% of residual oil left in packaging versus the original quart packaging. The added benefit is that the cardboard e-Pack packaging is recyclable.
Companies in this article