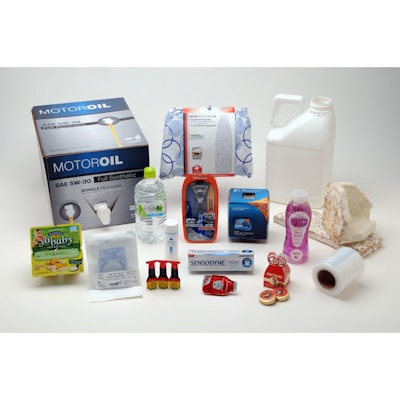 2011 Winners DuPont Awards for Packaging Innovation

Diamond Winners

Protective packaging that's grown
Ecovative Design—USA

Only two Diamond Awards for Excellence in Innovation, Cost/Waste Reduction and Sustainability were handed out this year, and one was won by Ecovative LLC for its EcoCradle[tm] protective packaging product. It's grown from mycelium (mushroom "roots") and regionally sourced agricultural by-products such as cotton burrs or oat hulls. Positioned as a cost-effective, home-compostable, and more sustainable replacement for expanded polystyrene and other petroleum-based protective packaging materials, it's been in commercial use for more than a year. Users now include office furniture maker Steelcase and computer giant Dell.
Founded in 2007 and currently operating in a pilot production facility in upstate New York, Ecovative plans to expand soon to new regional facilities. A May 24 equity announcement named 3M, Rensselaer Polytechnic Institute, and Doen Foundation as Ecovative investors whose backing will help Ecovative scale up manufacturing of its revolutionary material. Why "revolutionary?" Because it's grown rather than made. It capitalizes on mushroom fungi's natural ability to break down organic matter. And because the organic matter in this case is crop waste, it means that this technology, unlike some other biopolymers, isn't based on turning food or fuel crops into packaging material. Only inedible crop waste is used.
The magic, of course, is mycelium's ability to self assemble lignin and cellulose into strong biopolymers as it breaks down the crop waste. What Ecovative has cleverly done is come up with a way to have this completely organic and natural process take place within the confines of a mold, or, as Ecovative likes to call it, a "grow tray." It's the grow tray that gives the resulting part whatever shape the customer requires. Once the material has grown into the desired shape, it's heat-treated to stop the growth and the part is finished.
Even the grow trays are fashioned with sustainability in mind. They're engineered to last a long time and eventually get recycled. As for the Ecocradle parts themselves, they take about a week to grow. Ecovative scales the number of grow trays to accommodate a customer's unit volume and delivery requirements.
So there you have it, a cost-effective replacement for petroleum-based protective packaging that is grown from ag byproducts using minimal energy and that breaks down quickly in the home compost pile. No wonder it's caught 3M's attention.
"Ecovative has the kind of disruptive, breakthrough technology that can be a game changer in various industries," says Stefan Gabriel, president of 3M New Ventures. "We are pleased to be working with Ecovative on the development and deployment of this exciting technology that we believe will enhance 3M's footprint in sustainable polymer technologies."
Making a Great Brand Better – New Design Enhances Consumer Convenience and Improves Sustainability
The Procter & Gamble Company and Be Green Packaging — USA
In its new design, packaging for Gillette Fusion ProGlide moved away from a clamshell approach and opted instead for a formable pulp tray made of renewable bamboo and bulrush fiber-based material. This new package pushed the boundaries of pulp trays, reducing both cost and material weight. Additionally it is much easier to open, making it popular with consumers. The graphics strongly reinforce the product's brand identity and support great shelf appeal.
Gold Winners
Agribusiness Virtuous Cycle: Full Cycle Recycling System Transforms Plastic Bottles Waste for High-Value Plastic Products
Cimplast Embalagens and Cimflex — Brazil
The Virtuous Cycle is a complete cycle approach that enables used multilayer agrochemical bottles to be diverted from landfills and remade into high-value products. Typically, most post-consumer multilayer recycled materials are used to make low-value products. The help of a polymer compatibilizer, DuPont™ Fusabond®, makes it possible to reuse this mixed material waste stream for products such as rigid or flexible corrugated pipes and automotive lubricant bottles. Through this process, more than 150,000 tons of agrochemical empty plastic bottles have been collected from the field since 2002, saving an estimated 374,000 barrels of crude oil and more than 160,000 tons of CO2 equivalents that were not belched into the atmosphere.
Microlayer Technology in Stretch Film Reduces Packaging Weight While Improving Product Protection During Transport
Apeldoorn Flexible Packaging — The Netherlands; Cloeren Inc. — USA
Stretch film for pallets unitization is an important type of secondary/tertiary packaging and a crucial part of the distribution chain that is often unnoticed by consumers. In developing the Katan-Ex microlayer stretch film, Apeldoorn Flexible Packaging used microlayer technology to design a stretch film with optimal properties for the beverage industry. The Katan-Ex microlayer film excels in increased pallet stability at elevated temperatures, uses 30 percent less material per pallet and reduces damage products during transportation by 80 percent.
New, Simplified Design For Airless Cosmetic Dispenser is Recyclable
APTAR — France and USA
An innovative new design makes this the first airless dispenser to be completely made of plastics while also offering a high level of product protection. There is no gasket and no metal spring, enabling recycling of the entire package where such facilities exist. The dispenser is composed of only one family of plastic, polyolefin, and its pump is composed of just 4 all-plastic components. The redesign of the pump ensures that all of the high-end personal care product can be dispensed completely, eliminating costly wasted product.
Bag in Box for Automotive Fluids Reduces Packaging and Improves Cube Efficiency
Scholle Packaging and Shell Global Lubricants — USA
Scholle Packaging's bag-in-box system for automotive chemicals and fluids allows industry suppliers to satisfy their customers' needs with an efficient, environmentally conscious package. Each bag-in-box packaging system removes 24 one-liter bottles from the waste stream and features superior product evacuation, saving suppliers money and damage to our environment upon disposal into landfills. Overall, petroleum-based resin usage in the packaging is reduced by nearly 90 percent compared to rigid one-liter bottles, reducing impacts to our environment through the manufacture of the packaging system. During shipping, greenhouse gas emissions are overall lower than the incumbent packaging due to more-efficient cube utilization on trucks, in warehouses and at the end-user. The outer carton of the packaging system is also fully recyclable.
Package and Product Become One for Enhanced Product Differentiation
Household Essentials, LLC — USA
Replacing a traditional plastic outer wrap, Household Essentials packages its ironing board cover in a dual-functional, sewn-in cloth pouch that can be used later as a spray bottle holder. By eliminating the outer package completely via this pouch approach, Household Essentials reduces package weight by 14 percent and eliminated approximately 375,000 lbs of PVC from going into landfills. Additionally the smaller package size, being 35 percent smaller, reduces shipping costs and reduces retail display space by 30 percent. This approach yields a more upscale image and enhances shelf appeal to consumers who can touch and feel the product inside.
Printing and Laminating Extremely Thin Film Supports Premium Brand Image
Moneta S — Slovakia
In a significant printing and laminating technical innovation, Yango AL technology enables Moneta S to replace a 14 micron foil structure with 3 microns BOPP (bi-axially oriented polypropylene) films and 7 microns foil while attaining high-quality print impact even when printing on this extremely thin plastic film. Following a decision to significantly reduce the weight of the packaging structure, use of the BOPP provides extra strength, unscratchability, protection and ink inside feature to the foil structure. The perfect dead fold is achieved due to the very low thickness of the BOPP layer which is taken by aluminum foil as a lacquer. This product makes it possible to have a more beautiful look than the previously used aluminum foil, supporting the product's premium brand image. Yango AL also provides the foil used in the lamination.
Companies in this article