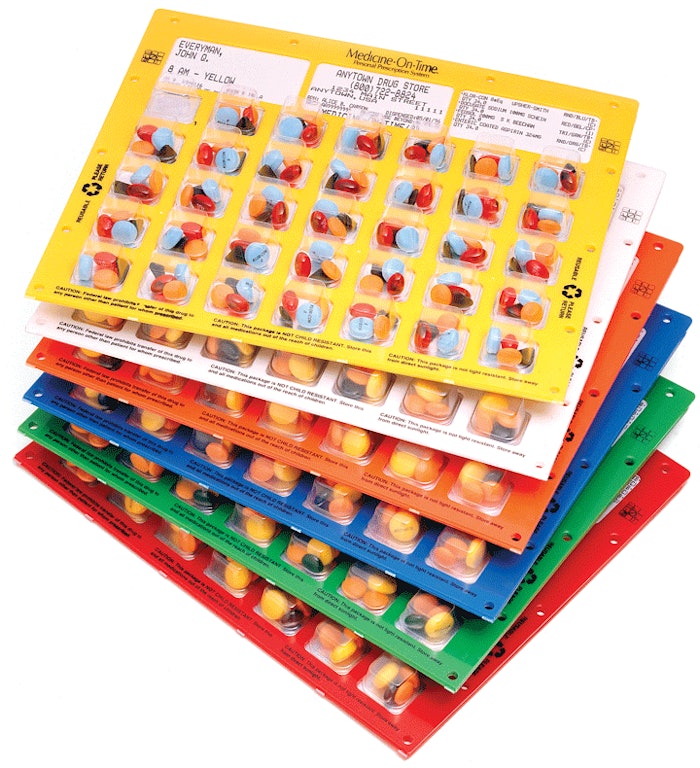 Taking a medication can be confusing. For elderly patients requiring multiple prescriptions at different times of the day, and for their caregivers, it can be daunting to administer the right meds in the right dose at the right time. Aiming to make that task easier is Hunt Valley, MD-based Medicine-On-Time's (MOT) medication management system.
The system includes an outer injection-molded polypropylene frame and an inner blister where pharmacy technicians fill solid-dose medications customized for each patient in a polyvinyl chloride sheet with a coated foil-backed paper, along with a combination of computer hardware, software, and assembly tools. MOT's sales universe includes some 27,000 community or independent pharmacies within the mainland U.S. and Puerto Rico.
According to the company, MOT is in use by independent pharmacies across the U.S., serving approximately 125,000 patients per year. The systems are not sold to retail chain pharmacies, hospitals, or nursing homes, points out Ian Salditch, the company's chief executive officer.
A new study published in The American Journal of Geriatric Pharmacotherapy that assesses the impact of a medication adherence management program on nursing home admissions found that MOT's medication management system reduced the likelihood of nursing home admission by 66%. According to the study, with nearly 1.5 million residents in nursing homes, the widespread implementation of a medication management system could potentially save the healthcare system billions of dollars per year by avoiding unnecessary nursing home admissions.
"This study confirms what Medicine-On-Time has known for many years: Simple tools that aid in daily living, well designed and properly applied, can keep patients independent longer and save healthcare dollars," says Salditch. "This study is an excellent example of how a medication adherence program can help us improve the health of Americans, while simultaneously reducing the financial burden on the cash-strapped national healthcare system."
The study, which can be downloaded at www.healthcare
packaging.com/go/50, was commissioned by South Carolina Medicaid and funded by the Centers for Medicare and Medicaid (CMS). The study examined the causes of nursing home admissions among a population of more than 1,000 seniors and 15 community pharmacies that serve them.
Three pack types
MOT makes three different calendar-style packs. The company's "Original package," designed with the independent patient in mind, is a two-sided "sandwich" design with each punch-through blister cavity having a six-pill capacity.
Designed with the caregiver in mind, the "quick-release package" is a single-sided system that permits quick removal of the pill where punch-through opening is not an option. Again, each blister cavity can hold up to six pills.
A "high-capacity package" holds up to 12 pills in each blister cavity within a "portfolio" designed with the HIV/AIDS patient in mind.
Salditch points out that although the calendar packs were initially introduced some two decades ago, there have been many advancements made over the years, largely to the adhesives used in the blister packages, and the data processing capabilities. "And recently, we added text-to-cell phone reminders so you get a little beep on your cell phone around the time you are supposed to take your medicine," he adds.
That's achieved through a robust software system that resides in the pharmacy on a MOT-dedicated server. The software uses a patient's complete prescription profile to generate patient-specific reminder, with instructions, at patient-specific administration times, explains Salditch.
Packaging materials
All three packs share an outer injection-molded polypropylene "frame." These reusable frames are color-coded, with each of six possible colors indicating a certain time of day to take the medications. The frames measure approximately 9.5 x 8 in. The supplier is considered proprietary.
Within the frame is the 7 or 8 in. x 5 in. calendar pack, essentially a perforated blister with as many as 35 individual cavities that the caregiver or patient can tear from the mother package for portability. MOT refers to each cavity as a blister cup. Each cup contains different medication, custom-packed by independent retail pharmacies across much of the U.S.
The PVC sheet used to thermoform the blister varies from 8.5 to 15 mils in thickness. Salditch says the PVC material thickness varies depending on its intended use. "The light-gauge PVC is intended to crush easily to facilitate the push-through feature of the Original package. The heavier gauge is intended to maintain the rigid cup form for removal from the Quick-Release package," he says. The PVC is supplied by Klöckner-Pentaplast (www.kpfilms.com). Klöckner Pentaplast sends sheet to MOT, which licenses various vendors to thermoform the material. The top layer, from several producers, is a foil-backed paper laminate that's coated with a patented cohesive that is pressure-sealed to the filled tray cavities with minimal heat to prevent any possible damage to the medication.
MOT provides a video (www.healthcarepackag
ing.com/go/49) that describes and shows the packaging process completed at the pharmacy. The foil side is printed on modified OKI Data Printers (www.okidata.com) equipment.
The unit prints patient name and administration information such as day, date, and time on the foil, as well as a list of contents by drug name for each of the cups on that particular patient's calendar. Just above the calendar of individual cups are as many as six windows (three on the front side, three on the back) that show through the outer frame. The foil that shows through the window areas is printed with the full prescription label that is typically on a prescription bottle, such as the prescription number, drug name and strength, prescriber's name, dosage instructions, pharmacy information, DEA number, expiration date, etc.
"The sealing process," says Salditch, "takes about an hour to cure, so if a technician were to notice a pill missing, he or she could still add it within an hour after sealing. It takes about 24 hours for the more permanent seal.
"These packs are not child-proof. They are designed to be easy to open for the elderly and their caregivers. And since each cup is printed with the patient's name, date, and administration time, it has all the information the patient needs, even if he or she is away from home. And there's not the worry about if you took your medicine, because you can check the calendar card to see if you took it.
"For caregivers, there's no need to set out meds the night before. The Medicine-On-Time package does that sortation, it conforms to all pharmacy standards and regulations. There's no pouring or handling of meds. It's simply delivering the right meds to the right patient at the right time and at the right dose," says Salditch.  PW
Companies in this article