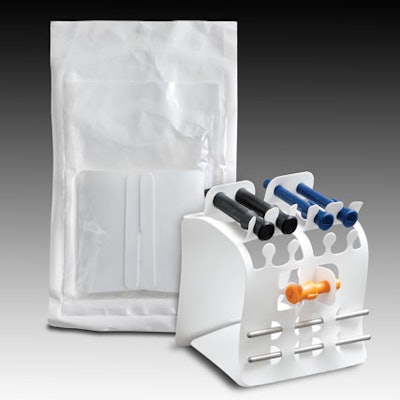 Medical device wallet pack shares highest award
Even if sustainability were not a dominant packaging driver, the ConforMIS Drill & Pin Kit Wallet would merit considerable recognition. Compared to a more traditional thermoform package, the new pack uses less energy to produce and transport, offers customization, and takes up minimal space. Those attributes helped the ConforMIS Drill & Pin Kit Wallet earn FPA's Highest Achievement Award, Gold Award for Packaging Excellence, and Silver Award for Environmental and Sustainability Achievement.
ConforMIS, Inc., Burlington, MA, develops and commercializes medical devices for osteoarthritis treatment and joint damage. ConforMIS knee implants and instrumentation are designed to address all stages of osteoarthritis, the most common reason for knee replacement surgery.
The wallet pack helped earn the FPA recognition for Beacon Converters. Beacon worked on the ConforMIS project with its representative Greg Dahl of Dahl Packaging (Phone: 413/599-0465).
"The package is distinctive because sharp, multi-component orthopedic drill and pin kits are characteristically packaged in thermoformed trays," says Alison Tyler, Beacon's technical director. "In order to protect the sterile barrier from the sharp points and edges, each component would have its own cavity and be snapped in. The wallet pack differs from a thermoformed tray in several ways. First, it fits in the hand and allows the end user to access the components with ease. And there is no need to snap components out of cavities. The wallet is made from a thin sheet of A123, 100-percent virgin white HDPE [high-density polyethylene], yet is capable of doing the work of two thermoformed trays."
This particular wallet's thickness is 23 mils. It is received flat and then erected, with the drill and pin kit components loaded into it and then it is folded. The wallet is then placed into a pouch for sterilization. The wallet contains several components of varying diameter and shape that are used in an orthopedic surgical procedure. The wallet is part of a surgical kit that is customized for each patient.
"We use the wallet pack for our iUni or iDuo brands," says John Slamin, vice president, engineering at ConforMIS. "It replaces an older, reusable kit, and is a single-use, disposable pack that we've been using now for five months or so. It's very useful for both brands, and we've been happy with the packaging."
In certain regulatory environments, the packaging for terminally sterilized medical devices must comply with ISO11607 parts I and II. The wallet is terminally sterilized inside a pouch so it is also sterile and can be handled in the sterile field to facilitate aseptic presentation.
Beacon's Tyler explains, "The most challenging requirements were protection and size [footprint]. We knew the wallet had to contain all the components, protect them from each other, protect the packaging from the components, and fit into a prescribed footprint. All of the components needed for a surgery including the contents of the wallet had to fit into a specific-sized shipping box."
ConforMIS Drill and Pin kits are shipped overnight for use for a specific patient. Tyler says, "The necessity to withstand the vigor of single-parcel overnight shipping is no small task. The wallet system passed aggressive distribution tests to allow for 'overnight shipping.'"
The wallet's tiers were devised to compactly fit all the parts in one package. A thermoformed tray alternative would have required two trays and would still have exceeded the footprint objective.
Sustainability was an important consideration in designing and developing the packaging. "Sustainability is always a consideration when working as a team to develop a package. It is often challenging because of the nature of medical devices. The stakes are high if something is not adequately packaged. In this case, the biggest impact was distribution and storage," says Tyler.
"Because the wallets are made and shipped to the customer as flat sheets, they are packed and shipped densely, creating shipping efficiencies. There is no need to nest them, as there would be for thermoformed tray counterparts, which decreases the efficiency of shipping LTL (Less-Than-Truckload) or FTL (Full-Truckload), as it requires more space in a truck to deliver the same number of package units," she adds.
For additional gold winners, see: Robbie, Ampac, Curwood, Nordenia, CL&D. Nordenia won a second gold. Go to silver winners to see the list and images of the silver winners.
Companies in this article