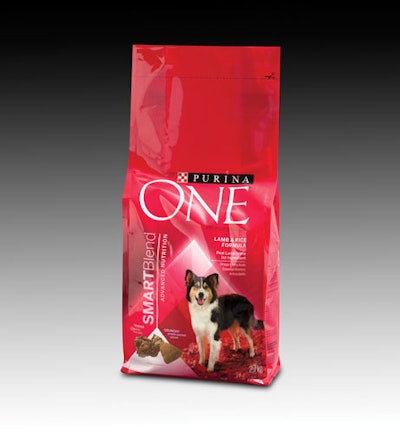 The packs's outer layer of 25-micron polyester is reverse-printed on a gravure press in seven colors; an MX-NA-1 ink system from Siegwerk plays a key role. This substrate is adhesive-laminated to a 125-micron white polyethylene.
"We wanted more impact on the shelf," says Nestlé's Margaret-Anne South. "The plastic produces greater brightness, and graphics don't get scratched because the reverse-printing is protected."
The other thing South likes about Nordenia's FlexZiBox® flat-bottom package is that it offers five display panels: Front, back, two side gussets, and the bottom. That means that no matter how retailers display the bag, good brand visibility and messaging is still a given. And because the bag is more durable and tear-resistant than the paper-based flat-bottom bag that preceded it, Nestlé even gains some source-reduction benefits. "It lets us cut down on the number of bags returned to us because of tears or other damage," says South. "That means we send less packaging material to the solid-waste stream."
Nordenia notes that the package has light half tones that are difficult to print and incorporates vignettes with subtle changes from light to dark printing. Nordenia also gives a nod to three additional suppliers who were important participants in bringing the package to the marketplace: Windmoeller & Hoelscher, makers of film blowing and converting machinery; B&B MAF LP, makers of bag-making equipment; and designers at Pigeon Branding + Design.

Companies in this article