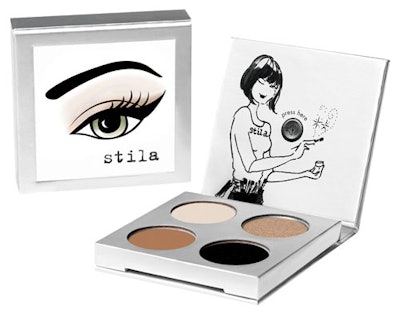 Consistent with the past couple of years, a strong correlation continues between perceived product concept innovation and packaging structure innovation. A few consumer packaged goods companies are putting a twist on it, however.
A new Shelf Impact!/Dragon Rouge survey of innovative packages detected a strong preference for innovative choices in production and materials that either minimize waste or enhance user convenience. Expanding into a totally new realm, new recent package introductions that are particularly notable for innovation include make-up kits that talk to you, storage containers that have more lives than a cat, and portable wine barrels. Packaging sci-fi is just around the corner!
Structure is king (redux)…
With a composite score ranging 3.6 to 3.9 on a five-point scale, the five package innovations that rose to the top of our quarterly survey list are Planet People's IQ household cleaners line, gift boxes from Greek winemaker Ktima Gerovassilou, and new introductions from Truvia (sweetener dispenser), Stila Cosmetics (container) and Sunkist (dispensing pouch). See the sidebar for how our survey was conducted.
To view an image and brief description of each of the 15 packages reviewed during the first quarter, go to www.shelfimpact.com/go/9.
Unknown to many of us until a few months ago, Greek winemakers made a big splash in the U.S. by introducing stacked wine containers that double as wine racks. The containers are made from oak plywood, inspired by the barrels in which the wine matures. The shape of the containers conforms to the shape of the wine bottles, while a handle die-cut into the container enables the package to be carried easily. As a further enhancement, each wine container can be stacked to create a virtual wine rack. Forget the wine cooler. Get the cool portable version!
Meanwhile, Truvia helps consumers save an extra step in their day-to-day chores while doing away with an antiquated sugar dispenser. While natural sweeteners often are found in sachets, and sugar is sold in spillage-prone bags and cartons, Cargill's Truvia redefines convenience by introducing a wide-mouth PET container that enables consumers to spoon the sugar substitute right out of the package. The jar's softly curved shoulder and flip-top closure allows easy access to the product. As an added benefit, when the shrink-sleeve label is removed, the empty jar offers a second life as a handy storage container.
Stila Cosmetics, a brand known for its whimsical tone, really assists its consumers in mastering the art of applying makeup. The brand released a smart package that talks directly to consumers on shelf. The talking eye shadow palette packs both show and tell consumers how to use the product to achieve a "smokey eye" look. A lenticular image on the front panel changes to reveal a visual representation of the look when the case is turned at different angles. The inside of the package itself becomes a virtual makeup artiste: by pushing a button, an audio recording guides the user through the steps to achieve the desired effect.
Smart materials and convenience
The new survey also was notable for two packages in which smart materials deliver greater convenience to consumers.
One of these packages is for Planet People's IQ household products, which introduced a cleaner cartridge that allows for a guilt-free cleaning experience. Recognizing that household cleaner bottles typically end up in landfills, the brand developed a user and environmentally friendly cleaning solution (made of chemical and toxin-free, plant based water) that is packaged in a cartridge inserted inside the bottle. The outer package is entirely recyclable (both the sprayer and the bottle), and the user only needs to replace the cartridge and mix it with additional water.
Sunkist Protein, the brand that wants to make sure you get enough fat-free and carbohydrate-free protein in your body, introduced a one-gallon hot-fill standup pouch with a patented dispensing feature. Because the pouch can hold up to 48 servings of highly concentrated protein drink, shelf stability and product preservation are critical. The pouch material structure includes a gas-barrier foil that gives the package a two-year shelf life, with no need for refrigeration. Think about the retailing and logistical gains for retailers and consumers alike!
Sometimes, though, materials overload can backfire. For example, although Sargento's new fridge pack gets high marks on its product concept and structure, our survey respondents gave it a somewhat lower overall score because of the perception that choice of materials conveys the idea that the package is low on recyclability.
The good news is the brand developed a compelling innovation built on a clear insight. The product answers a need for adults, 18 and older, to have convenient access to healthful snacks. The package structure brings that insight to life, as individual cheese sticks are visible through the pack while on display in the fridge. But somehow, in the view of our survey respondents, the choice of materials (a paperboard carton with a perforated carton top, along with film wrap for each individual stick) sends a message of low recyclability and too much packaging.
As you think about starting 2011 with a fresh perspective on packaging innovation, keep in mind that:
• Package structure can go a long way in showcasing how distinctive and innovative your product concept really is.
• Smart materials act as solid proof points to great
package structure.
• No matter how clever your choice of materials, the structure needs to speak to a tangible benefit.
• If you can't afford a really new package structure, think about how graphics and smarter production can make you look different and align better with your value proposition.
The author, Eric Zeitoun, is president of Dragon Rouge USA, an international brand and design consultancy. Contact him at eric@dragonrouge-usa.com or 212/367-8800.
Companies in this article