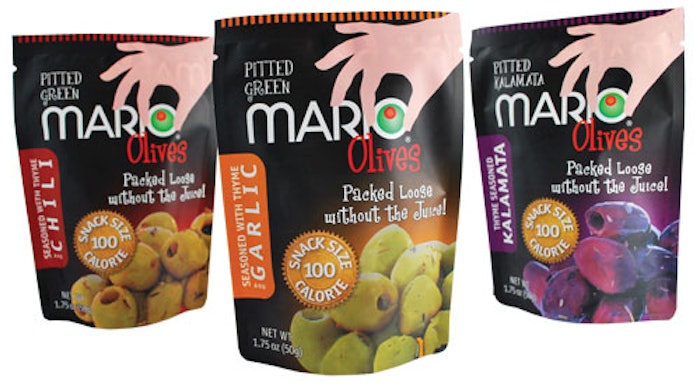 The olive product, "Packed Loose without the Juice!," as the pouch proclaims, comes in three varieties that include mildly seasoned, pitted Kalamata and Manzanilla olives in 100-calorie portions.
Mario Camacho introduced the product last year to satisfy consumers' salty cravings with a healthy alternative, relates the company's director of marketing, Annie Owens. The 1.75-oz flexible pouch package, which fits just right in the hand, was selected, she says, because of the innovation it brings to a commodity-driven market. "Innovation sells," says Owens. "Plastic is also lighter than traditional glass, which provides additional cost savings, and there is less risk of breakage during transit."
Responding to research that showed consumers were interested in a mess-free portable olive product, Mario Camacho's snack olives eliminate the brine to make snacking more convenient. However, as Owens explains, "packaging olives without the brine is quite challenging because the liquid is what gives the olives a shiny appearance. Without that, the olives become less appealing." To enhance the product's appearance and to help preserve freshness for up to 18 months, Mario Camacho coats the olives with a small amount of olive oil before packaging.
The stand-up pouch is a multilayer construction of polyethylene/pasteurizable polyvinylidene chloride/white PE gravure-printed in seven colors by Alcan in Spain. Pouch graphics are positioned against a black background, with larger-than-life photography of the green or black pitted olives appearing in the right-hand lower corner of the front panel. Bright bands of purple, yellow, or red distinguish the three flavor varieties, while a gold emblem on the front panel specifies "Snack Size 100 Calorie." Descending from the top right-hand corner of the front panel, a cartoon-like hand can be seen plucking up a cartoon olive, formed by the "o" in the "Mario" logotype. Says Owens, "Our message conveys a fun, portable, convenience-oriented snack with an on-the-go consumer in mind."
The snack-pack olive product is available in a range of food retailers and in military commissaries throughout the U.S. and is priced at approximately $1.69/pack. Says Owens, "We have received overwhelmingly positive feedback from consumers thus far. Consumers love the portability of the pouch and the perfect portion they provide for those on special diets."
Owens adds that the company is looking at line extensions for 2011, including a 30-g pouch for the airline market.

Companies in this article