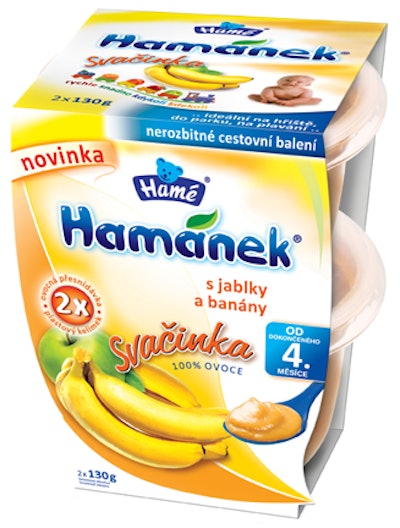 Approximately 40 percent of the company's gross sales are represented by exports to other countries.
In July 2010, Hame launched its Hamanek brand of shelf-stable, ready-to-eat, baby food fruit snack products packaged in barrier plastic cups. The fruit snacks are produced at Hame's facility in Podivin, Czechoslovakia.
To accommodate these products, Hame selected a PP/EVOH/PP translucent cup structure manufactured by EDV Packaging at EDV's plant in Barcelona, Spain. The EVOH barrier layer shields against ingress of oxygen, moisture, UV rays, and aromas, and enables non-refrigerated, flavor-protecting product shelf life for up to 12 months.
The 130-g cups feature smooth sidewalls. Transparent, high-barrier peelable top film is hermetically thermo-sealed to the cup lip. A recloseable plastic overcap then is applied to each cup.
Hame is marketing the products in two-packs. The paperboard carton sleeves, offset-printed in six colors, are supplied by Bauch Navratil.
Companies in this article