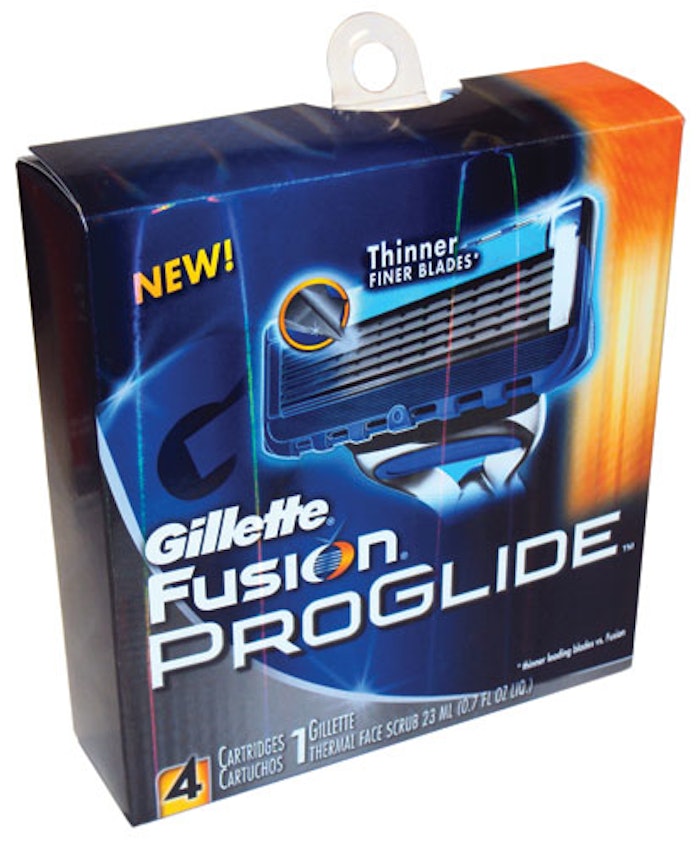 Gillette scores on all three counts in launching its premium Fusion ProGlide razor.
• Gillette meets the design objective of a package with pickup power on the store shelf by achieving a metallized, holographic effect through a special coating that offers increased shelf presence.
• The package components as a whole are recyclable. The coating, cut precisely to reduce waste, replaces film and foil laminates, which are difficult to recycle. The process of applying it to the razor cartons reduces energy use.
• Costs were reduced through efforts such as shortening material lead times by up to 12 weeks and introducing production efficiencies.
"The darker colors are more premium-looking. The package has a definite 'wow' factor," says Michael Marcinkowski, senior engineer R&D, in Gillette's Global Package Development area.
From a marketing perspective, the foremost objective was achieving a metallized, holographic effect so shoppers could easily distinguish Fusion ProGlide from competitors on shelf. Fusion ProGlide is Gillette's most technologically advanced razor, and the carton graphics' hologram-like appearance enhances performance perceptions.
Gillette achieved the eye-catching design with MiraFoil®, a UV metallic coating that provides the decorative effect of hot-foil stamping.
Henkel Corp.
supplies the coating. Several aspects attracted Marcinkowski's interest in the coating. It can be put anywhere on a package, and it helps optimize colors such as copper on the razor carton's package graphics. "It also eliminates the step of hot-foil stamping," he says.
During package printing,
Diamond Packaging
implemented a process that combined the metallic coating with its own proprietary cast-and-cure holography technology, which is performed in-line.
The inks are printed on paperboard cartons (Gillette also has reported success in printing MiraFoil on plastic packaging). Marcinkowski explains that board selection was important during Gillette's trials to optimize the package's smooth appearance.
"We found that the smoother the board, the better," he says. "A smooth board gives a more mirror-like finish with better light reflection off the surface."
Beyond on-pack presentation benefits, Gillette also noted sustainability advantages. Dennis Drummond, senior key account manager at Henkel, explains that the metallic coating replaces film- and foil-laminated board stock, which is difficult to recycle. In creating package graphics, the MiraFoil coating can be applied to specific areas only, to avoid waste. After a ProGlide carton has been discarded for recycling, the metallic coating can be removed during de-inking.
The MiraFoil coating used on the cartons enables Electronic Article Surveillance (EAS) tags to be completely readable, preventing product theft.
Companies in this article