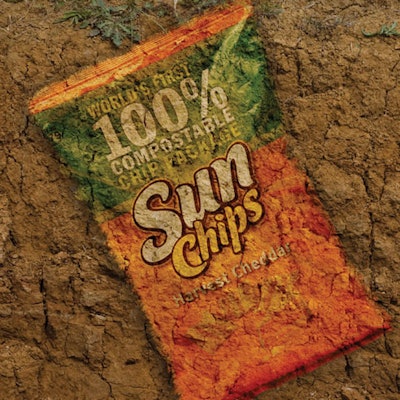 Undoubtedly one of the biggest sustainability stories in the packaging community in the last couple of years, mega-brand PepsiCo's use of bioplastics in its Frito-Lay SunChips packaging has been both lauded and criticized since the development was announced in April 2009. Making the switch from traditional petroleum-based flexible film to a 100% plant-based bag in stages, Frito-Lay first launched a package with 33% renewable material before unveiling its 100% plant based bag early this year.

But it seems the monumental development has been undone by consumers' complaints that the bags are too noisy. As The Wall Street Journal reports,since the bio-based bags hit the shelves in January, "sales of the multigrain snack have since tumbled."
Facing what is rumored to be double-digit sales losses for its SunChips, Frito-Lay is turning back to traditional film packaging for five of its six SunChips varieties. It will continue to use the greener, albeit louder, bag for its Original flavor.
As Frito-Lay Consumer Affairs recently advised The Inspired Economist, "Frito-Lay is taking steps to improve the SunChips 100% compostable packaging launched in early 2010. The new steps help address consumers' feedback about the bag's noise level, while continuing to build on the environmental benefits.
"While Frito-Lay works to develop a next-generation compostable package, SunChips Original snacks will remain in the current 100% compostable package, while the other SunChips flavors will be transitioned back to their traditional packaging. Once the improved compostable bag is ready, it will be featured in the SunChips Original flavor, allowing Frito-Lay to monitor consumers' response."
Companies in this article