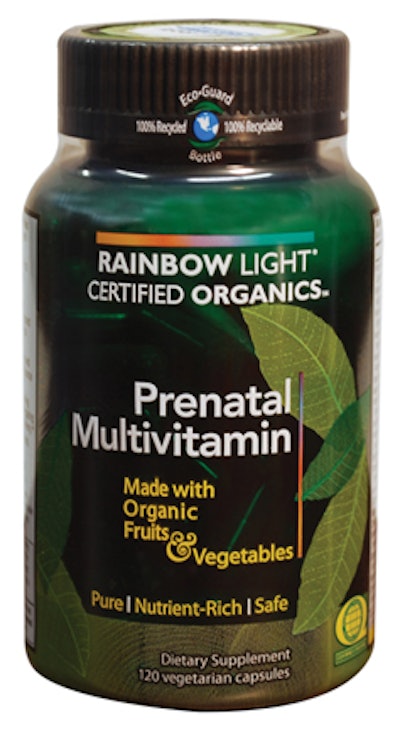 Reader's Digest's April 2010 cover headline declared, "The Vitamin Scam…Read this before you pop another pill!" Yet, health-conscious North American consumers are buying nutraceutical foods and beverages, as the data shows in the
Euromonitor
chart at right.
Whether they're called functional or medical foods or beverages, nutraceuticals, or nutritional supplements, the lines separating these categories continue to blur as innovative new products and packaging reach store shelves.
Not surprisingly, some of these healthcare-focused products also appeal to consumers' environmental concerns. For example, Santa Cruz, CA-based Rainbow Light Nutritional Systems, a natural nutrition and vitamin maker, is producing bio-balanced products that aim "to make a difference in the health of people, pets, and planet." And this year, Rainbow Light is switching packaging for more than 150 products in its vitamin line to EcoGuard™ bottles from Alpha Packaging. The opaque bottles are made of 100% recycled PET.
"For more than 25 years, Rainbow Light has been committed to sustainable, green business practices," says Linda Kahler, president of Rainbow Light. "We're taking a strong leadership position in reducing the vitamin industry's environmental footprint."
A press release on Rainbow Light's transition to the bottles reads, "EcoGuard vitamin bottles are FDA-approved for safety, with labels made from renewable plant resources and no adhesives, which can disrupt the recycling process. By reusing plastics, EcoGuard vitamin bottles not only reduce the amount of virgin plastic that is generated, they also keep plastic bottles out of landfills, do not deplete fossil fuels, and make good use of the plastics that have been collected for recycling. According to the Environmental Protection Agency, producing new plastic from recycled materials uses only two-thirds of the energy required to manufacture it from virgin raw materials."
Full-body sleeve labels are made from EarthFirst®, positioned as an environmentally friendly film from Plastic Suppliers, Inc. The film uses Ingeo™ polylactic acid, a natural biopolymer made from renewable resources such as plants, from NatureWorks, LLC. Graphics are printed by CL&D Graphics. Rainbow Light supplements are manufactured and bottled at the company's organic, FDA- and GMP-compliant facility in Sunrise, FL.
Triangular vitamin spice pack
Solid-dose pills, tablets, or liquids aren't the only ways to get your vitamins. Norristown, PA-based VitaminSpice, LLC, for example, is marketing its patent-pending micro-encapsulated vitamins mixed with spices within Inmecondor s.a.'s triangular-shaped Funnelpack®. Barcelona, Spain-based Inmecondor fills VitaminSpice's products in Barcelona. The supplier's FM-P100 Universal machine prints, fills, and seals the packs.
Edward Bukstel, president and CEO of VitaminSpice, says, "The Funnelpacks are being used in pizzerias. People can put garlic or parmesan or crushed red pepper on a pizza. Or kids can sprinkle cinnamon from the Funnelpack onto their French toast. So your kids may have just had a slice of pizza or French toast and don't even know they ate a multivitamin. We use high-end ingredients from all over the world, and that's what the consumer tastes, not the vitamins, because they're encapsulated and so small." He says the Funnelpack measures 90 x 74 mm at its base. "It's an isosceles triangle made of a foil"-based material, he adds.
Bukstel anticipates moving from granular to other products including organic salad dressings and condiments. "We are hoping to bring packaging equipment to the United States at a facility to be determined," he says.
VitaminSpice also sells traditional spice bottles with shaker tops, which retail for $5.99. The price range for the Funnelpack-packaged spices varies depending on the ingredients, with Bukstel providing a price range of 50 cents to $12, with product amounts that may range from 200 mg to more than 4 g in weight.
He describes Vitamin Spice as a company that specializes in increasing the nutritional content of foods by blending, whether it's spices or other condiments, with specially prepared vitamins in an all-natural fashion. "What's occurring with the Obama administration and some of their initiatives is that parents and/or nutritionists are concerned about childhood obesity and nutritional contents," he says. "Nutritionists are becoming much more conscious about taste, and food suppliers and manufactures are more cognizant of making sure that there is increased nutritional value in the products that they make."
Bukstel uses the term "foodceuticals" to describe an emerging category of foods and nutraceutical condiments. He says VitaminSpice is also working with medical schools and elderly care facilities/nursing homes to increase the amount of vitamins and enhance the taste of the food products that these facilities are serving to their patients and their clients. "There are a whole lot of people who do not like to swallow pills," he says. "So we are looking at a situation where we believe this is going to be very important for increasing the efficacy of the nutritional content for elderly patients."
Energy drinks in aluminum cans
For years, Woodbury, NY-based AriZona Beverage Co. has employed striking package design and graphics to market its energy and juice drinks. This spring, the company launched AZ Energy in aluminum cans from Rexam. Decorated via lithographic printing, the cans stand 6.25 in. high. Rexam also supplies 202-sized ends, or lids. AriZona contracts out several different production plants for hot-filling the beverages.
The 16-oz energy drinks are made with natural juices from fruits and are available in regular and low-carb versions, both of which come in a can decorated with street-art style and a crown to represent AriZona's Brooklyn roots. Beverages are said to provide a 100% daily value of Vitamins B6, B12, C and B5, and contain no preservatives, and no artificial colors or artificial flavors. AZ Energy will begin national rollout immediately with a suggested retail price of $1.99 per can. Jim Gunther, the company's head of graphics and design, says, "Packaging is extremely important to AriZona. Since AriZona does not do traditional print, Web, or broadcast advertising for its products, we pride ourselves on using cutting-edge packaging that not only looks great but also protects the quality of the ingredients/product within. We know that packaging plays a key role in purchasing decisions for the consumer and we like to make sure that the outside of our package matches the high quality of what is within."
Vitamin-enhanced water in PET
At press time, AriZona Beverage announced the launch of RESCUE Water, which was launched on the East Coast and was planned to be available nationwide this spring. PET bottles are injection blow-molded by Constar. AriZona says the 20.5-oz bottles use Constar's DiamondClear oxygen scavenging technology that protects the product within from oxygen, which can degrade the quality of the beverage and impair the nutrients inside.
Multi-Color Corp. gravure prints in seven colors the full-body shrink labels on 50-micron polyvinyl chloride film. The injection-molded polypropylene closures are supplied by Silgan White Cap. Shelf life is 18 months unopened, seven to 10 days refrigerated after the beverage is opened.
Gunther explains, "The bottle design is very unique in that many PET bottles have a lot of ribs and panels. The AriZona RESCUE Water PET has none. In fact, the panelless X4 technology for hot-fill bottles is patented by Constar, so it is brand new." The line of four enhanced waters contains a proprietary blend of Twinlab vitamins and antioxidants that aim to help increase active fluid replacement and also help balance nutrient absorption in the body. Additionally, each flavor has its own function. Each of the four brightly colored bottles corresponds with a unique purpose, but the entire line features AriZona's green tea extract for an antioxidant-packed base.
Twinlab's laboratories created advanced vitamin formulas for each variety in the AriZona RESCUE Water line:
• L-Theanine, green tea extract and lemon balm extract in the Berry Blend work in harmony to help the body deal with daily stressors and relax.
• The Lemon-Lime formula is designed to provide a boost in energy. With a blend of guarana extract, green tea extract and natural caffeine, this beverage intends to enhance endurance and fuel focus.
• Orange Citrus' blend is meant to help the body to detox by supporting liver function and replenishing the body with necessary nutrients like Alpha Lipoic Acid, green tea extract, milk thistle extract, and L-Glutathione.
• By combating free radicals with a blend of Arabinogalactin, green tea extract, and elderberry extract, the Pomegranate Punch is designed to support immunity.
RESCUE Water contains no artificial colors or artificial flavors, and is sweetened with Reb A, a natural sweetener that comes from Stevia plants and contains zero calories, so each beverage boasts only 25 calories per 8-oz serving. Beverage prices range from $1.39 to $1.89 per bottle. They are also sold in 24 packs.
Companies in this article