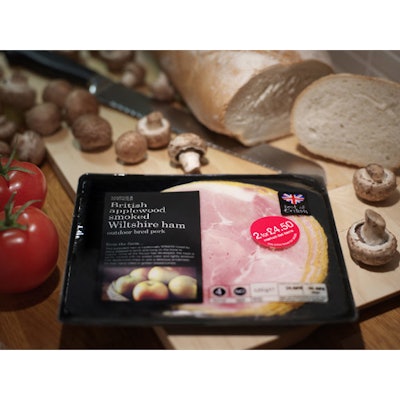 UK retailer Marks & Spencer, an avid innovator where sustainable packaging practices are concerned, has launched sliced luncheon meat in thermoformed packs made of Paperlite. Developed jointly by Marks & Spencer, Billerud, and Flextrus, Paperlite is said to be environmentally beneficial because it's made from a renewable resource as opposed to being entirely petroleum-based and because its manufacturing is FSC-certified (Forest Stewardship Council).
At the base of the Paperlite material is paper produced by Billerud in such a way that it is inherently stretchable. This material is sent to Flextrus for a coextrusion coating of PE/EVOH/PE. The EVOH provides the oxygen barrier properties needed for the modified-atmosphere package. In a second pass, Flextrus flexo prints the material black, which is done for aesthetic reasons.
The finished material is sent to a Tulip Ltd. plant in the UK (Tulip is a Danish Crown subsidiary), where it's fed into a conventional MAP thermoforming system. Depth of draw is maximum 10 mm. Lidding material, not identified as this gets posted, also includes a gas barrier layer, presumably EVOH.
"Marks & Spencer are delighted to have launched this first-to-market innovation in packaging with Flextrus," says Mark Caul, packaging technologist at Marks & Spencer. "The Paperlite packaging provides a premium look to our ham and is constructed from sustainable FSC-sourced paper. It is important to Marks & Spencer to work with innovative solution providers to develop packaging for the future, and Flextrus has supported our innovation work through their proactive approach."
Companies in this article