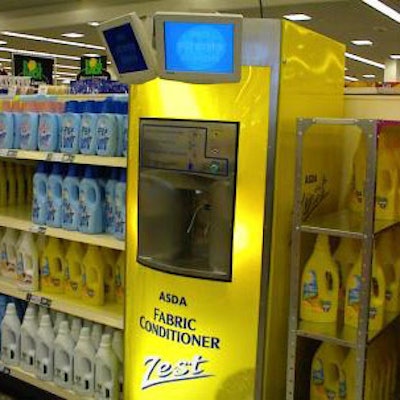 Refilling your own packs in-store is not new, however a new trial by ASDA supermarkets in the U.K. is again attempting to bring this idea from smaller niche outlets into the mainstream. Consumers are being offered ASDA private-label fabric softener in a refillable plastic pouch that can be used up to 10 times in store.
Although the technology is not new (ASDA unsuccessfully attempted to introduce in-store refillable packaging previously), consumers are now more aware of the environmental benefits of lighter reusable packaging. More importantly, this trial provides the opportunity for cost savings with the refilled pouch retailing at a lower price than the standard plastic bottle. Coming during a time of economic uncertainty, it is likely that this will be the driver for uptake over any environmental considerations. However for this trial to be a success, and for this technology to be extended to other products, the price differential will need to be maintained. Additionally, it has yet to be seen if brand owners will be prepared to risk diluting brand presence by switching from branded standard packs that have good shelf impact to a vending/dispensing system.
With in-store refillable packaging still remaining a niche, the use of pouches as alternative refill packs to a standard plastic bottle is becoming increasingly common. From laundry care where this option has been present for years, refill packs are now appearing in categories such as cleaning products, deodorants, and cosmetics. In most cases these refills take the format of pouches intended to be decanted into the "original" source packaging, often a plastic bottle. This has had the effect of further increasing stand-up pouch growth, which has benefited from a number of pack switches to this format.
And while refills are present across virtually all markets, it is in the Asia Pacific region where refills are now commonplace across liquid home care products. Refills are often marketed environmentally friendly, yet it is for the cost savings that consumers are turning to refills. For this reason economy brands have been amongst the first to offer refills in a significant manner. As cost savings represent a significant driver for uptake of refills, brand owners should ensure that the price difference between standard packs and refills is well communicated.
Cost savings are such an expected part of refill packs that when this is not the case it can lead to significant consumer dissatisfaction and possible brand damage. For example, in Taiwan in the latter part of 2007 it was disclosed in the media that refills of leading brands Bai Lan, Attack, Magic Amah cold wash and Snuggle softener had higher unit prices per kilogram than the standard HDPE bottles. Although refill packs were not very popular at that time, the issue raised concerns from the Consumers' Foundation and environmental protection organizations. In response, retailers such as Carrefour lowered the retail prices of refill packs of laundry detergents, softeners, chlorine bleach, and other surface care products. For economy brands like Magic Amah, retail prices were adjusted by as much as 42%. However following this publicity, the use of refills in this market has increased substantially.
Future impact
Increasing environmental legislation and expectation is driving brand owners to introduce lightweight and/or recyclable refill packaging. Home care products lend themselves well to this trend, with refill packaging expanding into sectors such as skin care, hair care, table sauces and instant coffee.
Euromonitor expects that acceptance of refill packaging will grow, especially the use of pouches within liquid home care. These pouches often tear open, although as this trend continues the use of reclosable spouts on refill pouches will become more common. Then pouches may replace the bottle as the standard packaging format, particularly for the cheaper economy brands. The future of flexible pouches that can be refilled in-store is less certain. In addition to the added inconvenience to the consumer of having to remember to take the pouch shopping with them, there is the additional barrier of investment costs for retailers in the vending/dispensing systems That may be beyond the reach of all but the large supermarkets and hypermarkets.
Article supplied by Euromonitor International.