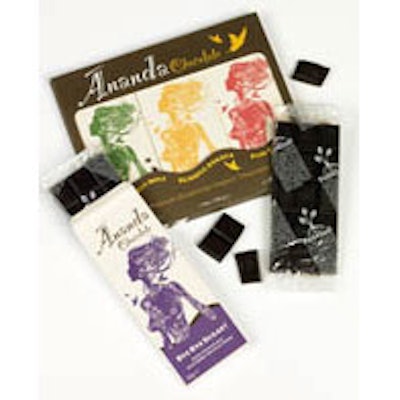 Amigos International, a Dutch company offering organic, Fair Trade coffee and chocolates, has selected Innovia Films' high-barrier compostable material, NatureFlex™ NK, to wrap its new range of Ananda dark chocolate from Ecuador.
Available in five varieties with a minimum of 70% cocoa content, Ananda, means "ecstasy" in Sanskrit and Pali and is a popular Buddhist name. Says Amigos, eating regular, small amounts of dark chocolate can benefit your health due to its happiness-producing particles, or so-called "Anandamides."
Amigos believes in Fair Trade principles and works closely with farmers, processors, exporters, and researchers in developing countries, such as Ecuador, to generate local employment. Through specialty stores, wholesalers, and direct online, the company sells exotic tea, coffee, and chocolate, which is organically produced and ecologically packaged.
Says Amigos owner Jeroen Kruft, "Amigos International is a long-time distributor of organic products. We appreciate not only the ecological aspects of the ingredients, but were also looking at packaging to complement this. That is why we started to look at more environmentally friendly options, which led us to Innovia Films and NatureFlex."
NatureFlex is made from wood pulp and breaks down at the end of its life cycle in a home compost bin or industrial compost environment within a matter of weeks. In addition to biodegradability and compostability, the film also provides a moisture barrier that is said to approach that of co-extruded oriented polypropylene. According to Innovia, this means that the film has the best moisture barrier of any biopolymer film currently available. This is achieved, Innovia says, through the company's unique coating technology. NatureFlex NK film is also said to provide an increased shelf life.
Consultancy Packaging Knowhow advised Amigos on choice of film, and Hapece Flexible Packaging, a converter specializing in small runs, printed the film using vegetable-based ink.
Reads the Amigos Web site: "… the Earth is happy as well with Ananda Chocolate: the ingredients are organic, and we can boast to have just about the most environmentally friendly packaging one can imagine: a box made from trees that are managed responsibly under the PEFC standards (Programme for the Endorsement of Forest Certification); http://www.pefc.org/ we print with vegetable-based ink; and our WORLD PREMIER: the inner-wrapper is 100% home-compostable…use it in your garden's compost and this 'waste' becomes food for your plants!"
Companies in this article