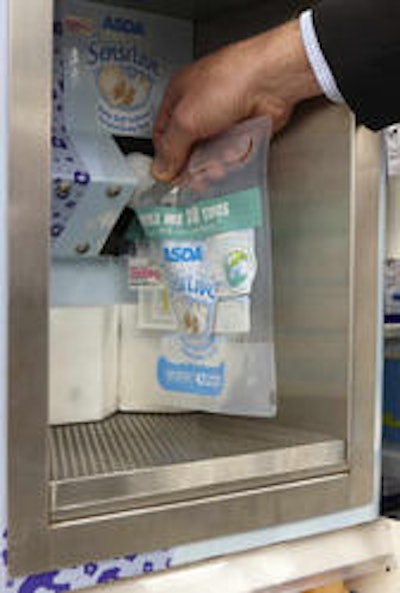 A new trial, beginning in a Barnsley, U.K., ASDA supermarket store and rolling out across four other ASDA stores will introduce a reusable packaging concept for fabric softener. The trial has been funded by WRAP (Waste & Resources Action Programme), and partners ASDA, eziserv, private-label producer McBride, and Unilever.
The self-dispensing technology has been developed by eziserv with support from project partners McBride, Oakdene Hollins, and Unilever. The fabric softener will be piped from 1,000-L, reusable containers from the back-of-store via overhead pipes to a dispensing point in the retail aisle.
It allows customers to purchase concentrated fabric softener in reusable pouches that can be refilled up to 10 times, saving 40 pence (approximately 60 cents U.S.) each time compared to the same volume of product in traditional plastic bottles. Notes WRAP, refilling a 1.5-L pouch 10 times represents a 96% saving on packaging versus using 20 x 750-mL bottles. The regular retail price for 20 x 750-mL bottle is £1.90 while the RRP for a 1.5-L pouch is £1.80 initially, reducing to £1.50 each time it is refilled.
Retailer benefits from technology too
As well as offering consumer savings, the new technology offers retailers significant business benefits, including carbon impact reduction across the entire supply chain, says WRAP. It also has the potential to free up in-store sales space and offer transportation and storage cost savings.
Dr. Richard Swannell, director of retail at WRAP, says the trial could signal a radical change in the retail environment: "Reusable packaging offers us an opportunity to fundamentally rethink the retail experience. We have already seen positive responses from consumers in relation to carrier bag reuse, and if this trial enjoys similar success, it could mark the start of a reusable revolution." Last July, it was reported that the U.K.'s leading supermarkets had cut the number of single-use carrier bags used by 48%.
Dr. Swannell adds, "The retail industry is watching this trial with a great deal of interest because there are clear opportunities for reusable packaging in relation to all manner of products ranging from laundry products to paint."
Says Julian Walker-Palin, ASDA's head of corporate policy for sustainability and ethics, "ASDA already leads the retail sector in packaging reduction and has reduced packaging on Asda products by 28% since 2007. Our mantra at Asda is 'To Make Sustainability Affordable for All,' and this project directly engages our customers on this by offering them a great product that not only has a lower packaging footprint but also has a lower price tag due to its reduced environmental footprint."
Says Richard Garnett from eziserv, "This launch is a significant step that enables customers to radically reduce packaging waste while making great savings on the new products they would normally buy in traditional bottles. The dispense point and innovative new pack are simple, fun, and easy to use. If this trial is successful, the concept can be applied to a range of products."
The trials will explore logistical and economic opportunities as well as assess consumer acceptance, and a final report will be published in autumn 2010.
Companies in this article