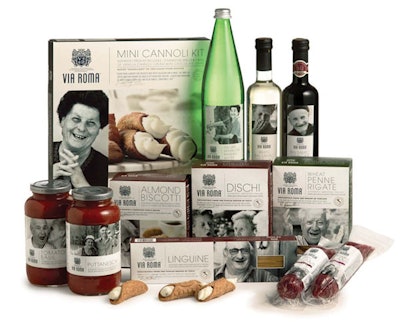 According to the Private Label Manufacturing Association, store brands now account for one of every five items sold in U.S. supermarkets, drug chains, and mass merchandisers. They represent more than $83 billion of current business at retail and are achieving new levels of growth every year.
It's useful to explore what caused such growth and examine which initiatives have been most successful. Looking forward, what strategies are emerging now or will be used in the near future?
The "how did it happen part" was addressed head-on by Doug Palmer at Pack Expo Las Vegas. Palmer is vice president of own brands at the Montvale, NJ-based A&P chain of supermarkets, and he was an Oct. 5 keynoter at The Conference at Pack Expo, sponsored by the Packaging Machinery Manufacturers Institute.
To Palmer's way of thinking, private label packaging as we see it today evolved in three steps:

• The private label stage—when retailers saw an opportunity and went after it with a keen focus on price
• The corporate brand stage—when retailers 1) recognized the potential for generating profit and creating loyalty, 2) stepped up on quality, and 3) started to compete with national brands
• The private brand stage—where retailers go beyond "private label" thinking and create a proprietary brand with exquisite packaging that may not even reference the supermarket chain by name.
What it comes down to is that retailers have become less buying-centric and more marketing-centric, says Palmer. There's no better example of this trend in full bloom than A&P's Via Roma line of Italian themed products. As Palmer put it to his Pack Expo audience, "This is about how to create a total voice for a brand and make it come to life."
As important as the package itself is, this is about more than just packaging. Retailers who are really serious about building a private brand must get beyond the packaging, said Palmer, and consider in-store displays and roadside billboards as extensions of the package. A&P has done a superb job with both, and Palmer showed his Las Vegas audience just how stunning they can be.
Palmer says he isn't at all surprised that nationwide, sales of store-brand grocery items rose about 10% last year. "Some categories are up as much as 20%," Palmer tells Packaging World. "Every indication is that this trend will continue."
Palmer says store brands account for about 18% of sales at A&P. And while he's happy to see that share grow, he also acknowledges the absolutely critical role played by the national brands when it comes to drawing shoppers into his stores.
"You can't swing too far one way or the other," says Palmer. "As a retailer, you're after the right balance of own brand and national brand. You must give consumers the choices they are looking for."
In full agreement is Nick Hahn, who recently retired from his position as director of corporate brands at Cincinnati-based Kroger Co. "The most important thing that any retailer must do is to stay focused on the consumer," says Hahn. "We must meet their needs, not our own needs."
According to a recent story by the Associated Press, 35% of the products sold in Kroger's 2,500 stores are house brands. That compares with 31% five years ago. Also worth noting is that Kroger makes nearly half of its 14,000 or so own-brand products in one of its 40 self-owned factories. The only other retailer with anywhere near as many self-owned factories is Safeway, Inc., which has 32.
In addition to being responsible for growing Kroger's own-brand business, Hahn was also responsible for national brand merchandising programs. This undoubtedly enhanced Kroger's ability to maximize sales for both segments.
"Through our work with the national brands, we knew ahead of time what promotions they had planned in our stores," he told Private Label Magazine in a 2007 interview. "We managed our own private label promotions to avoid competitive conflicts."
Don't believe what you read?
A&P's Palmer points out that heavy media coverage of how the recession has spurred private label's recent gains might lead one to believe that this trend is a new one. But this would be a mistake.
"If you look back at the preceding recessions of the early eighties and early nineties, you see that in both recessions, sales of store brands spiked and then pretty much leveled off. They didn't regress, and in fact they continued to show modest gains. A good portion of the population that gravitated to store brands never left. Why? First, the product was getting better, a lot better. And second, people are smart shoppers. If you give them a value proposition they like, they are not going to go back to the high-priced national brands. Sure, they'll cherry pick at 'specials' advertised by the national brands. But when looking for everyday value, they have come to understand that the store brand provides it."
Brian Sharoff, President of the PLMA, has a similar view of how the media has misrepresented the role played by the recession.
"The media finds it easy to explain the growth we've seen in private-label sales by saying, 'Oh, the recession caused it.' But in fact what we're looking at is ten or twenty years of store brand development that has culminated in private label being able to capitalize on today's economic realities. The recession may have induced a few million people to try private label products who hadn't tried them before. But the recession had nothing to do with private label quality, variety of product offerings, promotional expertise, or commitment—all of these pre-date the recession. Had they not been put in place over the last twenty years, private label would not have been able to take advantage of the recession as it has."
Sharoff says that retailers having strong store brand programs have become very sophisticated in their procurement practices. "There's no doubt they are placing new demands on the manufacturers that supply them," says Sharoff. "They're looking for innovation that often doesn't have a national brand equivalent."
The 'flight to value'
Andrew Abraham, vice president Our Own Brands at Minneapolis-based Supervalu, joined A&P's Palmer in delivering a Pack Expo Las Vegas keynote. He, too, views the recent growth of private label packaging as a three-stage process that is neatly reflected in the photos of cola packaging shown on this page:
• Generic—where private-label product was displayed in its own separate aisle and kept apart from mainstream shopping.
• Private Label—where retailers copied the look of national brands
• Private Brand—where retailers engage in original brand and design strategies
Private brands are where it's at, Abraham told his Pack Expo audience. Consumers aren't gravitating toward them because they want to save a buck but rather because they are engaged in what Abraham calls "a flight to value."
Equally significant in propelling private brands forward, says Abraham, is that retailers have gotten very good at managing their brands profitably and consistently at all touch points along the supply chain. Good use of retail-ready packaging in aisle-end displays is a perfect example (see sidebar on page 57).
But Abraham says this process of own-brand management has to begin long before packages ever come near an aisle-end display. Design is only effective if it gets to shelf as intended, Abraham reminded his Pack Expo audience. Color management and print quality must be standard from print run to print run regardless of printing method and regardless of whether the substrate is metal, paperboard, film, or rigid plastic.
Here's one final observation on the future of private-label packaging. In a recent survey by the Private Label Manufacturing Association, 35% of shoppers said they're trying store brands for the first time, 94% said store brands compare favorably to national brands, and 91% said they'd continue buying store brands after the current recession ends. It would certainly appear that private label packaging is a force to be reckoned with.