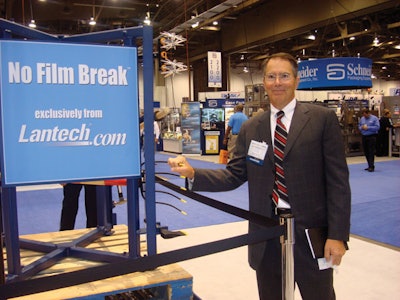 For several years, equipment manufacturers have watched on the sidelines while their customers' businesses have evolved to embrace sustainability. At PELV 2009, for the first time, credible new machinery technologies and processes emerged that give equipment suppliers a seat at the sustainability table.
One such supplier, Lantech (www.lantech.com), which manufactures case-handling, stretch-wrapping, and shrink-packaging equipment, provided GreenerPackage.com with some valuable insight on how developing standards in stretch-wrapping equipment are integral to a brand owner's successful sustainability program.
Explained Lantech chairman Patrick Lancaster, "Our customers are being pressured around sustainability to reduce the amount of materials they are using in their packaging. …Our job at the end of the line has become to bandage products that have reduced materials at the sake of load stability."
To illustrate, he used the example of bottled water. "Water bottles used to be fairly stiff, and they would be packed on a pallet in trays with pads," he says. "Now, the bottles are becoming less rigid and are being palletized without trays or pads." The result, when pallets are not properly stretch-wrapped, is damaged product that ends up in the landfill.
"In this case, the amount of material saved by downgauging the plastic is outweighed by the waste that goes to the landfill," he said.
The solution, Lancaster advised: Better use of stretch film to ensure that there is no damage to the product due to green initiatives.
Among the standards he suggested are the machine's ability to: 1.) apply the proper containment force consistently; 2.) connect the load securely to the pallet; and 3.) ensure clean film tails at the beginning and end of the wrapped pallet, so that tails do not snag on objects during transit.
According to Lancaster, Lantech research has revealed that the biggest cause of inconsistent containment force is film breaks. "When there are film breaks in the stretch-wrapping process, the operator shuts down the machine and tweaks the controls. This tendency toward 'tweakiness' results in fluctuations of containment force."
Lantech's research also has shown that 80% of film breaks are due to sharp load corners, film-clamp breaks, and film pulling out of the clamp. Roll-handling issues, threading errors, and backlash cause the balance.
Bottom line: Packagers looking for stretch-wrapping equipment that will ensure their sustainable packages reach the store shelf in top quality should seek out machinery that addresses the core issue of film breaks. "If there are no film breaks, the problem of tweakiness will be resolved, resulting in consistent containment force," concluded Lancaster.
Companies in this article