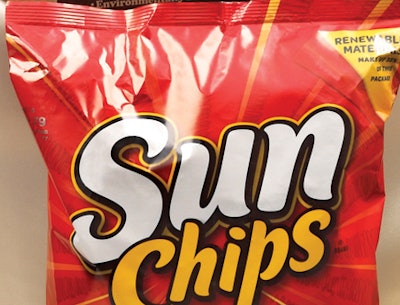 Flexible package converter Bryce Corp.'s (www.brycecorp.com) participation in the launch of Frito-Lay's one third-compostable snack bag for SunChips is a "step in the right direction," says Greener Package Awards judge Frank Perkowski, founder and president of Business Development Advisory. In April, Frito-Lay, a business unit of PepsiCo, launched the multilayer pillow-pouch bag with an outer print layer of polylactic acid (PLA) film, made from NatureWorks (www.natureworksllc.com) Ingeo resin. The introduction was billed as the first stage of a package redesign for SunChips that will culminate in a 100% compostable bag in 2010.
Explains Bryce senior product development manager Michael Owen, "Frito-Lay asked that Bryce identify and develop a sustainably sourced, compostable film that would be suitable for packaging snack products on existing packaging equipment. The project involved screening available bio-based films, which later resulted in SKC, Inc. (www.skcfilms.com) being selected as the film supplier."
According to Owen, Bryce had to develop specialized procedures and conditions to print and laminate the films because their physical characteristics were much different from those of the fossil fuel-sourced films typically used for snack packaging. Another difficulty was the use of a distinctive matte finish for the film. "The development of the matte film required re-establishment of color standards and print color densities to meet the brand owner's expectations for package appearance on the shelf," he says.
While the single PLA-layer bag is not yet compostable, its outer layer is renewably sourced, replacing a petroleum-based PP layer. Notes Owen, "The current process for Ingeo resin uses about one-half the fossil fuel of the polypropylene film it replaces. This is a major product line and will result in millions of pounds of packaging film removed from petrochemical dependence this year alone in this first step of the development."
The challenges that loom in developing a 100% compostable bag, says Owen, are incorporating proper moisture, flavor, and oxygen barriers into the flexible packaging material to adequately protect the product through the distribution cycle. Still under development are the inner barrier layer and the middle tie layer. (See related podcasts at greenerpackage.com/node/1364.) Greener Package judges were enthusiastic about the development, which John Bernardo says "will spur further development of nontraditional packaging materials."
Says another judge, "This is a solid step forward to use a renewably based material. It will be interesting to see how next year's introduction will drive the collection infrastructure in the coming years.
See other
Greener Package Award winners
Companies in this article