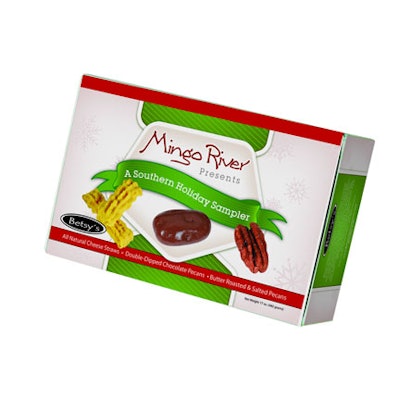 Who can forget the "cigar box" of childhood? It doubled as the perfect container for home collectibles such as crayons, baseball cards, toys, and other small keepsakes—all the while extending the branding of the original contents. The cigar box is making a comeback in a different product category with Young Plantations, Florence, SC, launching its Mingo River Southern Holiday Sampler.
Tom Coker, Young Plantations president, believes the "nostalgia factor" of the carton, which contains Mingo River and Betsy's branded Southern treats, will ignite sales for specialty retailers this holiday season.
"Gift buyers are always on the lookout for items that are new and different, particularly those who shop specialty and gourmet retailers," Coker says. "I believe people will be attracted to the novelty of the Mingo River Southern Holiday Sampler first by the package and then by the delicious treats inside, which are traditional Southern holiday fare."
The Sampler carton was designed by Lux Strategic Communications (www.luxandassociates.com). The carton, from Nupak Printing (www.nupakprinting.com), is made from 100% recycled paperboard and covered with a top layer of 70-lb coated litho label paper. Inside the carton is a three-compartment polystyrene tray from Bardes Plastics (www.bardesplastics.com). The tray holds 18 oz of double-dipped chocolate pecans, butter-roasted and –salted peanuts, and cheese straws from Betsy's Cheese Straws, Millbrook, AL.
Each filled cigar box is sealed with a clear, PVC film overwrap to maintain product security and freshness.
Beyond the cigar-box format, the Mingo River Southern Holiday Sampler carton is adorned with mouth-watering images of pecans and cheese straws. These images are accented with a "swooshing" green banner and subtle snowflakes using four-color offset printing.
Companies in this article