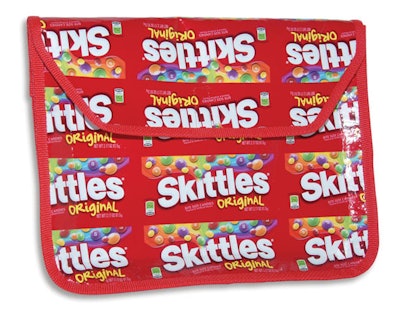 Mars, Inc., McLean, VA, and TerraCycle, Trenton, NJ, announced in April TerraCycle's largest-ever corporate partnership for upcycling­—diverting materials destined for landfills and repurposing them into new consumer products.
TerraCycle, makers of upcycled products such as worm poop plant food packaged in reused bottles (see packworld.com/casestudy- 24172), will produce affordable, high-quality consumer goods by repurposing surplus and used packaging from more than 20 Mars brands across five business segments—Chocolate, Petcare, Wrigley, Food, and Drinks. Brands include M&M's, Snickers, Skittles, Twix, Juicy Fruit, Altoids, Pedigree, and Uncle Ben's.
TerraCycle will upcycle waste packaging from Mars' U.S. operations into products ranging from cell-phone holders and laptop sleeves to messenger bags, significantly reducing the amount of waste sent to landfills. Mars will also sponsor TerraCycle Brigade programs, in which organizations can raise money by collecting used packaging from participating brands and sending it to TerraCycle.
Mars has committed to reducing its waste by 3% yearly. Reducing waste is one of four areas that Mars focuses on in its sustainability initiatives, along with lessening its use of water, energy, and raw materials.
"We at Mars take very seriously our responsibility to uphold our efficiency principle and cut waste," says Richard Ware, Mars vp of supply chain, R&D, and sustainability. "This partnership with TerraCycle demonstrates Mars's ongoing commitment to making a difference by reducing the impact of our manufacturing plants on the planet each year."
"We're excited about this partnership," adds Craig Annis, Mars' global director of corporate responsibility. "The combination of our iconic brands and TerraCycle's relationships with retailers is a powerful one."
TerraCycle distributes its products across the U.S. at retailers such as Walmart, Target, and Petco. In 2009, the company plans to expand into Mexico, Brazil, Canada, and the U.K.
Annis tells Packaging World that Mars sees global opportunities in upcycling to grow along with TerraCycle.
TerraCycle's take
"This partnership will enable TerraCycle to increase exponentially the amount of waste we upcycle in a given year," says Tom Szaky, TerraCycle founder. "Our experience with companies similar to Mars shows it's possible to reduce packaging waste through partnerships such as this by upwards of 3,000 tons a year. Partnering with Mars creates an incredible opportunity to have a positive impact on our environment."
TerraCycle spokesperson Albe Zakes informs PW that this is the first time the company has had a major partner that involves so many different brands. The company's program with Kraft Foods, launched last year, encompassed four brands of post-consumer materials (see packworld.com/news-25806).
Based on materials sent directly from Mars's plants, the program includes end runs and damaged and unusable labels that otherwise would be destroyed and landfilled, according to Zakes. TerraCycle pays for the shipping of the materials and pays a licensing fee to Mars as a percent of the final product sales.
"The Mars materials include films in roll form arriving on pallets in conditions akin to virgin materials," offers Zakes, who acknowledges that there will be less steps, less work, and less costs to process the industrial waste versus post-consumer materials collected through its brigades programs. "We pass along our savings to consumers because it fits our core belief that eco-friendly products should not carry a premium price," he emphasizes. TerraCycle has also doubled its manufacturing facility staff to almost 25 people to handle the new influx of materials.
Mars also intends to expand the collection program and the sale of TerraCycle products overseas very quickly, Zakes reports.
Almost simultaneous with its Mars arrangement, TerraCycle announced an upcycling partnership with Frito-Lay (see packworld.com/webonly-27481).
Meanwhile, Mars will continue to pursue sustainable opportunities across its businesses and across its packaging globally. "We're looking to reduce the amount of packaging that we use—including the thickness, and the type of materials—with the firm belief that quality, safety, and freshness have to come first," says Annis.
Companies in this article