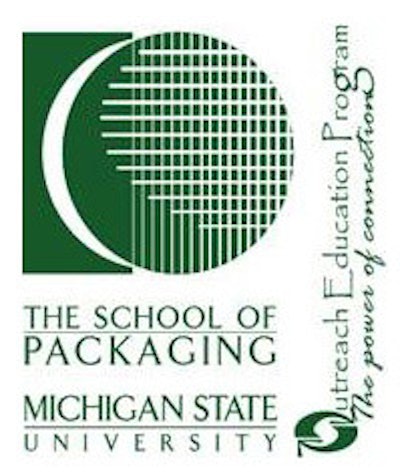 The one-day event in late January provided a respite from the doom-and-gloom economic outlook, with its focus on the opportunities arising from sustainable packaging strategies.
"In the midst of tough economic times, packaging is a very exciting area," Dr. Jeffrey Armstrong, dean of the College of Agriculture and Resources, told audience members in his opening speech. "The bottom line is that sustainability is the key to long-term profitability."
The College of Agriculture and Resources, which encompasses the School of Packaging, was one of three MSU schools represented at the event. Also in attendance were the College of Engineering and the Eli Broad College of Business (Department of Supply Chain Management). Together, these colleges are collaborating to provide a holistic academic approach to sustainability.
The importance of such an integrated view of sustainability was reflected in several presentations, including one by Jane Bickerstaff, director of the U.K.'s Industry Council for Packaging and the Environment (INCPEN). In her presentation, "Holistic approach to sustainability: Avoiding unintended consequences," Bickerstaff noted how, during each step of a package's life cycle, there are different expectations and demands as regards sustainability. Therefore, to design a package for minimal environmental impact, as well as cost efficiency, all stages must be considered.
"In the U.K., while retailers' demands on suppliers have stimulated and identified opportunities for improvement, they have tended to focus on single issues, such as 'minimized packaging,' 'recycled content,' or 'biopolymers,' without thoughts of impact on other parts of the supply chain," she said. "It is essential to consider environmental impacts at all stages."
Bickerstaff also discussed INCPEN's efforts in the U.K. to educate consumers on the vital role that packaging plays. In one widely circulated example, a cucumber with or without packaging is considered. Unwrapped, the vegetable is unsaleable after three days, the promotion reads. But, wrapped in 1.5 grams of film, the cucumber lasts 14 days—and longer at home. "Packaging prevents far more waste than it generates," Bickerstaff noted. "It is actually insurance that you don't waste all the energy you put into sourcing the product."

In another presentation, consultant Kevin Howard of Packnomics, LLC, informed attendees of the importance of designing packaging "from the outside in, rather than from the inside out," to minimize distribution logistics costs. "It is vital to understand what is happening in your own environment," he said. "Some packages that don't pass ISTM [International Safe Transit Assn.] standards pass real-world tests and vice versa. Walk through your distribution pipeline."
His message, in "Space...The Final Frontier," was that wasted space in packaging results in excess materials, transport, handling, and storage. To reduce a package size while maintaining its integrity, he noted that the packager must begin by understanding the known sizing of the transport mode that will be used and then minimizing the package size to hold everything at the lowest possible cost.
Other takeaways: "Space is found around components, inside of boxes, on pallets and between pallets," "Maximizing load density is vital to minimizing environmental impact," and "Space costs money... minimize it!"
Center gets major support
MSU's forum also served as a vehicle for announcing a new collaboration between The Coca-Cola Co. and the university, whereby The Coca-Cola Co. has awarded $400,000 to MSU's College of Agriculture and Natural Resources to help establish a new Center for Packaging Innovation and Sustainability. The planned center, to be housed in the MSU School of Packaging, will serve as a "think tank" for packaging innovation and sustainability and a research and education hub to measure and reduce packaging's environmental impact.
The Coca-Cola Co. grant represents the initiating gift in a campaign to establish the global center. At the event, it was also announced that ConAgra has agreed to become a charter member.
The center will also involve the MSU colleges of Engineering and Business, and will provide a platform for both collaborative, nonproprietary research and proprietary work conducted by industry partners, both in partnership with and independent of MSU researchers, to develop innovative packaging solutions that reduce production costs and improve sustainability.
"If we want to have an evolutionary effect, we have to look at things holistically," Dr. Armstrong noted, during a panel discussion on the new center. "We have to keep science as part of the discussion so that practicality comes forward, not emotion. Many groups are only focused on one slice.
"The center will provide an integrated approach. It will be a bridge between corporate and packaging industry professionals, as well as a bridge to other universities."
Concurred Scott Vitters, director of Sustainable Packaging for The Coca-Cola Co.: "We need to bring greater control and science into this discussion, or we risk losing control over the issue. We don't want decisions driven by emotions."
Gail Tavill, vice president of Sustainable Development for ConAgra Foods noted that her company felt driven to support the center because "there is too much information on sustainability." She added, "People can't make decisions. They need more guidance around science."
Companies in this article