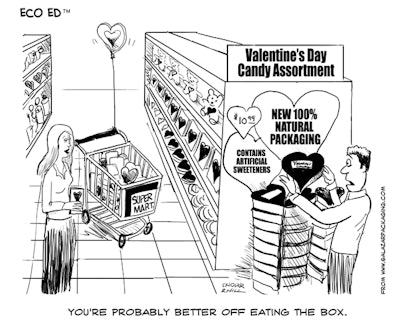 ■ Sonoco is partnering with the Rainforest Alliance to ensure that the wood products used in its rigid paperboard packages are certified sustainable and originate from responsibly managed forests, where biodiversity is conserved and local communities are supported. Sonoco has secured the Rainforest Alliance's SmartWood Chain-of-Custody certification at 14 Sonoco paper mills—11 in the U.S. and three in Canada. SmartWood certification affirms that the mills are using only responsibly harvested wood products from well-managed forests.
■ The Glass Packaging Institute (GPI) and its members want to reach a 50% or higher glass recycling rate by 2013. Rich Crawford, GPI's board chairman and president of Global Glass Operations for O-I U.S., says that reaching the goal would be "a powerful statement by the glass industry about its intent to work with other stakeholders to improve cradle-to-cradle recycling." He adds, "Like glass itself, this recycling goal is good for consumers and families as well as the environment." The energy conserved from a 50% recycling rate would power over 45,000 households for a year, according to the Environmental Protection Agency's benefits calculator. The EPA says the U.S. had a 28.1% recycling rate for glass in 2007. "One of the outstanding environmental benefits of glass containers is that they are endlessly recyclable and can be made with up to 100% recycled content," said Joseph Cattaneo, president of GPI. "Reuse of post-consumer recycled container glass is critical to our glass container industry and its environmental and energy efficiency goals."
■ Toray Industries, Inc. has been awarded the United Nations Assn. of New York's (UNA-NY) 2008 Humanitarian Award for its efforts to address the impact of global climate change. The award was presented in late October at the U.N. Among the company's numerous product lines are thin high-barrier packaging films that support source reduction and reduce transportation costs. The company is actively researching and developing bio-films.
■ French vintner Boisset Family Estates continues its switch from glass to PET wine bottles with this year's vintage of Beaujolais Nouveau. According to Boisset, a case of wine in glass bottles weighs 38 lb. In plastic, a case weighs just 22 lb, a weight savings of more than 40%. That equates to a significantly smaller carbon footprint and a reduction in freight costs. Constar International Inc., supplies the technology and preforms used to make the new 750-mL PET bottles. The polymer contains a proprietary oxygen-scavenging technology called MonOxbar, engineered to keep oxygen from permeating the bottle, thereby protecting the flavor, aroma, and color of the wine.

■ The California State Dept. of Conservation has licensed Command Packaging as an approved recycling center for plastic film and bags. The Los Angeles company, which makes plastic bags used by retailers and restaurants, opened its recycling center last year to divert plastic waste away from landfills by creating sustainable packaging.
■ The Minneapolis Star Tribune ran an article on Dec. 2 that included information about consumer product companies offering fewer products per package and also cutting down on the amount of packaging. The article did not mention the sustainability movement, only the potential cost savings to the brand owner and the fact that consumers may be getting less for more.
Companies in this article