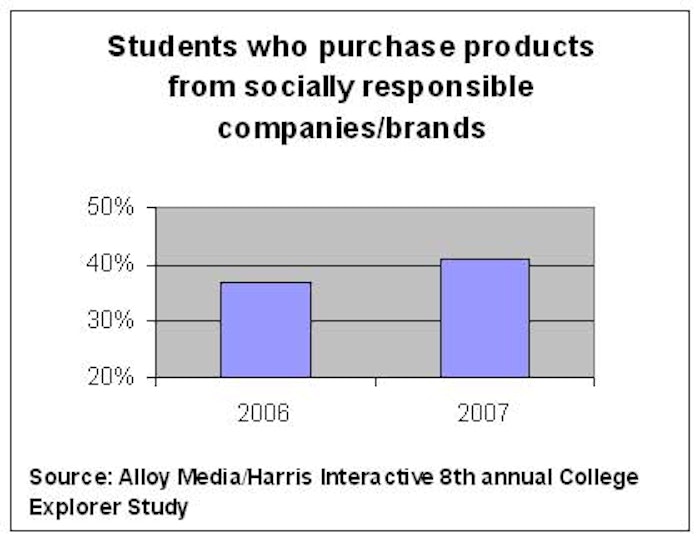 Designing a "sustainable" package is daunting, say those leading the industry's so-called "green" movement. The challenge is enormously complex, and it is tempting to take shortcuts.
If hasty decisions are made, important and costly decisions can be finalized without weighing each factor involved in creating a package to meet a host of different needs. On one hand, the package has to function as an effective sales tool to meet business objectives. Yet, the materials used must be suitable either for reuse or being returned naturally to the earth.
Shelf Impact! consulted a variety of packaging professionals and also sat in on conference presentations to assemble best practices for where and how to begin an effort toward developing sustainable package design. The following five ideas will help give your creative team direction.
Approach sustainable design as an extension of a brand strategy rather than as a tactical issue.

Research available material options and understand whether they work together, and how.

Adapt current packaging to a more eco-friendly version by starting modestly and building incrementally. 

Make decisions on packaging materials that reflect the brand design objective. 

Pick a start point and begin the journey.
It is essential to tackle the challenge of sustainable design holistically and become thoroughly educated on each relevant factor, says Phil McKiernan, Business Partner at Packaging & Technology Integrated Solutions (www.pti-solutions.com). This step is vital for marketers, who usually lack a packaging background.
"Sustainable packaging development is all about tradeoffs across the value chain. It's not just about material use. It's about energy use and water use and the triple bottom line of economic, social, and ecological drivers to deliver corporate growth," adds McKiernan, formerly Packaging Director at Kimberly-Clark who now leads The Essentials of Sustainable Packaging Workshops, developed by the Sustainable Packaging Coalition (www.sustainablepackaging.org) and the Packaging Association of Canada (www.pac.ca).
It's not a tactical issue
A good first step is to treat sustainable design as an extension of a brand strategy, advises Jim Warner, Managing Director, Industrial Design, for Brandimage-Desgrippes & Laga (www.brand-image.com). Many brand owners mistake sustainability for a tactical issue and therefore miss opportunities to maximize the associated business benefits, Warner says.
Warner, at a recent SunChemical/Brandimage Webinar, said, "Becoming green should connect your brand at the highest levels of brand and creative strategy. Being green isn't a separate issue that you take care of and then bring into your marketing and strategy and creative processes, and somehow enact it. It should become part of your brand strategy and not a replacement."
After establishing a framework for sustainable design, investigate packaging options. By doing so, you are more likely to achieve the lowest possible cost and also continue to get the razor-sharp graphics and blemish-free colors that marketers need.
Decisions you make at this early stage will impact color selection, printing method, graphics, and special effects. Len Kulka, Director, Creative Development and Consumer Packaging at Clariant (www.clariant.com), suggests that the creative team approach suppliers with an action statement reading something like this one: "Give us the best eco-friendly package you can, using our selected pigments, but also look at the efficiency and the chemistry of the process, and spell out any upcharge costs associated with each option that makes the package more sustainable."
Creative teams, Kulka says, should be prepared to compromise on their decorative choices. For example, when choosing materials that make a bottle lighter, the trade-off might be lower ink opacity and grainy or splotchy printing gradation. Conversely, the color may become too dark where the bottle walls are thicker.
Speaking of color, look beyond the obvious when communicating sustainability. "If you're trying to extend out of green, blue is a logical extension because consumers get the environment connection," says Leatrice Eiseman, Executive Director of the Pantone Color Institute.
When drawing up design parameters, creative teams are more frequently considering polylactic-acid (PLA) bottles, which are gaining popularity with beverage marketers because they biodegrade. However, teams looking for a truly green design often don't consider that as the bottle degrades and disappears, ink pigments used in decorating the bottle remain in the landfill.
"There's a lot of compromise, which people aren't prepared for," Kulka says. "It leaves a lot of opportunity to incorporate not only color but also the chemistry."
Build bit by bit
As you examine strategies and material options, look to enhance your current packaging rather than start from scratch. Build on improvements incrementally.
That's what Guayaki, Sebastopol, CA, has been doing for 12 years. The marketer of organic, fairly traded, rainforest-grown yerba mate—a beverage made from the leaves and stems of a tree native to subtropical rainforests—once offered its products in a poly bag inserted inside a tin-tie bag. However, the company's new San Mateo and Traditional Loose Yerba Mate teas come in compostable and biodegradable packaging.
Guayaki tea bags use NatureFlex film from Innovia Films (www.innoviafilms.com). Each bag consists of two layers of cellophane and foil films, printed with water-based inks. The outside package layer is transparent cellulose, and the inside film layer is made of cellulose with one side coated with a very thin layer of aluminum as a barrier against light, oxygen, and moisture.
Steven Karr, Guayaki Creative Director, says the cellophane material is a renewable wood-pulp sourced from plantations practicing sustainable-forestry principles.
Karr calculates that growing yerba mate in a natural rainforest absorbs 875 g of carbon, but carbon emissions from packaging, processing, and transportation total 302 g. The net carbon footprint for each 16-oz pack of San Mateo Loose Yerba Mate is minus 573 g.
"The material we're using, Innovia found a way to make it very flexible so it can run through the machine and be printed on and hold its integrity very well," Karr explains.
There's another way to look at sustainable design. Success also can come when eliminating materials—but more than merely for the sake of package reduction. It is essential to make decisions on materials with the brand design objective in mind.
"What makes a brand great is when the culture of a company and the values of the consumer are one and the same," Amy Brusselback, Design Director, Personal Beauty at Procter & Gamble, explained at the PROOF: Packaging Connects conference in September. A packaging goal for each P&G brand is to support the consumer's value system.
P&G found that consumers who use Cover Girl TruBlend makeup want to interact directly with the pump-operated plastic container. P&G eliminated the secondary package—the paperboard carton—after learning that women saw it as an impediment to experiencing the product. Savings generated by eliminating the carton were reinvested to upgrade the container to glass, which is recyclable.
"We took a nondelight feature—the box—away from her, but also improved our business structure by proving our cost structure," said Donna Nawalkowsky, a team leader at P&G Product Supply. "We chose to spend dollars on the container to delight her, because the brand is about giving her the confidence to face the world."
Finally, Guayaki's Karr says sustainable design is hardly an all-or-nothing proposition. Brand owners who had not been tackling sustainable measures but are now insisting on fully engaging quickly are courting failure. Pick a point to begin the journey, and take incremental steps, he recommends.
"Over time, we've taken baby steps along the way at Guayaki, working through several versions of our packaging and gradually becoming more sustainable," Karr says. "It's really about manufacturers looking at their production cycle and doing some research, because every day, newer technology is coming out. Figure out what you can do, when you can do it, and how much you can do. Every little bit helps."
Companies in this article