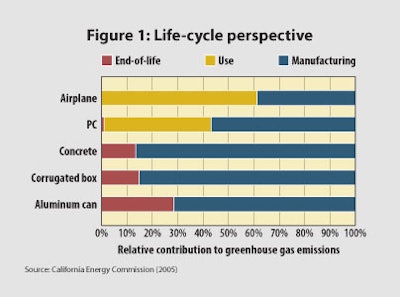 It's no coincidence that the three directives of the sustainability credo "reduce, reuse, recycle" are always placed in that order. Following source reduction, the next best way to reduce landfill waste and carbon emissions is through package reuse—a concept that package producers, brand owners, and industry groups are increasingly embracing.
"The benefits of reuse exceed those of recycling," said Tom Huetteman, associate director for the U.S. Environmental Protection Agency's (EPA, www.epa.gov) Waste Management Division, during a presentation to members of the Reusable Packaging Assn. (RPA, www.choosereusables.org). The group, formerly the Reusable Pallet & Container Coalition, held its 2008 Education Forum in Oakland, CA, in September, with sponsorship from the StopWaste Business Waste Prevention Partnership (SWP, www.stopwaste.org).
At the event, Huetteman, along with speakers from government, education, and consumer packaged goods (CPG) companies, met to discuss the growing value of reusable transport packaging systems for meeting both sustainability and economic objectives. The RPA promotes systems such as reusable pallets and pallet/container rental systems, and reusable totes and bins, with or without track-and-trace capabilities.
Huetteman's observations echoed those of many at the meeting who noted that a marked change is taking place in which the packaging community is looking at sustainability more from a materials management perspective—reducing or reusing materials before they become waste—than from one of waste management, where decisions about how to handle waste are the focus. "Waste is a missed opportunity for the economy and for the environment," Huetteman said. "The EPA used to take an 'end-of-pipe' view. Now we are taking a broader view, looking upstream at source reduction, including reuse, life-cycle design, and durability.
"For materials where the majority of greenhouse gas emissions [GHGs] are produced during manufacturing and no emissions are produced during use, environmental impacts greatly decrease the more a product is reused [see Figure 1]. When you look at the entire life-cycle analysis, hauling packaging for reuse actually has less of an environmental impact than most people perceive. Upstream emissions, for most materials, dominate the environmental impact."
While the EPA does not regulate solid waste, in 1994 it created WasteWise, a free partnership program formed to encourage waste reduction. Since the program's inception, Huetteman noted, partners have reported a reduction of more than 137 million tons of waste and nearly 76 million metric tons of carbon equivalent.
Reusable packaging drivers
So what trends are stimulating the increased interest in reusable transport packaging? According to Fred Heptinstall, president of RPA and of IFCO Systems (www.ifco.com), there are several factors. Among them is the mounting pressure being placed on product manufacturers to reduce supply chain costs. These challenges include escalating transport/fuel costs, competition from other countries, and the increasing cost of one-way transport materials, among others. "Reusables take costs out of the supply chain," he told the audience. Another big driver is the social and environmental sustainability movement. When it comes to reducing Municipal Solid Waste (MSW), he pointed out, the federal government recommends source reduction or reuse as the preferred method. "As for state and local governments," he added, "some give tax credits to reduce landfill, and some prohibit certain solid waste from landfills.
"Sustainability is picking up more steam; it is not going away. This is not a fad, but a solid trend."
In Huetteman's presentation, he likewise discussed how potential legislation for Extended Producer Responsibility (EPR) could spur even greater use of reusable packaging. "EPR shifts the entire accountability for waste back to the producer," he explained. "It relieves the local government of responsibility and drives change in product and packaging design."
In California, a new nonprofit group, the California Product Stewardship Council (CPSC, www.calpsc.org), is working with local governments across the state to create EPR framework legislation. Notes CPSC's Web site, "We believe that by making better choices in the early stages of a product's life, we can reduce the environmental impact of product waste. By diverting products from the waste stream, we conserve our natural resources and ultimately reduce the demand on our landfills."
According to Diana Twede, a professor at Michigan State University's School of Packaging, reusable packaging is being driven by large customers/retailers such as Tesco and Wal-Mart that are demanding their suppliers provide products via reusable packaging. "It's the customer who reaps the benefits of reusable packaging," she told audience members. "The one who pays is the one who has to collect the packaging and put it back into use. Therefore there is a huge incentive for customers to demand reusable packaging."
Economic advantages are many
A key message throughout the event was that reusable packaging not only results in environmental benefits, but it also provides economic value, as well. As Margo Reid Brown, board chair of the California Integrated Waste Management Board (CIWMB, www.ciwmb.ca.gov/), reflected: "Green is the new black on the profit side of the equation."
CIWMB is the state agency that oversees, manages, and tracks the 92 million tons of waste generated in California each year. Its mission is to promote and encourage a "Zero Waste California." Currently, Brown related, Alameda County is approaching a 60% reduction in waste, with a statewide diversion rate of 54%. "Our advocacy is rooted in the reality that such practices [reusable packaging] will make businesses more successful," she said.
According to Bob Klimko, of the RPA modeling team and of Norseman Plastics (www.norsemanplastics.com), reusable packaging can be a catalyst to positively affect a business's financial performance. "It can affect many financial categories, including revenue enhancement, capital utilization, and operating expense reduction," he said. "As supply chain professionals, we must take a holistic view of how our solutions affect the entire financial performance of our companies."
To help businesses calculate the costs of reusable transport containers versus traditional corrugated cases in their own application, Klimko, along with Andy DeWitt of Tosca Ltd. (www.toscaltd.com), developed an interactive, online Reusables Cost Comparison Tool (www.usereusables.com/cost/cctool.html). Said Klimko, "We wanted the results of the formula to provide a directional answer, not so much an exact figure. It's even more of an educational tool than a calculator because it helps users determine what questions need to be asked."
Totes transport chocolate squares
Rory Bakke, program director for the StopWaste Business Waste Prevention Partnership, agreed with other speakers that going green can be cost-efficient. "There is no adversarial relationship between environmental performance and economic opportunity," she said.
SWP is a free technical assistance service that is dedicated to enhancing the business efficiency of Alameda County businesses and public agencies by improving environmental performance. "We see the use of reusable transport packaging as a best practice because it simultaneously reduces environmental impacts and has economic benefits for companies and supply chains," Bakke said.
In 2005, SWP began working with The Ghirardelli Chocolate Co., San Leandro, CA, to help the company eliminate the waste, product breakage, and high costs that resulted from transporting its premium, wrapped chocolate squares in corrugated boxes.
As Vellay Kannappen, director of planning for Ghirardelli, explained to forum attendees, Ghirardelli makes its chocolate squares in mass quantities and packages them individually in film wrap. The squares are then stored until they are ready to be filled into bags, gifts, and other finished goods items.
In the past, the company used 580,000 corrugated cases each year, at a cost of $520,000, for internal product distribution. These cases would become soiled with use and were frequently thrown in the trash, resulting in an additional $2,700 spent on disposal. The cases also tended to collapse when stacked, crushing the chocolate inside.
After conducting a cost/benefit analysis of Ghirardelli's transport packaging needs, StopWaste.org recommended the use of reusable totes and provided the chocolate maker with a $75,000 grant to help offset the large initial investment. Currently Ghirardelli has more than 150,000 reusable plastic totes in circulation at its facility. The nestable, stackable totes, supplied by Akro-Mils (www.akro-mils.com), measure 19.5 x 13.5 x 8 in. and are made of high-density polyethylene.
According to Kannappen, the reusable tote program provided a 1.1-year return on investment. And since its inception, the program has eliminated 1,979 tons of corrugated and has improved the quality of Ghirardelli's product by reducing crushing. "The reusable tote project was financially viable, improved product quality significantly, and provided a positive contribution to the community," Kannappen concluded.
Companies in this article