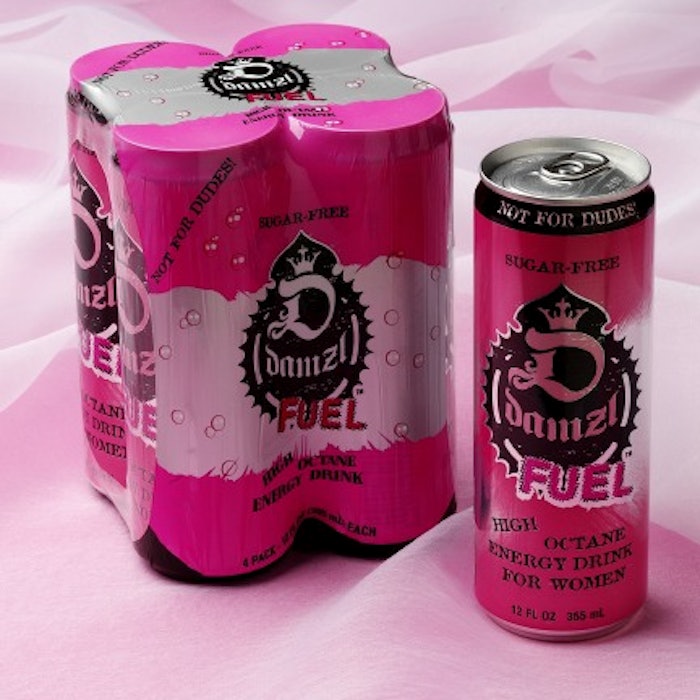 The drink that's "Not for Dudes!" Damzl Fuel from Damzl, Inc., Seal Beach, CA, stands out on West Coast store shelves in a four-can multipack wrapped with a sleek, "pretty-in-pink" sleeve with racy silver and black graphics. The sugar-free, low-sodium energy drink was developed by Damzl to complement its line of extreme-sports apparel for women.

The Damzl logo, gravure-printed front and center on the shimmering PETG shrink sleeve from Ameri-Seal (www.ameri-seal.com), consists of a stylized silver "D," topped by a silver tiara and surrounded by a sprocket graphic that also bears the product name in silver and pink letters. The logo, created by Damzl founders Heather Birdwell and her late sister Holly Gorrell, with help from a graphic designer, have become one of the company's "most powerful attributes," relates Birdwell. "We are trying to show that we stand for women in off-roading; there is a hard and a soft edge to the design."

The beverage's slim, 12-oz cans were supplied by Rexam (www.rexam.com). Birdwell says they provide a refreshing—but not overwhelming—portion size. Product flavor suggests the cherry/lemon-lime taste profile of a Shirley Temple. "And what girl doesn't like that!" Birdwell asks.

Buzz around drink supports sales of other products
 The drinks are sold in a range of grocery, convenience, and liquor stores throughout Southern California and on the company's Web site. For retail, four-packs are shrink-bundled with film, for a less-expensive alternative to a paperboard-carton six-pack. The film also allows the multipack to be more easily stored in the refrigerator and doesn't get wet and soggy and fall apart like a paperboard carton, Birdwell adds.

Other venues for Damzl Fuel include distribution at extreme-sporting events, as well as in shops carrying equipment and apparel for off-road sports. "Women are spending more money on toys and safety equipment for extreme sports," says Birdwell. "It's been fun educating shop owners that the more reason they give female consumers to come into their stores, whether it's to buy apparel or to buy Damzl Fuel, the more likely these women are to purchase a motorcycle or riding gear from them."

Damzl Fuel is being sold for an average retail price between $2 and $2.50, Birdwell says.
Companies in this article