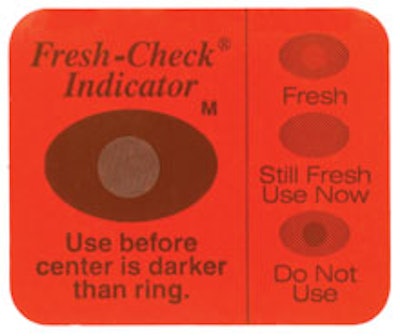 While it can be quantified in precise microbiological terms, it involves several layers of protection including the following:
• It starts with FTF receiving healthy fish at its operations, employing good manufacturing practices, and using strict quality control testing to ensure minimum spoilage organisms are present on the surface of the products. Products receive an ozonated water rinse to kill any surface bacteria. Wrenn notes that ozonated water is used throughout the plant as a sanitizer.
• A "very thorough" HACCP regimen, according to Wrenn.
• And of course, there are the packaging operations, including the use of barrier film.
• A spoilage-inhibiting gas mixture that's injected into the headspace of each package.
• The Fresh-Check® time-temperature indicator, or TTI, that monitors the storage conditions of each package and provides a visual indicator if the package has been temperature-abused over its 10-days at 38° F refrigerated shelf life.
• Finally, a label that's printed with an individualized, real-time track-and-trace number on the package front.
"As long as the Fresh-Check sticker says it's fresh, the fish is mathematically fresh, guaranteed," asserts Wrenn. That all adds up to high-quality seafood and peace of mind.
Companies in this article