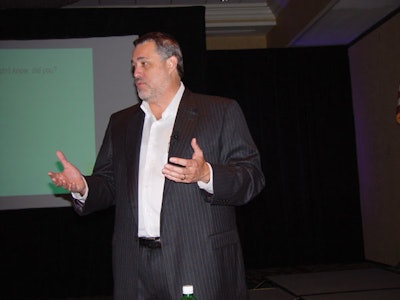 If there is a U.S. company reinventing itself at breakneck speed, it's Kodak. The company has evolved in a few short years to become a world leader in computer-to-plate systems for the offset and flexographic markets, as well as in digital halftone printing. It's had to change—traditional film sales, once a backbone of the company's business, have plummeted from $15 billion to $500 million over the past five years as consumers have gone digital in a big way for those "Kodak Moments."
Profound changes at Kodak have brought about, among other things, new products such as the Easy Share All-in-One printers and color inkjet cartridges (www.packworld.com/package-24698). Kodak has developed a Micro-Electro-Mechanical Systems (MEMS) print head that is separate from the cartridge itself, enabling the company to price its cartridges at $9.99 for black and $14.99 for color—about half the price for competing cartridges. The new cartridges are in stand-up pouches to boot, through the use of contract packagers.
New ways of looking at products and packaging, such as for Easy Share, reflect the current innovative mind-set at Kodak. Contract packagers that can help the company to keep evolving by continually thinking ahead of the curve will have an edge in getting Kodak's outsourced packaging business. That assessment came from Jeff Hayzlett, Kodak's chief marketing officer. He spoke at the Contract Packaging Association's (www.contractpackaging.org) annual meeting April 27 in Miami, FL.
How fast is Kodak changing? Says Hayzlett, "Eighty percent of our revenues today come from 19 products, half of which didn't exist two years ago. And they are No. 1, No. 2, or No. 3 in their category."
15 trends for 2015
Kodak is just one consumer product company updating or reinventing itself at a time of profound market changes, with an eye toward satisfying retailers and, ultimately, consumers. Elsewhere at the association meeting, James Marstiller, senior vice president at The Solution Partnership (www.thesolutionpartnership.com), a consultancy, shared 15 trends that will take shape by 2015. Each of them could affect the buying and selling of contract packaging services.
1. The downsizing of almost everything. There will be more personalized space to live and shop; expect more niche retailing and sustainable packaging and products.
2. The "glocalization" of retailing. The trend will be toward segmentation and localization targeted to specific customers, locations, occasions, and shopping modes.
3. Breaking the 80/20 rule. CPG companies will sell less of more products.
4. The unchaining of retail. Store size will no longer equate to success. Cookie-cutter specialty chains will decrease in number.
5. Global consolidation of big-box retailers. Expect to see concentrations of market share globally and stratification by price tier and lifestyle.
6. Share-of-life impact on share of market. Success will be measured in terms of customers served rather than products sold as the concept of the one-stop shop for lifestyles or consumer needs emerges.
7. "Unstoring." It will get harder to define the concept of a store. Multichannel retailers will multiply, encompassing more than stores, catalogs, and online presence.
8. Rise of the anchor "place." Consumers will see the demise of the anchor store as a shopping center's main draw. The place will become the destination, offering a prepackaged total lifestyle experience, with accommodations for shopping, working, socializing, and living.
9. Consumers as co-creators. The line will blur between the product manufacturer and the consumer. Consumers will have almost unlimited opportunities to get what they want.
10. Exclusivity escalates. Shelf presence will increase for private-label brands and manufacturers' exclusives. This will place heightened attention on customer/niche focuses, differentiation, return on investment, and speed to market.
11. Suppliers defend turf. Supplier-retailer relationships will be both more collaborative and more competitive. Expect supplier-direct, supplier-store, and retailer collaboration strategies to increase in prominence.
12. Power to the people. Tools and technology will shift the balance of power from retailers to consumers. Expect consumers to wield clout through social networking and aggregation. We're likely to see the reincarnation of group buying—business-to-consumer.
13. New technological environment. Consumers can expect to shop location-free via wireless broadband, wireless devices, and instant-translation devices. They will shop intervention-free via digital homes, device-to-device communication, and other advancements.
14. Value chain evolution. Today's packaging value chain is designed for mass merchandising. The value chain of 2015 will need to support niche merchandising, down to location, time of day, and customized individual unit.
15. Triple bottom line. Companies will be measured against new standards for corporate citizenship: planet, people, and profit.
"Within all this change, there are tremendous growth opportunities," Marstiller says. "This is an opportunity where you can collaborate and add value, if you can be increasingly innovative, flexible, globally connected and aligned, responsible, and consumer-savvy."
Companies in this article
Videos from Universal Labeling Systems, Inc.