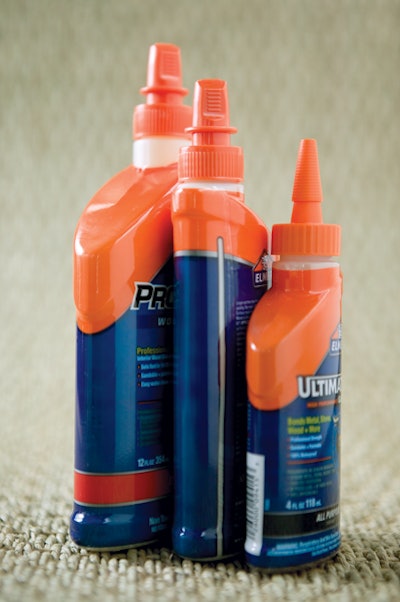 Elmer's Products Inc., Columbus, OH, was in the midst of giving its 60-year-old brand a facelift, which included a new bottle shape and a new label. However, Elmer's regular co-packer needed time to retool its machinery to automate the label-application process.
Elmer's selected Verst Group (www.verstgroup.com) to hand-apply the shrink-sleeve labels in the interim. Elmer's selected Verst Group, with the help of Fort Dearborn Co. (www.fortdearborn.com), which produces the shrink label.
The selection process involved several trips to Verst Group with Elmer's Arden Haynes, senior packaging engineer, and other staff in order to set up the shrink tunnel for the best, most consistent shrink.
"Verst gave us valuable input on adjusting the tunnel, including steam outlet pressure exhaust and the conveyor," says Tim Nicholson, vice president of marketing and technical services at Fort Dearborn.
Elmer's new bottle is taller and requires more shelf headroom. The new dimensions dictated the height of the label that Verst Group applied. Haynes is pleased with the results, saying, "The film performs to our expectations."
The new packaging refreshes Elmer's image, says Brian King, the company's vice president of marketing. The entire hardware line has been repackaged, including a new bottle design for Elmer's 40 SKUs of wood glue. The new bottle design features an oval shape.
Companies in this article